In just a few short weeks, hundreds of thousands of dance music fans will be making the trek to the desert paradise of Las Vegas for three days of the best electronic music in the world at Insomniac's crown jewel festival, EDC Las Vegas. While most of these attendees will be arriving in Sin City on Thursday or Friday, before the official kick off of EDC, many of dance music's top artists and executives will already be in the heart of Las Vegas for their own dance music utopia – EDMbiz.
The 4th annual EDMbiz Conference & Expo will kick off on June 16th, marking the official start of EDC Week in Las Vegas, and run until June 18th, right up to the start of EDC Las Vegas. The dance music conference brings together the dance music ecosystem, a tall task that is rarely accomplished, for three days of panel discussions and keynote presentations about relevant issues facing the music industry at the time, as well as offering countless networking opportunities for both executives and industry hopefuls.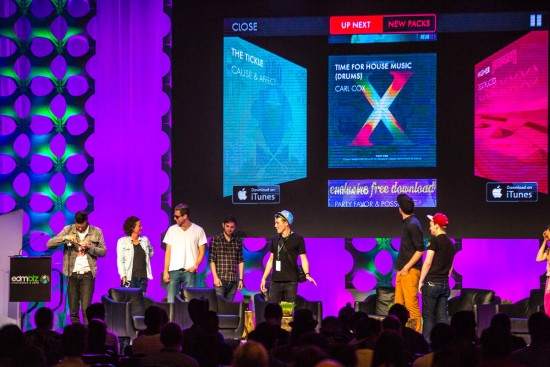 With EDMbiz on the horizon, Insomniac has released the first phase of speakers, and the panels and keynote sessions, that will be gracing EDMbiz this year. The roster of guest speakers reads like a "who's who" list of dance music, featuring both emerging and legendary artists like 3LAU and Tommie Sunshine, in addition to power players like Insomniac CEO, Pasquale Rotella, and AM Only Founder & President, Paul Morris.
With so many panels to choose from and a plethora of impressive speakers expected to attend EDMbiz, we've put together a list of who and what we're most excited for at EDMbiz 2015. Badges to EDMbiz 2015 are still available for purchase here.
1. Keynote Session with James Barton, President of Electronic Music at Live Nation
Perhaps no one is more in tune with the electronic music industry than Mr. James Barton, as he heads the entire electronic music department at Live Nation. Live Nation is arguably the biggest entertainment company in the world, as it owns, leases, and operates many of the most iconic venues in the United States, including the Hollywood Palladium, most of the House of Blues' venues around the world, and the Ziggo Dome in Amsterdam. Live Nation is a 50% shareholder in Insomniac, and a majority shareholder in HARD Events, and Barton played a crucial role in the acquisition of these two powerhouse event production companies. Last year, Barton was named Rolling Stone's most influential player in EDM, a testament to the twenty-year veteran of the scene's hard work and business savvy.
In his early years, Barton set a precedent in brand expansion by taking his weekly club night in the UK called Cream, and evolving it into a global brand with a record label and a major player in the Creamfields festivals. Barton joined Live Nation in 2012, when the giant entertainment company bought Cream Holdings.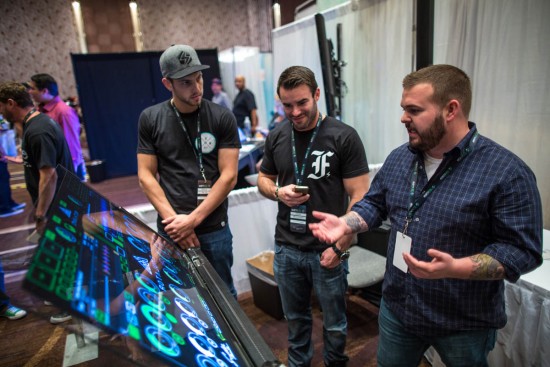 2. Future of Dance Music Journalism Panel
As dance music exploded in popularity within the last half decade, the blogosphere exploded alongside it, as blogs like Dancing Astronaut, This Song Is Sick, YourEDM, and EDM.com were the only media platforms to consistently deliver dance music news, as well as updates on new releases. However, as dance music has continued its unprecedented growth, many of dance music publications have begun the transformation from blog to a tried and true publication.
The Future of Dance Music Journalism panel will bring together some of the most respected publication chiefs such as Ethan Baer, co-founder and CEO of EDM.com, Andrew Spada, VP of Content & Creative at Dancing Astronaut, Nick Guarino, Founder & CEO of This Song Is Sick, and Nick Ward, CFO of YourEDM, as they share their thoughts on the next step of dance music journalism.
3. Keynote Session, "City as a Startup" with Tony Hsieh, CEO of Zappos.com and Founder of Downtown Project
While the CEO of Zappos.com seems like an odd keynote speaker at first glance, a deeper look reveals how much knowledge Tony Hsieh has to share with the dance music community. Hsieh graduated from Harvard with a degree in computer science, and in 1996, he went on to start the advertising company LinkExchange, which he sold to Microsoft for $265 million in 1998. In 1999, Hsieh invested in Zappos, and joined the company as CEO two months later, and he has now taken Zappos.com and turned it into a billion dollar company.
Hsieh, who is still working as the Zappos.com CEO, operates out of Downtown Las Vegas, and in 2009, Hsieh founded the Downtown Project, a major re-development and re-vitalization project for downtown Las Vegas, which has been neglected as the Strip has soared. Hsieh's plans for downtown Las Vegas include turning it into Silicon Valley Lite, where thousands of techies and entrepreneurs may live and work.
4. EDMbiz Startup Contest + Best Record/A&R Contest
These two contests are brand new to EDMbiz, but they come as welcome additions, as both of these contests offer budding entrepreneurs or aspiring artists an opportunity to realize their dream. The EDMbiz Startup Contest offers five promising startups a chance to pitch their idea, whether it be physical, digital, mobile, or live, to a panel of high-level investors and executives, who will select the most impressive startup.
The Best Record/A&R contest, which is hosted by EDMbiz, Wavo, and Insomniac Records, gives one emerging artist the opportunity to have an original track released on Insomniac Records. Tracks that were submitted underwent a crowd-sourced voting period, prior to being judged a panel of EDMbiz judges. The top 6 tracks and their producers would have the opportunity to present their track live to a panel of artists, A&R executives, label heads, and festival promoters at the conference, where the winner would be selected.
Comments
comments