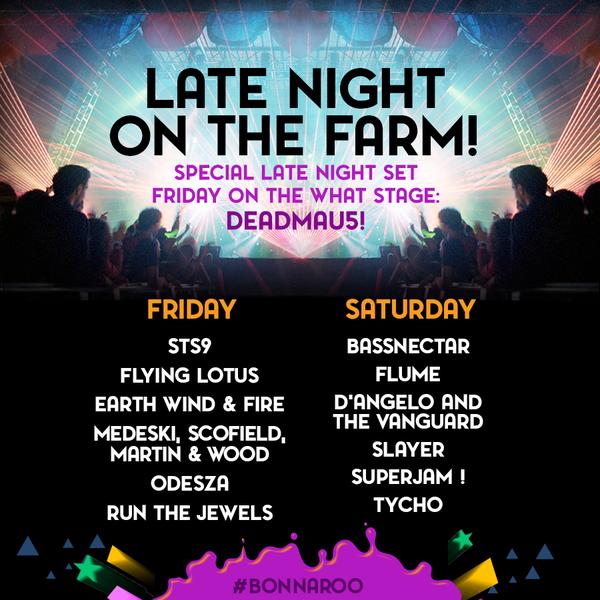 The Bonnaroo 2015 Lineup has really brought an incredible host of acts with headliners Billy Joel, Deadmau5, Mumford and Sons, and Kendrick Lamar making an appealing case to purchase a ticket for the festival in June this year. There is nothing quite like standing amongst 80,000 people watching diverse acts from all around the world perform their hearts out on what has been commonly named "The Farm". The Tennessee based festival, Bonnaroo, is known for having one of the most diverse and talented lineups amongst the many American festivals. Rivaling other such prominent festivals such as Coachella in California, and Lollapalooza in Chicago, Bonnaroo is a mecha that many people follow every year. These dedicated fans known as "Bonnaroovians" have experienced the constant heat, refreshing fountain, and endless high-five lines year after year. If there is one thing these festival goer's can tell you, its that you need to keep yourself up for Bonnaroo Late Nights, where the sets are longer, the dancing is harder, and overall everyone comes together to see artists turn up the volume as the sun goes down.
This year Bonnaroo has announced a stacked late night lineup with immense diversity and talent, proving to be quite the difficult scramble for festival goers trying to see many of their favorite acts. Friday and Saturday hold the two days of late night fun and both have very different choices to offer. On the first of the two days, the range of artists stretches from Run the Jewels, Flying Lotus, Odesza, or Earth, Wind, & Fire; to late night favorite, STS9. Friday looks to pack even more of a punch by including a special rare set by the infamous, Deadmau5, on the What Stage which has always been known for hosting incredible late night sets, some even breaking into the early dawn. Being on the farm in 2013 I had the pleasure of seeing Derek Vincent Smith, aka Pretty Lights, bring on an incredible set late into the morning hours on the What Stage with many festival goers packing around the stage as far as the eye can see. We can expect big things from Friday, as it packs a little bit of everything for people to stay up late and connect with.
Deadmau5 performing at Bonnaroo 2010
If you thought that you may catch some shut-eye after such a wild Friday, Saturday night is going to make you think again. Containing the ever-famous Bonnaroo Superjam! which was taken over last year by a star-studded lineup and overseen by the multi-talented Skrillex. The Superjam! brings together artists from multiple genres to create a once in a lifetime show special to the farm. It is a key component of Bonnaroo that many festival goers enjoy seeing as it connects artists in ways you would not have expected while always being fresh and innovative. Now where many would feel this would be the obvious Saturday late night choice, they would be very wrong. This year Saturday proves to be as difficult to choose between as Friday, sporting much loved acts such as heavy metal band Slayer, and electronic artist Flume. To top off this already immensely difficult decision, is a set by Bassnectar in his first return to The Farm since 2011, where he played a mind-blowing set on That Tent. Having him return this year is sure to draw a large crowd, making for a very difficult decision for festival goers as well as for a bass heavy second night. This year all Bonnaroovians are in for a couple late night treats and no matter who they see, are sure to feel the good vibes that stem from a place many return to year after year.
Bassnectar on That Tent, Bonnaroo 2011
Follow" Bonnaroo Music and Arts Festival: | Facebook | Twitter | Instagram |
Comments
comments