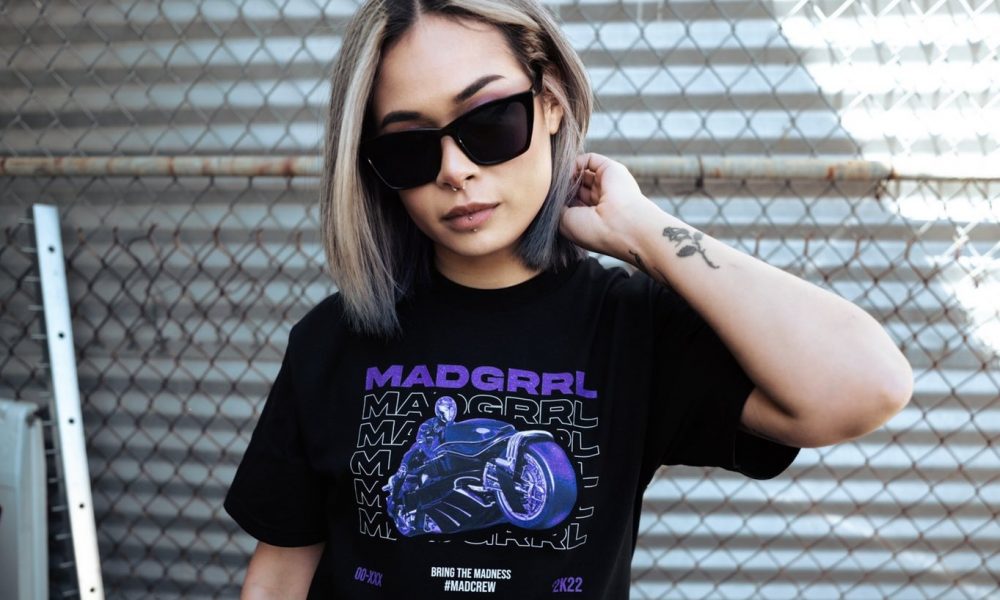 Looking to hit the ground running opening 2022 with her collaboration "Raving Raptor" alongside Dino Shadix and now preparing to hit the road with Krewella this weekend, it's safe to say MADGRRL is having herself quite the monster year and doesn't plan on taking her foot off the gas anytime soon.
Being a true bass enthusiast who has thrived in the world of hard dance but isn't afraid to venture into other genres putting her own hard-hitting spin on things. Growing up with her father being a DJ and having her own rave roots before deciding to make her dream come true, MADGRRL has been tapped into the world of electronic dance music from the very beginning and has found inspiration every step of the way.
With all that being said, we wanted to dig a little deeper to see what molded her into the artist she is today.
MADGRRL recently took the time to hit rewind and introduce us to the tracks that inspired her most leaving a lasting impression on her…forever. These are the five tracks that ignited her passion for electronic music and I guess you could say the rest is history.
Check out her list below, there are some serious classics featured in this one!
Tiesto – Just Be (2004)
"This was one of the first dance tracks I remember listening to as a teenager and thinking to myself "Wow dance music is really fucking cool." My dad is a DJ and I grew around lots of different genres of music but dance music stuck out the most."
Kayzo – This Time (2017)
"When I first started MADGRRL this was actually one of the main inspirations for my overall sound. I saw Kayzo way before in 2014 at Hard With Style when he was strictly making hardstyle and his sound always stuck with me. To hear him experimenting in both dubstep and hard dance – genres that I love so much – was super exciting to me. It really inspired me."
Boys Noize – Yeah (2010)
"I used to be absolutely OBSESSED with Boys Noize. I really loved how he merged the sounds of hip-hop/disco/electro in his music. I've seen him live so many times but the one time that sticks out in my mind was seeing him at Electric Zoo NYC in 2010. He played at the mainstage and this song was going OFF at sunset! I was so mesmerized by the electro synths on this track. I LOVED watching him DJ. Something about the way he mixes and the vibe of his stage presence really influenced me to want to do that on stage. Such a legend!"
Rusko – Cockney Thug (2007)
"I remember not really hearing original dubstep from the UK until around 2009. But I remember listening to a Caspa & Rusko mix on soundcloud (I think) and that was the first time I ever heard dubstep. I was like…WHAT THE FUCK IS THIS AND HOW?! Cockney Thug stuck out to me out of that mix and I've been HOOKED on dubstep ever since LOL. Rusko is fucking hilarous and I love all the hilarious samples he uses in his tunes. The old school dubstep 140BPM groove will forever hold a place in my heart."
M.I.A – 20 Dollar (2007)
"Man…sometimes I forget how influential M.I.A. was to my exposure to electronic music. Her whole album Kala was a stepping stone for me to actually pay attention to electronic music but specifically this track off of the album – I absolutely loved it. Her unique sound of hip hop and electronic fusion was so intriguing to me. I saw her headline set at HARD NYC in 2010 along with Skream & Benga, Sleigh Bells, Die Antword…what a time for electronic music in the states! I miss it!"
"Follow" MADGRRL : | Facebook | Twitter | Soundcloud |
Comments
comments