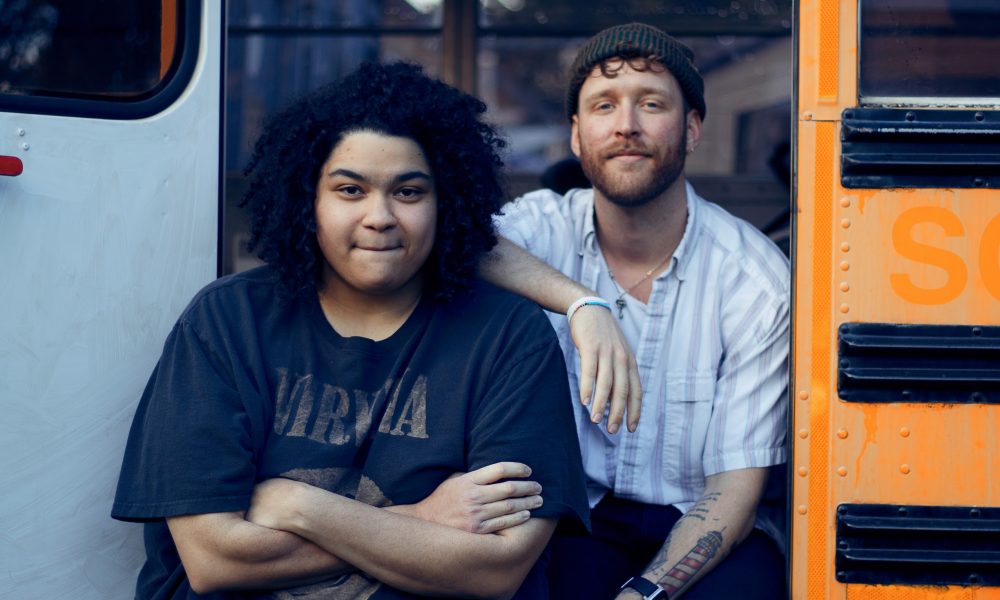 If you've been following TSS from the beginning, it's safe to assume you've become quite familiar with Candyland and share our excitement in our beloved duo reuniting after eight long years with the release of their new single "Nirvana" on Monstercat.
These two bass enthusiasts look to make a splash as we open 2022 with a tantalizing vocal-driven, future bass-tinged gem of a production setting the tone for what's to come from the Santa Barbara natives.
Not only are they back with a striking new tune, but we also had to chance to chat with the two and discuss their long-awaited reunion, "Nirvana" and what the latest chapter Candyland looks like. Check it out below!
Candyland share, "Candyland is back with their first song together in 8 years! This song is really about wanting to feel powerful in the context of a relationship. It plays on vulnerability and the desire for reciprocation after sharing your feelings for someone."
Candyland – Nirvana | Download |
TSS: After eight years, Josie and Ethan have reunited to make Candyland a dynamic duo once again. So how does it feel to be back in action after taking some time apart?
Josie: It's incredible, we have so much fun together. We're closer than we've ever been and super excited for round two of this thing! We're both older and wiser and kind of have nothing to lose when it comes to Candyland, so we're not as scared of what people will think this time around, it feels great.
Ethan: It's been wonderful so far. Josie and I are both healthier than we've ever been on basically every level.
TSS: What inspired the reunion?
Ethan: We decided to try and release one more song and agreed to keep going as long as it was fun for both of us. So far so good!
Josie: The 10 year anniversary was coming up and we had been talking about doing something cute for the fans. It ended up snowballing into a full-blown reunion that we didn't really prepare for haha. But I think the biggest factor was how much time had passed, and how much we had missed each other. When we first started talking again, it was just sharing old inside jokes and music that reminded us of each other. But when we finally had our like 3-hour long zoom call and caught up on life and everything, it was pretty much locked in that we were gonna give this another go.
TSS: What can the world expect from the new era of Candyland?
Ethan: The goal is to write meaningful songs that last a long time. Before, EDM was all about production. Now, I'm usually focusing on how to write a good song instead of trying to create the next big production trend. Ideally, you can expect some memorable songs that you'll love the first time you hear them, as well as 5 years down the road.
Josie: We were pretty all over the place with the music last time, and I think that will only be more extreme this time around. We like all genres of dance music so pretty much all of that is on the table. But the biggest change to the music is Ethan will be singing on a lot more of the tunes, and we're going to make some fun changes to our live show.
TSS: How would you say your sound has evolved for all those who have been following Candyland since 2012?
Ethan: As Josie said, a lot more of me singing. And like I said, a lot more focus on trying to write meaningful songs instead of just trying to produce bangers. That being said, we're still going to put out some dubstep, drum and bass, and house-style stuff that will be a lot of fun to party to!
Josie: The quality is much better lol. But a lot of the "old" sound and influence is still there. I think there is some pressure in the dance music world to stick to the trendy sound or follow what everyone else is doing. We've been so disconnected from the scene for so long, that it doesn't really concern us as much as it used to. Feels like we have a little more freedom this time.
TSS: Will the Candyland OG remix series also be making its return in 2022?
Josie: Definitely. We have a couple in the works, just have been focusing on more original stuff for now. OG remixes ain't going anywhere though!
Ethan: Oh yeah!
TSS: Was there a period of shaking the rust off, or were you two back at it on the same page immediately?
Ethan: We definitely picked up where we left off. Especially because I had been making music during our break and Josie had been killing it doing her thing too. When we started back up it was like a much healthier and higher quality version of what we had before.
Josie: Pretty much the second we said hi on that zoom call it was like nothing had happened. We cried it out, talked it out, and we had like 8 years to catch up on too. But we had been working with each other since high school, working with Ethan is like riding a bike, we know each other so well at this point.
TSS: Tell us a little bit about how "Nirvana" came together.
Ethan: Josie told me to write a song over the remix, and so I did. It was a fun way for me to get my feet wet singing on Candyland stuff and I look forward to doing that more; I especially look forward to performing these songs live.
Josie: It actually started off as a little bootleg remix that we were on the fence about. We had considered just putting it out for free but ended up scrapping that idea and Ethan sang on it instead!
TSS: How does it feel to make a splash for your return releasing "Nirvana" on the electronic powerhouse that is Monstercat?
Josie: It was a perfect fit for this first release back. We go way back with them so it almost felt like another reunion. They've grown so much as a label it was pretty wild to see at first, but we're thankful they took a chance on us and that they believe in what we're trying to do with this project.
Ethan: They've always been great and this was no exception. Always a joy and a privilege to work with a label that actually gives a rip about their artists.
TSS: How has the bass music scene, specifically, changed since Candyland first emerged onto the scene?
Ethan: I have no idea. You probably know better than me! I've been out of the loop for years. I will say that I went to EDC in 2019 and saw Excision and it was absolutely bonkers. I also still listen to Space Laces and Zomboy when referencing mixes for the more EDM-style stuff we'll be putting out.
Josie: I've been out of the scene for so long that it's hard to say. Music-wise it's gotten a lot heavier and darker since we've been around. And a little more experimental too, which I love. I think in terms of the scene though it feels a little more inclusive. I'm a lot less worried about a dubstep bro calling me his nigga or everyone asking if they could touch my hair. Not sure if that still happens in the 2022 dance music scene but I guess I'll find out soon enough! Haha. A lot fewer mean comments though I'll say that. Seems like a more friendly place these days.
TSS: Now that this reunion is official with the release of "Nirvana," what can we expect from you two for the rest of 2022 and beyond?
Josie: Lots of tunes and hopefully music videos!! We want to expand outside of dance music and do more with this project sonically and visually. So we're stoked for people to start hearing Ethan sing on more songs, and see our updated live show.
We want to connect with our fans more this time around, and we want them to get to know us on a more personal level, and not just push music on them all day. We're planning a podcast, and cooking up a super special live show series that we're stoked about. And of course a lot of party music. Super ratchet bassy stuff. We got a lot planned, and we can't wait to share!
Ethan: Josie said it best!
"Follow" Candyland : | Facebook | Twitter | Soundcloud |
Comments
comments