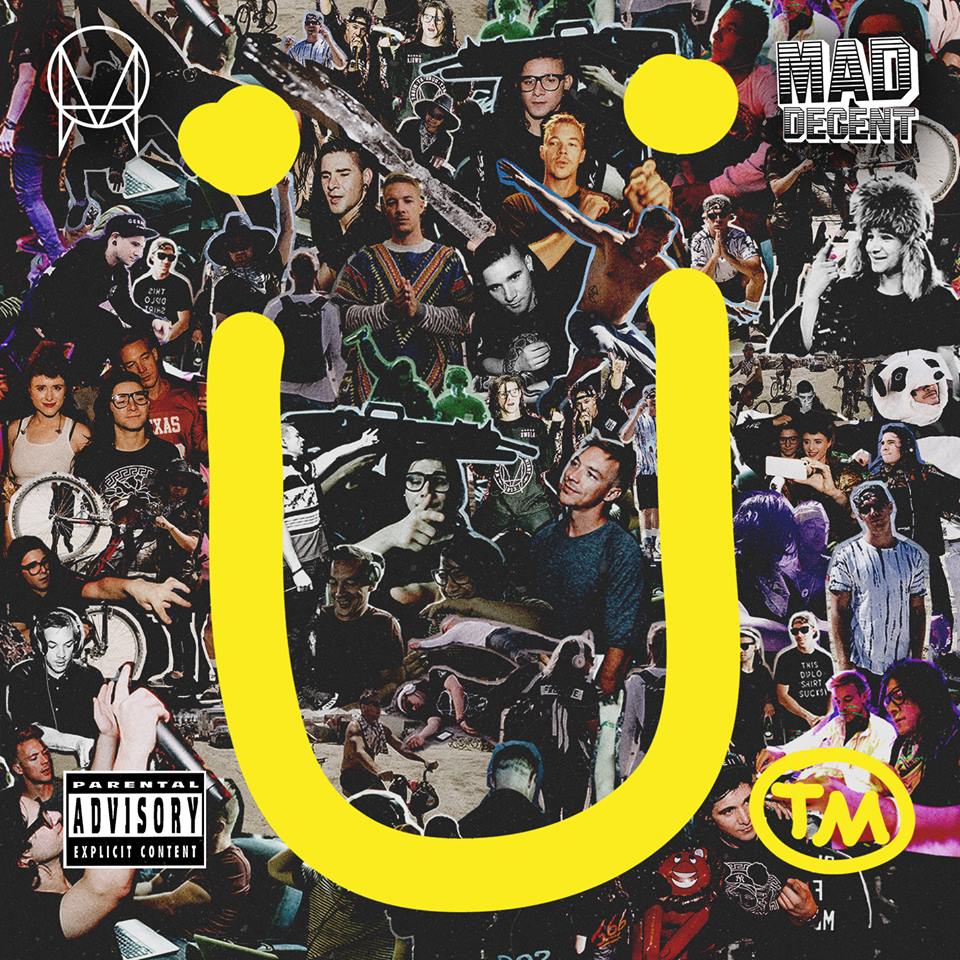 In case you somehow missed the madness that was #24HoursofJackU, Skrillex and Diplo dropped their collab album "Skrillex and Diplo Present Jack Ü" last night. The highly anticipated 10-track album exceeded all expectations, as well as the album release party which was nearly a day long celebration. Check out what we have to say about each track below – and definitely don't sleep on listening to the album.
1 "Don't Do Drugs Just Take Some…"
You didn't seriously think this would be a normal intro track did you? Come on, it's Skrill and Dippy…everything is out of this world. "No More drugs just shoot up a little Jack Ü in your butt…" Anyway…this album is about to take you on a ride through the sounds and minds of Jack Ü Universe.
2 "Beats Knockin" (Feat. Fly Boi Keno)
With vocals reminiscent of the late Nicky Da B (RIP fam), Fly Boi's reggae-style rapping on "Beats Knockin" gets us hyped up af. This song has been heard in nearly every Jack Ü set since the start of the project, so I've been patiently waiting to hear the full, finished version. With a moombah breakdown only Diplo could create and wubs courtesy of Skrill, the song is a perfect blend of both artists.
3 "Take Ü There" (Feat. Kiesza)
Everyone is familiar with Take Ü There, as it was the first single off the album and the first official song from the power duo that is Jack Ü. This single was the start of it all, and we aren't sick of it yet.
4 "Febreze" (Feat. 2 Chainz)
"Yeah, I'm the shit. I should have Febreze on me." 2Chainz provides his deeply insightful bars for the rage anthem of this album. The bass jumps all over the place, matching the crowds of rowdy ravers. Starting out fast like Dirty Vibe, it evolves into this shrieking, industrial beast of a bassline. This track is exactly what it's supposed to be, and you've got to love it for that. The sort of "just add water" party track that every DJ needs in their arsenal.
5 "To Ü" (Feat. AlunaGeorge)
This is definitely one track that stands out from the crowd when it comes to this album. AlunaGeorge's Aluna Francis delivers soothing vocals while Skrillex and Diplo compliment her work with a heavy yet not overwhelming dose of "Jack Ü". This track might seem to start out slow following "Febreze," but it's everything we expected, and more, from a collaboration of these creative forces. "To Ü" is a thing of beauty and we'd love to see these two join forces more often.
6 "Jungle Bae" (Feat. Bunji Garlin)
With Jungle Terror continue to sweep across the dance music community, Sonny and Wes introduce us to their "Jungle Bae". This track is bound to be a festival anthem with its main stage appeal. Let's just hope Bunji Garlin is the only one telling us to put our hands up this festival season. "Jungle Bae" is a track where Diplo's signature touch definitely shines in with the drop, while Sonny delivers the tropical touch. We've heard a few edits of this track, but it seems they've save the best for last.
7 "Mind" (Feat. Kai)
The opening has a real Zeds Dead feel to it – "Collapse," anyone? You may recognize the singer, Kai, from her work with Adventure Club. This is a very diverse song, undulating between melodic and floor stomping rage music. "I'm gonna show you how to love again" follows up on the theme set in Take U There, with Skrillex himself adding the vocals that absolutely MAKE this track. This is one of those genre killing hybrid trap bangers, reminiscent of Diplo's "Will Calls" remix for Grizzly Bear. Prepare yourself for the break down — you'll be going wild to it all summer.
8 "Holla Out" (Feat. Snails & Taranchyla)
There's bangers, there's feelers, then there's Jack U meets Snails. With the help of Taranchyla on vocals, this unstoppable force is the most energized record on the album. Snails is scary good with his sound design, but throw him in the mix with Sonny, Diplo and some 909's and you have the masterpiece that is "Holla Out." We caught a glimpse of this track in the Diplo & Friends Mix, but since then they have completely flipped it. Also, I need that record at the end in the background.. could it be a VIP?
9 "Where Are Ü Now" (Feat. Justin Bieber)
While some elitists are conflicted with Skrillex and Diplo teaming up with Bieber, there is no denying this amazing track that resulted. We've known for quite some time now that the 3 would be teaming up on a track but we didn't know in what way. I'm not a Belieber in any way shape or form but this tune has captivated me on so many levels. Bieber's soothing vocals and meaningful lyrics accompany the Ü motif that the super duo pushes throughout the album. This one is a feeler with some wonky Jack Ü sounds but more so highlights on the skill set of crossing genres which both Sonny and Wes seamlessly do.
10 "Take Ü There" (Feat. Kiesza) [Missy Elliott Remix]
Comments
comments