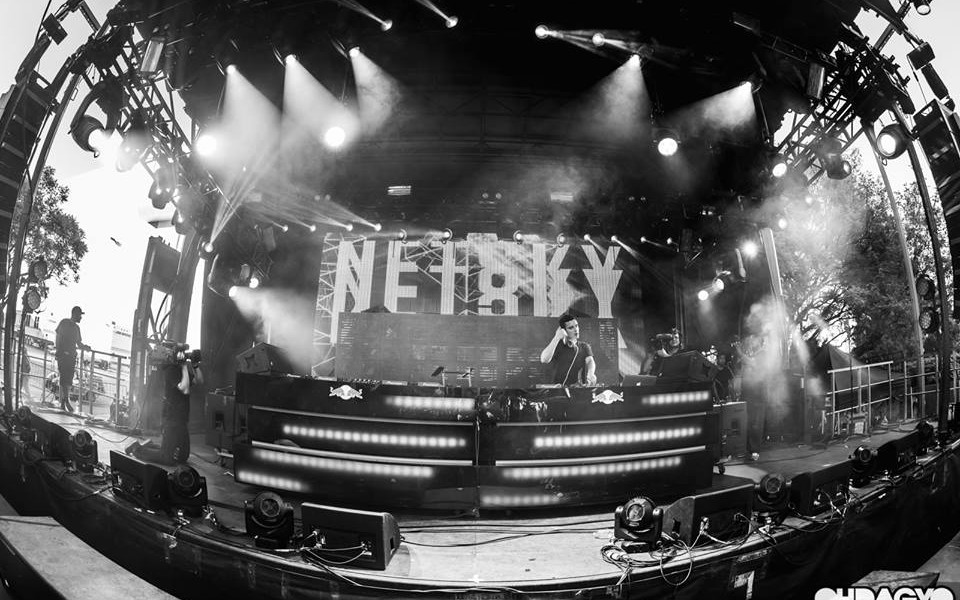 The sun is just beginning to set behind the cascading buildings of downtown LA as I make my way through the hot and sticky crowd of Mad Decent Block Party. While my tasty tater tots and cold brew may have helped take the edge off the heat, there is nothing to take the edge off my excitement for what I can only imagine will be the best fifteen to thirty minutes of my life. It might seem a little exaggerative on my behalf, but if you had just witnessed and felt the massive vibes coming from Netsky's set, you'd be a little over ecstatic too. It's safe to say my eagerness grew as I made my way closer to the trailer labeled "Netsky" and noticed the talented Belgian speaking in a distance with his luring accent to another fellow blog. The saying "patience is a virtue" comes to mind, but all I can think of is how good that set was and how I can't wait to pick his brain.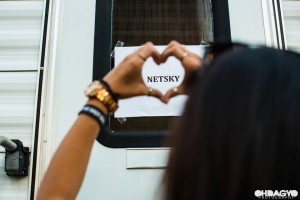 As we enter the heavenly air conditioned trailer, an offer for a cold Stella is the first question of this interview. Gentlemanly and handsome, Netsky has already won me over and he appears to be asking all the questions. Ready to step up my reporter game, I unfold my paper and hit record. "I don't like questions," Netsky says,"let's just talk." And just like that begins one of the best interviews I have ever conducted.
Boris aka Netsky really needs no intro. He has countless hits that have spoken for themselves (hello Puppy, Come Alive,, and more recently Rio) and he's wowed crowds across dozens of countries with his live and DJ sets. It's been about 3 years since his last album, "2" released, yet he's maintained the position of being a must see artist. For the past year fans and myself alike have been anticipating a new release and after hearing the first single Rio off a foreseeable album, it only solidified the need for some brand new Netsky.
"The album is coming out next year," he says."For this album I wanted to get out of my comfort zone and shock people. For me it's like an album I would take on a deserted island. It's all the genres and all the stuff that I really love. It's going to be a mind fuck."
Netsky delves a little deeper and reveals his love for Prince and Michael Jackson. His parents may have had a part in this, but then again his parents may have been what helped set the standard for Boris' dedicated work ethic.
"My parents mean a lot to me." he reveals between a sip of Stella."They trusted in me so much to quit college. They trusted me to make music. I cut a record label with a company they had never heard of. They said okay, "We will give you one year to try it." For me, the emotion you get from seeing your mum and dad watching you and understanding they can trust you is the best thing ever. That's always going to be my drive."
As for the pivotal moment that got Netsky into producing? Well, while some parties produce memories that last a lifetime, Netsky's first drum n bass party would create a career path to producing tunes that will go beyond this lifetime.
"My first drum n bass party really got me into it and that's why I started with it." he recollects,"I really love the way drum n bass can capture that energy and still never lose any of its mellow cheesy chords."
As soon as those words left his mouth, I immediately started pondering all my favorite Drum N Bass songs with all those cheesy chords, but this interview wasn't about me, it was about Netsky. So bring on the cheese and grab a cracker because Boris then revealed his favorites of Drum N Bass.
"Number one… Original Nuttah, definitely top 5. Then you have Bad Company, DJ Fresch and all those guys in the UK. Bad Company's The Nine. LK by DJ Marky. High Contrast's Return of Forever. Sub Focus' Rock It and Tidal Wave. And of course, Pendulum. They have made a massive change in Drum N Bass.
There's something about this concept that really hit home and for me and watching Netsky get nostalgic had me intrigued on these influential songs and how he decided to create his own. How does a concept in his head become a track? How did Rio become Rio?
"It was a house tune at first. It's why the vocals sound like they do,but kind of sped up. It's like a really cheesy house tune that we liked jamming on (me and Digital Farm Animals). If you knew the track LK, it samples a tune called, Carolina Carol Bela which is a massive brazilian tune and its got a spanish guitar and it's amazing. I heard that (the sample) for the first time in full in a random bar in Brazil. It's really tropical, really different so we changed it from a house tune to a summery vibe. I just like really happy and uplifting vibes. After I heard that tune I said fuck it, I have to have something to show DJ Marky. DJ Marky had invited me to a party. I have to kill it. I gotta to make something that will make him smile. I showed it to him two days after I made it . He was like "wow."
After this it was safe to say I was the one "wowing." Not only was Boris revealing some of his deepest thoughts and creative processes, but I had started to feel like I was reaching a whole new level of understanding for one of my favorite artists. The fan girl in me was doing cartwheels and back flips. While time felt like it had stood still inside that trailer, the clocks outside were still ticking and alas came time to say goodbye.
Like I said, Netsky needs no intro, but then again, he doesn't need a conclusion either. He's always growing, always, pushing, and always creating.
"I just love expressing myself in music. Now here I am in a trailer in LA, one of the most blessed people on earth."
"Follow" Netsky: | Facebook | Twitter | Soundcloud |
Comments
comments