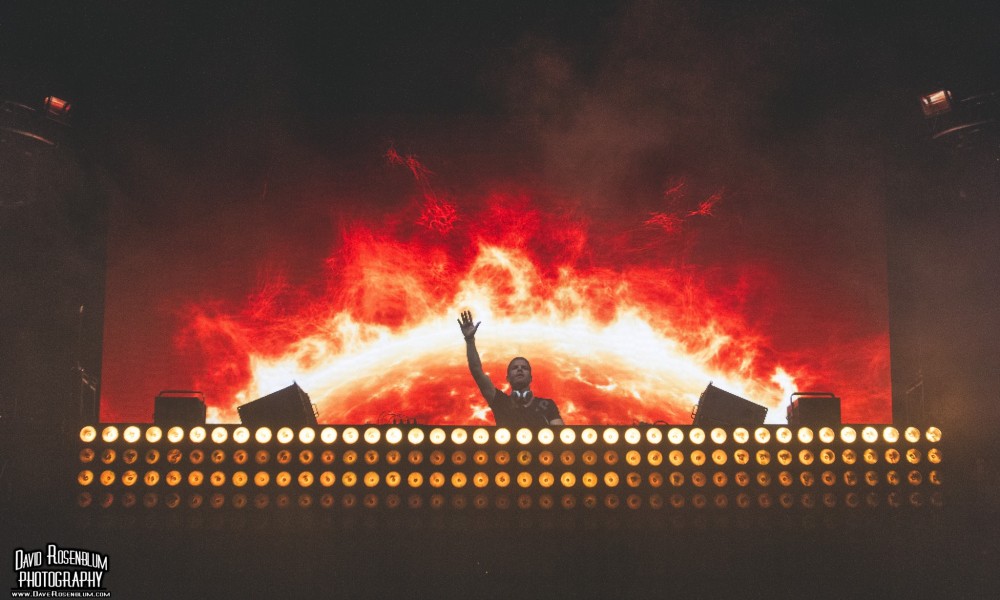 Photo Cred: David Rosenblum
We had a chance to sit down and talk with Morgan Page for a few minutes in Chicago before he performed at Spring Awakening.
TSS: You're sixth album, DC To Light, just came out. What was your vision on this album compared to your previous ones.
MP: I wanted to have some more club type tracks. Ones that I could play live. I wanted to try this framework out a little bit more. DC To Light means full frequency across the spectrum so it fit together with the whole theme. Everything from the artwork to the whole idea that everything was made from solar panels and solar power. I'm a big fan of Tesla and I've done music for some of their announcements so I figured if we can charge a car with solar power why can't we make music that way. That was pretty much the theme. Music wise I just wanted to work on strong songs that fit the club framework. DC To Light isn't as mellow as the other albums but who knows, maybe the next release will be more live instruments and things like that. With this there's lots of guitar layered on it It's a mix of synthetic and organic stuff.
TSS: Having a tough road schedule being constantly on the move, how do you find time to put out a full album?
MP: Usually I block out time for myself. It's really hard for me to get inspired to work on the road. I think when it's the songwriting stuff it's harder to work on the road because you want to have instruments around you and you want to have big speakers. If I'm doing just "banger" tracks those are easier to do in the hotel room where you're not really working with singers as much. So with this record a lot of it was blocked off. I spent a lot of time at home in the studio, and I had some collaborations with Carnage where we worked in a few other studios as well.
TSS: What was your initial reaction hearing you've been nominated for a Grammy?
MP: When they first were announcing the nominations it was almost disbelief. It was crazy, it was a remix I did for Nadia Ali. It didn't blow up but it was like a sleeper hit. It's really fun and such an honor to be recognized because you only get one shot a year for it. So the music comes out, people vote on it and it was huge. It was really nice too with the "The Longest Road", the Deadmau5 remix that got nominated. That was pretty surreal, he still plays that one out in his sets.
TSS: Growing up in Vermont what was your first interaction with electronic music?
MP: It was hearing on the college radio. That was the only way to discover it because there were no blogs, iPods, or anything like that so things couldn't move as quickly and socially as they do now. I lived out in the country so I was hearing these radio waves creep out beyond the suburbs to where I lived. So once I started hearing that it got me into buying vinyl and researching other artists. I started buying all these British magazines about electronic music because they were so far ahead of us at that point.
TSS: So then how did you get your foot in the door with production?
MP: The main thing was saving up enough money to buy gear. Back at the time an MPC 2000 was like 2 or 3 grand. You needed a sampler and a keyboard because you couldn't do it with a laptop back then. That was definitely a barrier for entry. I just started doing remixes and saving up money to get the gear. So in high school I was working on these to sort of build up a discography. But to get the record deals and that stuff I interned at record labels and just kept pushing my demo. I interned at Classic City in New York. I interned at Ultra Records for a week and then I quit. This was around 1998-99, very early days when Ultra was a much smaller label. So I worked with these labels taking out the trash, making coffee, putting together cabinets for them, just putting in my dues. Then finally one day they were like, "Okay we'll sign a release."
TSS: Along with that growing up who were your music influences growing up?
MP: I think the entry points for when I was first getting into electronic music was like the Big Beat stuff with Chemical Brothers, The Prodigy, and Crystal Method. Those were the first major label electronic records I heard. Then I started digging more getting into Deep House and European stuff. It was a long process. You have those points where you get to the music and you're tired of it and want to explore deeper. You don't realize how deep it is until you start buying records. There was a time in Vermont when I'd go to the record store and dig through crates every Tuesday. It's sad that all those record stores went out of business. The biggest influence was Daft Punk at the time once I had gotten past those sort of Big Beat Electronica artists. I remember seeing Daft Punk without helmets around 1999. They played in Montreal with a 303 and a 909 and all that stuff. That was a big moment at the time, I remember walking up to the opening act and giving him a cassette demo tape. I think there were various folk influences from the stuff my parents were listening too. Giorgio Moroder ended up being a really big influence because I listened to all of his albums. It's funny because I'm only realizing til now that the stuff I'm making sounds a bit like his.
TSS: Lastly who are some artists you're listening too right now that are some up and comers.
MP: There's so many people and with the radio show it always keeps me on my toes. I'm loving all the future house stuff that happening, especially what Oliver Heldens is doing. Also the whole Kygo thing blew up really quickly. It's hard to single out an artist because the ones that are up and coming are already big now.
"Follow" Morgan Page: | Facebook | Twitter | Soundcloud |
Comments
comments