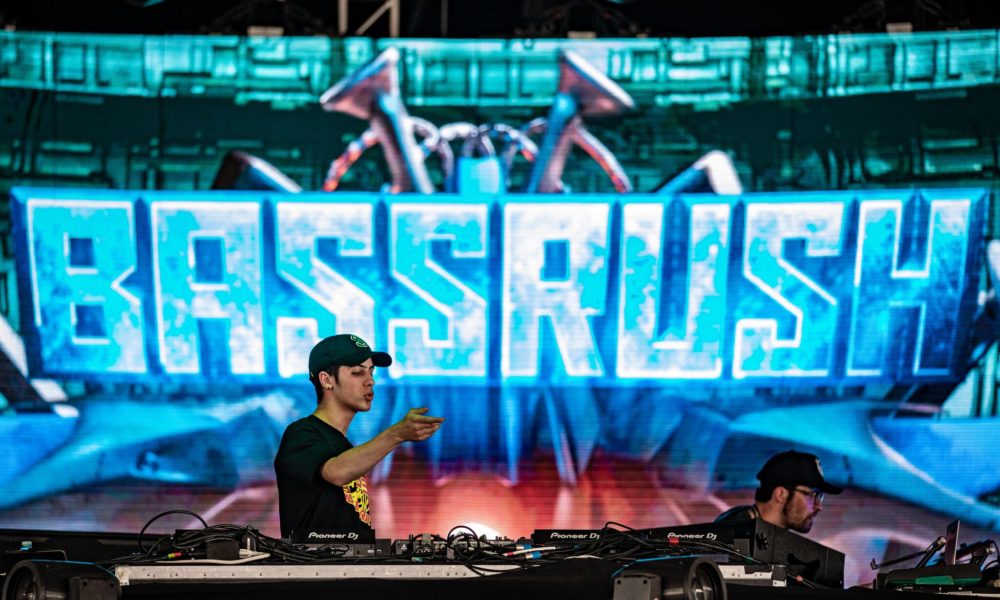 Two days, three stages, and bone-rattling bass. A little over a week ago, Bassrush Massive took over the NOS Event Center in San Bernardino, California, and it was next level – to say the very least. With over 50 featured artists, there was never a dull moment at the event. Now that the ringing in our ears has dulled down, here is our list of the most memorable moments from the weekend, divided by stage.
The Void
The Void was the experimental stage filled with sweltering bass, and its atmosphere was absolutely stunning. It featured two large structures which sputtered massive flames along with the beat of each song. Furthermore, the dance floor was plopped right on the grass, giving dancers room to breath and those who wanted sit a chance to take a break without compromising good tunes.
More often than not, experimental electronic music does not receive the recognition it deserves at mainstream dance music festivals. This is just one of the reasons I fell in love with Bassrush so much – the lineup was eclectic and featured artists all along the bass-driven spectrum.
One of the more notable moments was during Bleep Bloops' set. In the midst of his mind-bending transitions and blends, he took a second to talk about trees:
When @bleepbloopbass said "trees are objectively better than humans" I really felt that

— Single Cell Shark (@Tewzdai) July 22, 2018
The crowd cheered and yelped before picking up where they left off and dancing just a little bit harder for the rest of the night with thoughts of trees lingering their minds for the rest of the evening.
The Grid
The Grid stage was unlike anything I had ever seen before, especially being that it was my first time at the NOS Event Center. Held inside of a massive indoor tent-like stage, just one step inside had beads of sweat form on your forehead; however, the sweat never got a bass-lover down. Rather, The Grid was consistently packed with attendees head banging to their hearts content.
One of my favorite acts that played at The Grid was DC Breaks. Song after song, his set proved that drum n bass is alive and well in the United States. With each breakbeat, dancers would kick their feet and wave their arms. Seeing everyone truly let go and just enjoy themselves for his set was a sight to see.
The Portal
The Portal was known for the heavy hitters, featuring artists such as
GTA
and
12th Planet
. The stage underneath an open and massive canopy, with the sounds blasting from the front to the back, and all throughout the festival. A crowd favorite from the weekend was definitely
Pendulum
. Known as pioneers within the dance music scene for their unique take on being an electronic music band, having them at Bassrush was a major treat. Although they performed a DJ set, fans were no where near disappointed.
My personal favorite was Adventure Club. As one of the first electronic groups that I listened to when getting into dance music, Adventure Club holds an incredibly special place in my heart. No matter how many times I have seen them live, whenever they are on a lineup, I must see them perform – and for good reason. They absolutely smash it every time, giving attendees a set filled with luxorious and sweet vocals, before breaking it down with a heady dubstep drop.
Final Thoughts
All in all, Insomniac absolutely smashed it with their largest Bassrush event to date. Everything was just right – from the stages, to the music, and even the vibes. I can easily say that this was one of my favorite Insomniac events I have ever attended to date, and am thoroughly excited to see what else they have in store for future Bassrush Massive events.
Follow Bassrush
Twitter | Facebook | Website
Comments
comments