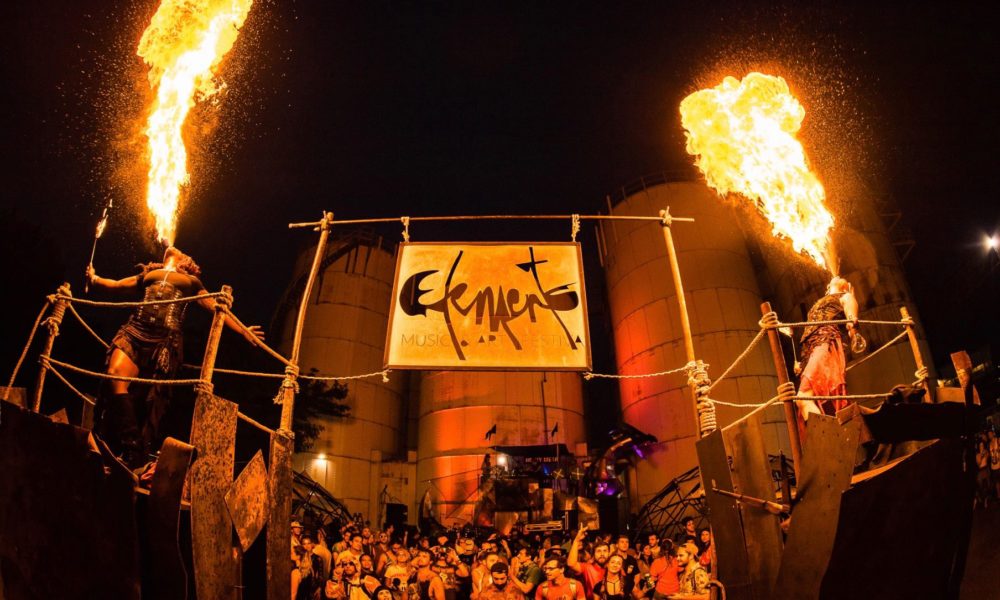 The liberating beauty incapsulated within Elements Music & Art Festival is their ability to create the unthinkable, the unimaginable, and the inconceivable with the optimistic notion that their patrons will be dazzled as the annual installment comes to life. In a city (New York) recognized for its diversity and peculiarities, Elements possesses a rare quality in that its artistic intricacies are a principal focus that define the overall event. Their ability to consistently think outside the box exemplifies this team's devotion to strategic inventiveness and pure originality. To claim Elements as "state of the art" is vaguely cliché, yet its distinctive attributes and idiosyncratic approach allows it to stand alone as an offbeat destination with no sense of superiority.
Simplicity can often facilitate any brainstorming session. By aptly naming their stages – Earth, Fire, Water, and Air – Elements has created a correlation between each musician and their respective stages based on each one's musical styles. Water is mysteriously powerful and flows satisfyingly without any necessary guidance, which aligns perfectly with any GoldFish, SNBRN, and/or Kurtis Blow performance. Fire is immediately sensed, easily sat around for hours, and difficult to look away from. Coincidentally, Justin Jay and Sacha Robotti present these equal effects during their performances! Air is fresh, necessary, and capable of sending chills down your spine; Erlon and Experimen.tal are guilty of these same traits. To view each pairing and set times, look below: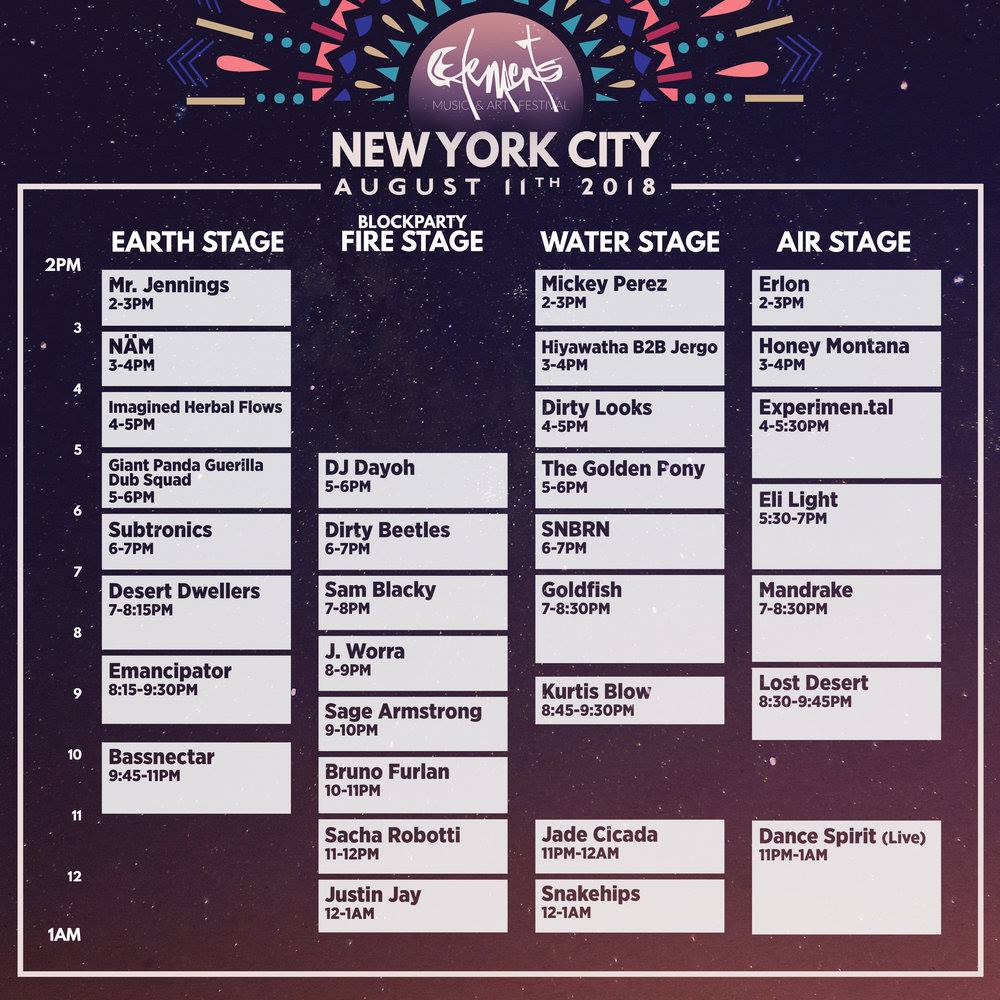 Recognizing merely the musical segment of Elements will aurally suffice, yet the 14 visual artists that will be bringing their mental artistries to life cannot be overlooked. "Art of the Future" symbolizes the sui generis persona that each creator possesses, but it will act as a blueprint for where our imaginations can take us. "Marpi will present a take on interactive, large-scale projection mapping using Kinect (a line of motion sensing devices), while photographer Jarid Blue will use human bodies as his canvas to project digital imagery. Utilizing mixed media, Justin Wood will combine projections with mirrors and fog, and LED sculptures by Orbism will pulse to attendees heartbeats. Rhizome will showcase stunning projection mapping using CNC design creating incredible textures and depth, meanwhile Seth Hosko & Dan Ragan will treat festival goers to an immersive audio and video sound experience. Other notable installations include a sensor-based infinity mirror that responds to one's presence by Brendan Burke, a sculpture by Vicki Lam using mixed media technology that combines projections with UV light and water, "Salix Vivifica," a weeping willow by Dom Romaniello & Rachel Smucker that uses sensor-based misters, and "Whispers in the Grove" a collection of LEDS and sensors that respond to sound by Mirabai Howard-Geoghan, Kathy Creutzburg, and Natalia Lesniak." – Elements
Transitioning from Lakewood to Hunts Point will allow Julianne Irene and her team to fully explore the limited dimensions within this transient playground. By combining with 30 originators, the unexpected characteristics of these upcoming creations are set to dazzle us like never before. For our galaxial beings, an alien garden known as the 'Galactic Green House,' and 'Pipe Dreams' – a dark cosmic peep show hidden inside a silo will make their presences known. In addition to those celestial formations, mind-bending trees from the minds of Chateau Brooklyn will be growing throughout the Earth Stage. Reminiscent of Mysteryland's Boat Stage, there is a literal Pirate Ship that will be setting sail from Lakewood to host our Water Stage. Team Kitty Koalition and Fou Fou Ha! shall be gracefully maneuvering the grounds as each carnival extraordinaire moves along with purposeful passion. If any of these tasks confusingly haven't tickled your fancy yet, Rawb Lane will make sure that glow-in-the-dark Champagne Ring Toss and/or Big Kids Carnival Games do the trick!
Comments
comments