Currently viewing the tag: "Pretty Lights"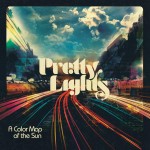 I've been waiting anxiously for this for a while now. Pretty Lights has been tearing it up for a while now, and it seems like his career has been building up to this album pretty much since he started making music. You can check out my reviews of two of his shows in the last 6 months here and here for a my own insights into what to expect from this album and what the music sounds like. Here's some of what he had to say:
It has been 2 years, 5 months and 24 days since I last released a record. I am properly delighted to announce the release of my new full-length album A Color Map of the Sun . I began work on this album/project/experiment in February of 2011 and spent a year creating my own vinyl collection of everything I needed to produce the album I heard in my head. I spent the next year producing songs with homemade vinyl samples and a big crazy analog synth I built just for this album. It is truly Analog Electronica. It's soulful electro hip-hop that went back in time to learn from the life of its smooth ass grandparents.

Music will always continue to evolve. On A Color Map of the Sun I challenged myself to evolve my own sound and style by looking to the past and paying respect to all the ways in which music can yield immense power; emotionally, kinetically, and as I see it, inspirationally. Basically, I tried to make an album that could make you feel your soul, move your body and maybe even stir up new ideas. I put my whole self into this album and it put itself back into me.

This is the first time I am releasing an album as a physical product at the same time as a digital version. I have double disc CDs and full length vinyl records available with amazing hard cover book packaging that looks stunning and contains a 28 page photo booklet documenting much of the making of the album. The second disc of the double CD set contains 13 additional tracks straight off the vinyl acetates that I composed and created in order to make legit sounding samples for A Color Map of The Sun.

Like always, the album will be available in its entirety as a free download on the album's release date via prettylightsmusic.com . For the first time however, I encourage you to purchase a copy of the album. There are two honest reasons for this. The main reason is that as an artist I have always reinvested any success I have directly back into the music, the show and the art that goes along with it. Secondly, this isn't just an album; it is a massive collection of music beyond what is on the CDs that I will continue to put out after the album release. There is an insightful documentary film on the making of this project to be released alongside the launch of the album, as well as a music video for every song. They are all beautiful and uniquely unusual pieces of art.

This "album" is a multi-medium map of my mind and my self. It is personal and honest and I put everything into it. I have stayed on the path of being a completely independent musician and with the help of every supporter and friend, we have transformed a simple idea into a movement, a cultural beacon of light. If you can, I encourage you to purchase a digital or physical copy of A Color Map of the Sun. If not…simply support by sharing the music and sharing the idea. If there is any success to be had from this album, it will go back into my rule bending, never ending quest to channel beauty and taste through music and art.

Either way, I made this music for everyone. Support this release and let's show the world how we do. The time is now. – Derek Vincent Smith
As stated above, you can preorder a physical copy of the album on his site, and it will also be available for free download. Seriously though, buy this album. This is coming from a guy who shamelessly pirates pretty much everything. Derek Vincent Smith has given us an incredible body of work over the past several years and never asked for anything in return. If anyone deserves your money, it's him.
Below is the music video for Around The Block, the first single off the new album. It's a sweet summertime jam with Talib Kweli on the vocals, and the video is really, really cool. Enjoy!
Pretty Lights – Around The Block feat. Talib Kweli | Download From His Site |
"Follow" Pretty Lights: | Facebook | Twitter |