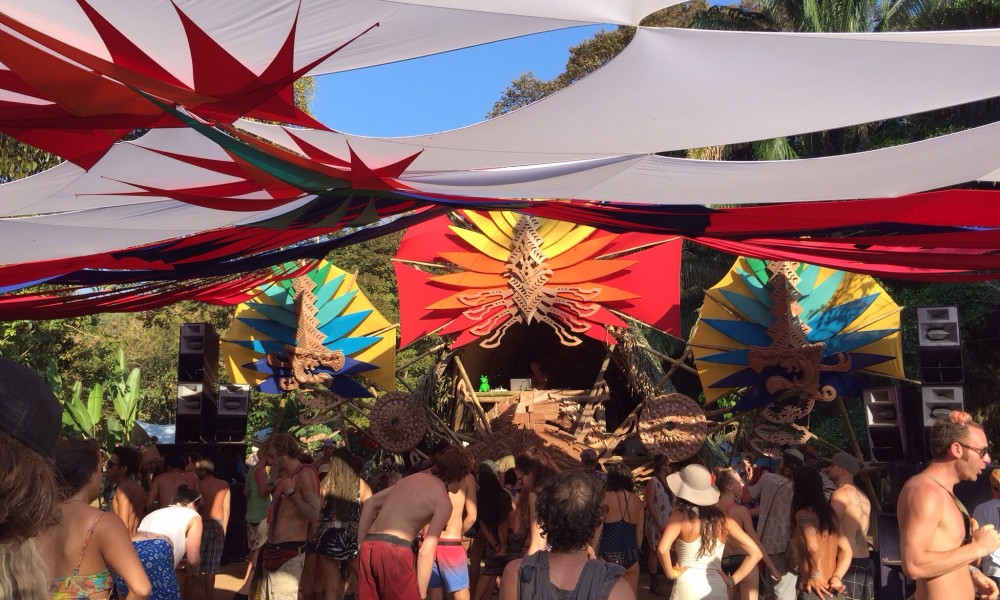 As we entered the jungle within Uvita, at a time of darkness and scattered rain, we were immediately embraced by the surrounding forces of nature and the enclosed patrons of this weekend world. "Enclosed" may come off as a limiting term of the available liberty within these walls, but we would soon learn that the ability to express yourself freely was endlessly permitted. To live in a world that exuberates happiness and appreciation for those around us and the planet that we inhabit is a distant dream; it is the only style of living known throughout Envision. We had an idea of what we were prepared to participate in, as everyone should with any matter unbeknownst to them, but this experience truly transcended everything for us that had led up to this moment.

Our arrival produced an unpredictable effect of forgetfulness. Anger which arose from unexpected travel complications, discomfort from the possibility of never seeing our destination, and disgust towards one another due to our momentary pessimism was brushed away by this unfelt sense of jubilation. This utopia's mastery of inexhaustibly displaying visual and audible beauty was truly enigmatic, yet it was easily comprehended by all. Our sunlit vision was relatively limited due to the evening reception, so our ears would act as our guides for the remainder of the night. Perhaps the most exciting part of our overall adventure to Envision was having absolutely no concrete engagements; we were able to freely discover all the eccentricities of the jungle, beach, and festival, rather than seek them out.
As a food aficionado, there is never a moment at any point throughout the day in which I am not craving [insert sustenance here]. One of the most crucial decisions to make at any music festival is committing to the ideal meal, so the smorgasbord of foreign delights served by vendors at the center of Envision always provided you with the equally simple, yet difficult decision. Belizean Fish Tacos, Costa Rican Sudados, 100% Vegan Cheeseburgers with Coconut Bacon, and other treats forced you to salivate at the whiff of every patron's choice. As if eating in the middle of a jungle wasn't enthralling enough, you had the option of having your meals served to you on leaves from the trees above or by utilizing the reusable plate and cup system. Both of these options truly embodied the mantra – "Waste not, want not", which was reinforced throughout the entire festival. Our mouths had finished feasting, so it was now time for us to feast our eyes on the magnificence surrounding The Village.
First, we wandered over to the Lapa Stage, which essentially served as the host stage for House music on our tropical weekend getaway. At nighttime, this stage served as a packed party scene; by day, Envisionaries stopped by to hear fresh, unfamiliar tunes on the way to and fro the Beach Access, which was conveniently across from the stage itself. We took our groovy moves on over to the Luna Stage. What better way to kick off the festival than by discovering two artists? If you are a glitch-hop fan who digs an artist inspired by Dave Tipper, you must catch Griff the very next chance you get. Whether it be in your hometown or at an international festival, pencil him in. After Griff, came Defunk, who just announced that he will be at Shambhala this upcoming August. Defunk's music can create nostalgia, due to paying homage to retro genres, such as: blues, jazz, and of course, funk. You may find yourself headbanging because of this when the bass drops. If you can get down to GRiZ, allow this talented specimen to find his way onto your next playlist. After checking out some of the festival grounds, we decided to turn in early due to the exhausting trip to Costa Rica. The only downfall during our stay in Uvita was the fact that we never received the double tent that we ordered. With that being said, we made the most of it and pitched our tiny tent in the jungle – just a couple of fools in a single tent.
We awoke. Our first sight of Envision in broad daylight was finally being presented to us. Was this the same magical place that we had grown to immediately adore and cherish from the night before? It absolutely was, and it dazzled us as effortlessly as our first encounter. As we emerged from within the trees, we allowed curiosity to guide us upon untraveled paths to parts unknown. They weren't unknown to the other patrons, but asking them for directions would have taken away from the imperceptible. As we stumbled upon the connecting path between one world and the other (well, the jungle and the beach), we were exposed to meticulous creativity from humans and Mother Nature alike. One-of-a-kind pieces of art were scattered atop multiple tables that served as beautiful distractions during your trek. "Empanadas For The Munchies!" became an accompanying motto to "Pura Vida". The path itself didn't come to an unfortunate end; it transformed into a playful platform that gave everyone limitless land to carry out untold activities.
Paradise was no longer in hiding nor a distant desire for it was willingly delivering us the chance to bask in all of its glory. People catered to your momentary needs for a mutual satisfaction. Ceviche, freshly picked fruit, freshly squeezed orange juice, and snow cones were patiently awaiting your retreat from the water – was this a dream? As we took a break off of our sea legs and returned to being beach dwellers, the unfathomable happened! Out of thousands of people attending this weekend's extravaganza in a secluded jungle on a different country, the first two individuals that we just happened to bump into were our close friends from Colorado! This encounter was one that we were optimistically anticipating, but we understood the unfortunate possibility of it not happening. The fact that it actually occurred simply proved how small this world truly is on a more vivid spectrum.
After our reuniting hugs, we decided it was time to hit the waves once again. The cool, Pacific water felt extremely alleviating on our already toasted skin. Our friend, Becca, whipped out her camera and an impromptu photo shoot commenced. We were unscripted models acting in ways that only we knew to be dynamic. We got newly-shaven snow cones, picked up a bottle of Cabernet on our walk back from the beach, and made plans with our Denver damsels to reconvene after freshening up. Forces were once again combined, and became a whole force to be reckoned with while grooving to the beats of Cat's Pajamas. Class was constantly in session as every area consisted of a different instructor teaching materials that hadn't been explored by parts of the audience. The Red Tent focused on healing programs, most of which were directed towards the enhancement of empowering women; the Village Witches enlightened avid ears to hear tales of sacred and psychedelic adventures.
We heard it through the grapevine that Patterns was one of the mandatory acts that you could not miss. Picture new-age synth disco with a Central American flavor. Led by a female singer, this group drew a sweeping crowd to their dance floor for their early evening set. Don't get us wrong – we both love dancing more than life itself, but our feet were becoming envious of the sloths lazing around up in the palms all day and night. We had reached the midway point of this time-limited getaway, so it was time to treat our temples to Templo De La Tierra – a pure sector of the festival which created a safe haven for Envisionaries to take a peaceful rest underneath a covered sanctuary. We laid down, closed our eyes, and drifted off until waking up to catch the tail-end of some late night sets, such as: M.A.N.D.Y., Hedflux, and Templo.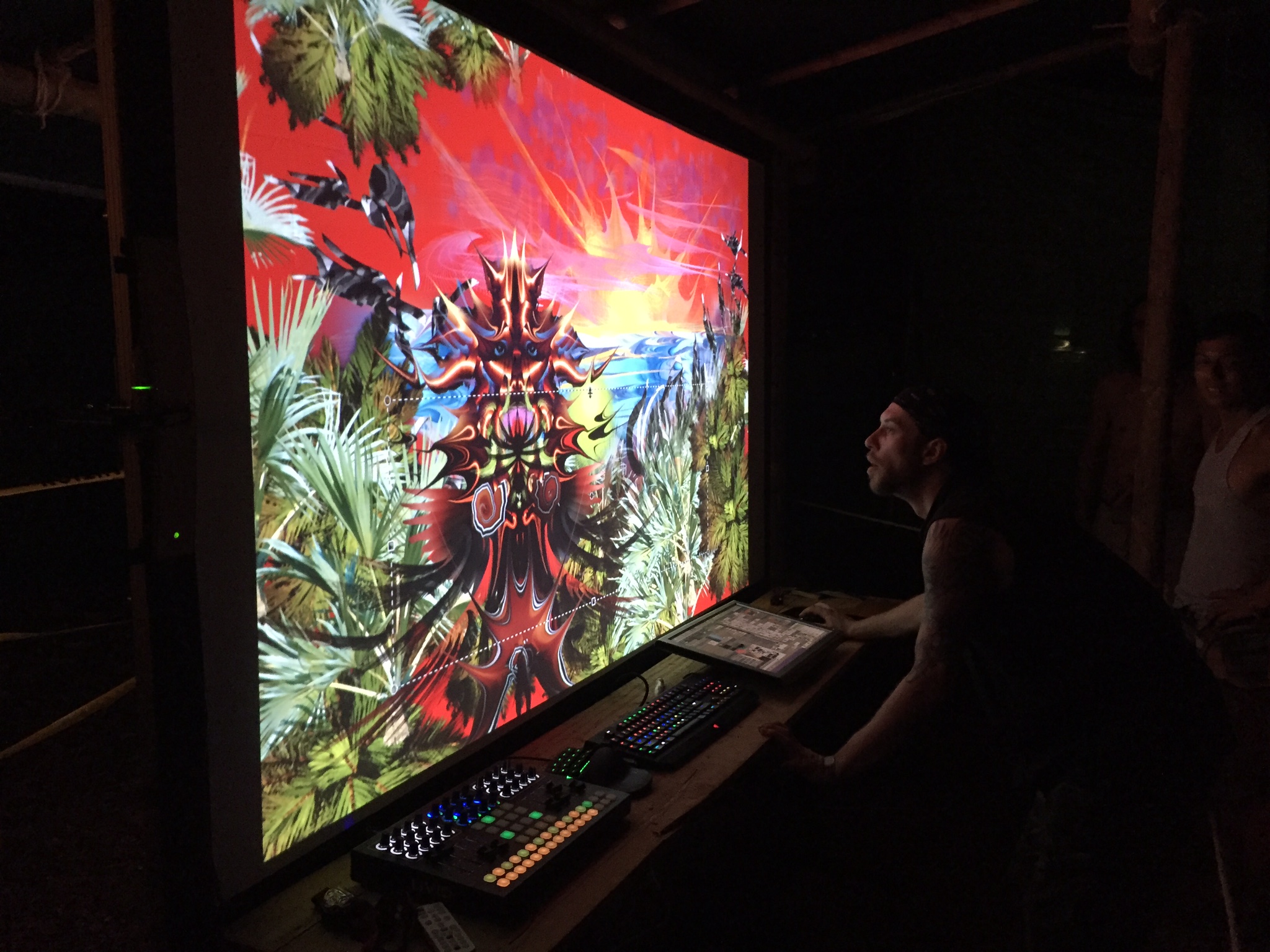 The ocean was calling our names louder and with an even more seductive tone this morning. Without any hesitation, our bathing suits seemed to throw themselves on our bodies as we embarked on another nautical expedition. We lathered on sunscreen and walked briskly to get our fruit-filled breakfast: watermelon, pineapple, and two large cups of freshly-squeezed orange juice. The mixture of euphoria and adrenaline organically cured any expected pain from our intense burns (second-degree, people), yet we still wanted to use any possible remedy while being immersed in a nature-dependent culture. We certainly don't want to offend any of the beautiful people that we had the pleasure of meeting, but Healing Blue Clay became our best friend the moment it touched our skins. Not only did it serve as an earthly sunscreen, but Healing Blue Clay also cooled us off, while deeply detoxifying our skin. After this wonderful alleviation, we decided to go shower and get pretty for the remainder of the day. Decked out in our Saturday best, we took two steps forward and one step back as we prepared to tango!
Not only were we lucky enough to catch a night set from Griff on the Luna Stage, but we also caught his sunset show at the Lapa Stage on Saturday. This set included much of his original work, intertwined with some Author and Bonobo.
With this evening being our last night to catch music, we wanted to be sure to take in all of the eclectic vibes the night had to offer. We returned to the Sol Stage for some soul-searching with a new group of companions who insisted we come with them to see Matthew Human. Imagine The String Cheese Incident honing in on their country roots with an upbeat, occult twist. One of the most ideal amenities included within the VIP Area was the chance to see the Sol Stage itself from a backstage perspective. Multiple lounges with art installations and zen gardens, not to mention the connection to immediate bar access, provided these worthy patrons with an exclusive observation deck. At first, we watched Beats Antique present their remarkably passionate show from the back of the audience. From there, we decided to check it out from the backstage view. It was towards the end of the performance, so a lot of creatures and characters were running around and preparing for a special encore. Soon after, it was time for a drink refill and An-Ten-Nae. As we all perfectly impersonated the onlooking monkeys scattered throughout the trees upon our man-made jungle gym, the fire show mesmerized our eyes as the flames shot up into the night sky rhythmically with the multitude of noises. Heading back down to the ground, we got down to some "acid crunk", as An-Ten-Nae labels himself, in our next favorite spot to see the Luna Stage – stage left, farther back, and right next to a live wood painter!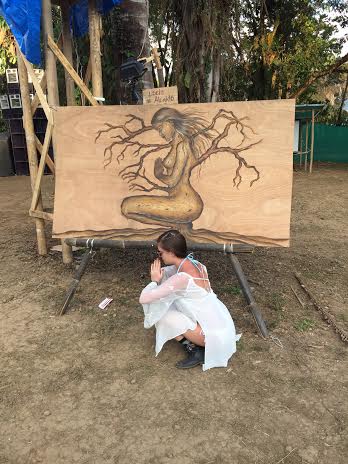 The Luna Stage was oftentimes the home of an array of spectacular aerial and fire performances, and this rang truest during An-Ten-Nae's set. Adam "An-Ten-Nae" Ohana had posted on his Twitter page that he was thinking about recording his next mixtape live at Envision. A simple idea turned into a promising decision, which then became a free product.
Our final day of serenity arrived without anyone's permission. We knew its arrival was constantly approaching with every passing second, but hoped that it would accidentally forget to actually show up. A weekend full of irreplaceable moments and properly selected accoutrements were packed away for an early departure from this humble abode. These were merely a portion of the experiences that we could lyrically bring to life; to sum it all up into an exact explanation would be to describe the impossible. It must be noted that Envision truly gives back to the Earth and community, and it is by far the cleanest festival, due to permaculture initiatives, compost/recycle bins, and utilizing nature within the festival itself. The unforeseen and the unanticipated had become the envisioned and desired for next year. As soon as one ended, automatic preparations came into play for whatever 2017's installment has in store.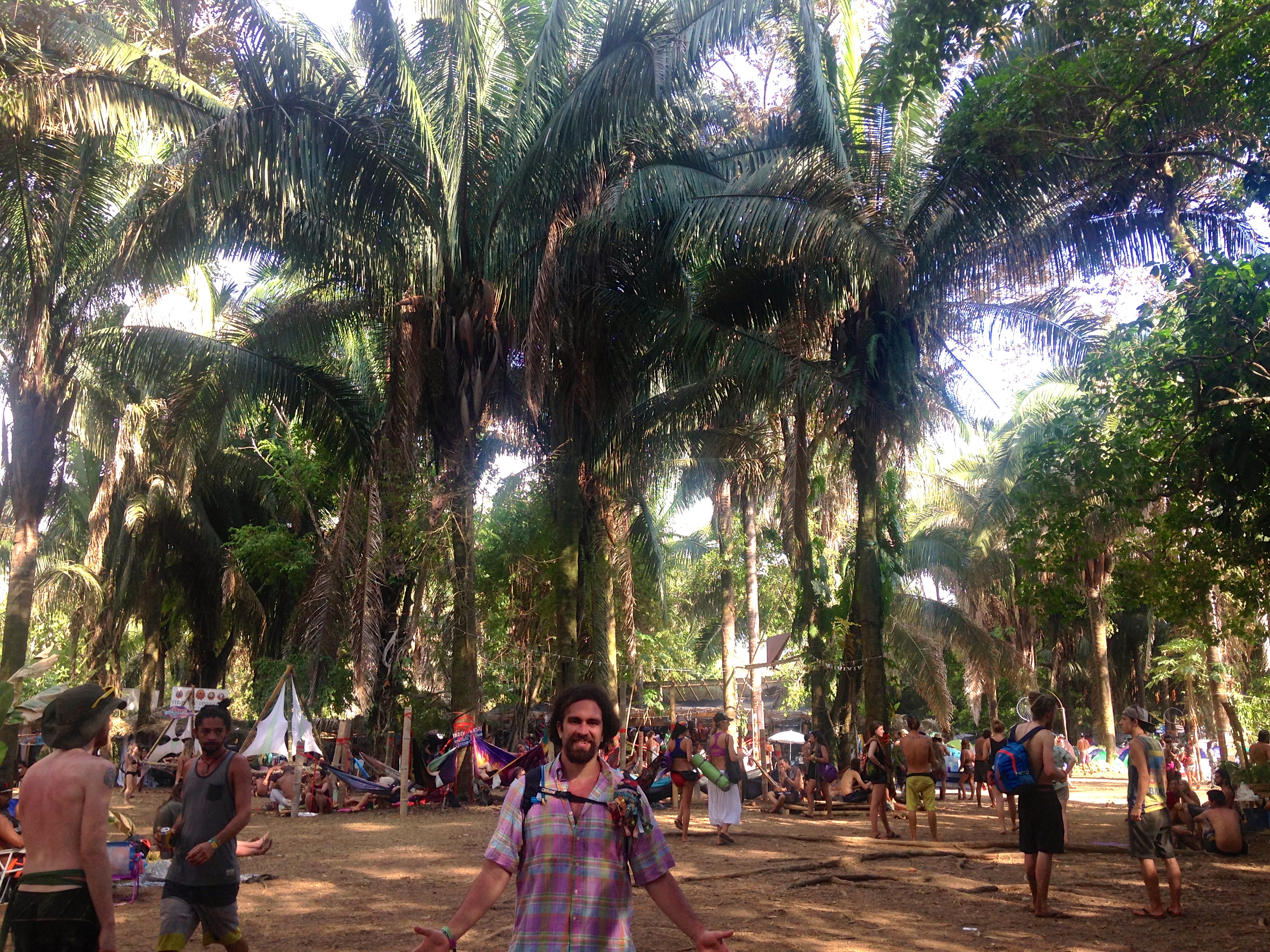 2017 Date and Ticket Information here
Comments
comments