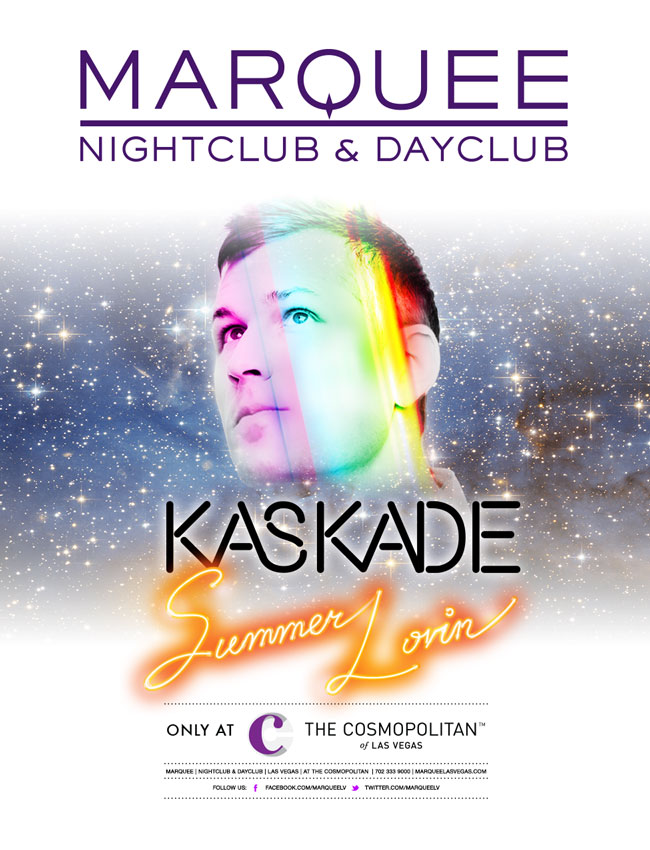 Last week we gave you 5 Reasons Why You Need To Go To Marquee Dayclub, before that, 5 Reasons to Why You Need to See Carnage at Marquee Las Vegas, – now, we're giving you the only reason to why you need to go to Kaskade's 2014 Summer Lovin' residency at Marquee Nightclub & Dayclub.
One word – disco.
I mean, we've all seen the music video to Eric Prydz "Call On Me" right? Okay, just imagine yourself a few thousand other people in full blown neon work-out gear, leg-warmers, and short shorts, all poolside in Las Vegas in a completely redecorated venue to truly set the mood.
By night, you can expect Marquee to be turned into an all out disco party accompanied by appropriate 70's attire (and of course Elvis).
Kaskade knows how to throw a party, check out a snippet of his Summer Lovin' set from last year below and you'll quickly see what a site it is to be at Marquee. For more information about "Summer Lovin" and more Marquee dates hit the ticket link below.
Marquee Nightclub
Saturday, May 3
Saturday, May 17
Saturday, May 24
Saturday, August 30
Marquee Dayclub
Saturday, May 3
Saturday, May 24
Saturday, June 21
Sunday, June 22
Saturday, August 30
Tracklist:
1. Kaskade vs. Tiesto, Swanky Tunes & Dyro — Room For Noise (Kaskade Mash-Up)
2. Kaskade vs. Paris & Simo — Be Still Avon (Kaskade Mash-Up)
3. Kaskade vs. Bassjackers & Kenneth G — Floating Duckface (Kaskade Mash-Up)
4. Kaskade vs. Tiesto, R3hab & Quintino — Chasing How It Is (Kaskade's UMF Mash-Up V.2.0)
5. Kaskade & Zip Zip Through The Night vs. Moguai — Something Something Champs (Kaskade's Summer Lovin Mash-Up)
6. Bob Sinclar — World Hold On (SikDuo Pacha NYC Remix)
7. Ellie Goulding — Lights (Feenixpawl Bootleg)
Kaskade – Summer Lovin' 2014 | Tickets |
"Follow" Kaskade: | Facebook | Twitter | SoundCloud
Comments
comments