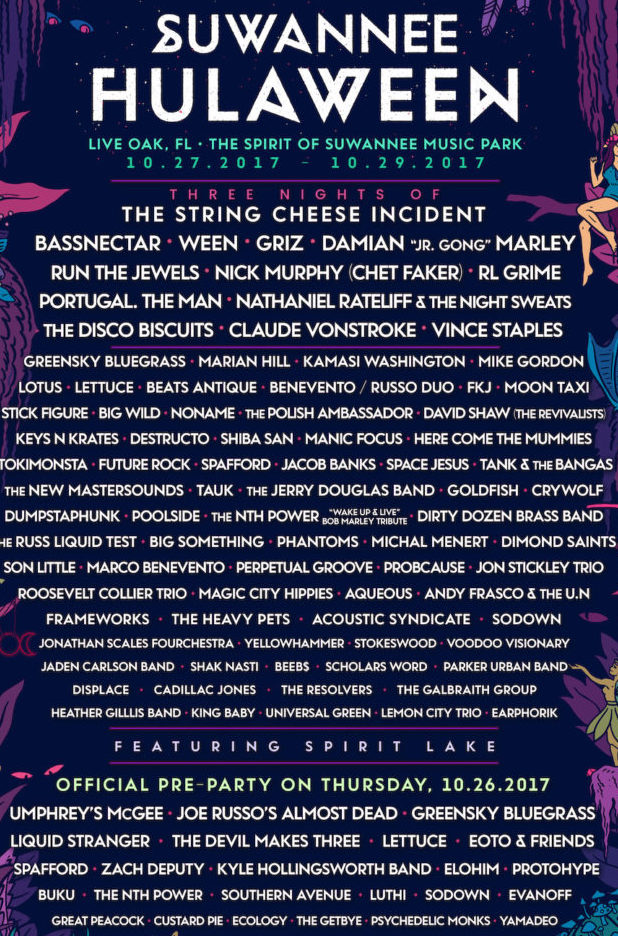 Welcome to our second installment of "Lineup Discoveries"! In this segment, we decided to peruse the bill and specifically select individuals that will be gracing us with their presence at Suwannee Hulaween for the first time! Many of them are largely recognized, others have comfortably settled themselves within this demographic, and there are a few continuing to nestle into our scene. All in all, these were our personal favorites that we felt deserved the most recognition as newcomers.
(Warning: Do Not, We Repeat, Do Not Miss These Ten Newcomers to Hulaween!)
Bassnectar: The man. The myth. The legend. Such recognition is commonly viewed with absolute agreement. Then again, there are others that don't feel as strongly about his musical contributions. (That's the beauty of art, isn't it?) Regardless of where you stand, this man's accomplishments have continued acting as a proper guidance for up-and-coming artists following in his footsteps. From mind-bending visuals to perfectly woven sets, Lorin's devotion to his craft is what continues attracting fans by the masses to literally anywhere that he's scheduled to perform. Round up your bass squad on Friday 12:30am-1:45am @ The Meadow!
Run the Jewels: Since forming in 2013, Killer Mike and El-P have quickly climbed the totem pole as a renowned hip-hop duo of our generation. Their onstage energy is unmatched, as is their impeccable flow. Their antics are comically serious, which allows them to discuss serious matters throughout their music from an understanding perspective. The two have collaborated with numerous artists, such as Phantogram, Miike Snow, and Big Boi – showing that their musical reach holds no limits. Here's a snippet of what's in store for us at Hulaween: http://www.npr.org/event/music/513287372/run-the-jewels-tiny-desk-concert Catch them Saturday 11:30pm-12:30am @ Amphitheater!
Portugal. The Man: You heard it on the radio endlessly. You saw Aaron Paul naughtily dance to it on a treadmill alongside a burly gentleman. Heck, you might be listening to it while you're reading this in preparation for their set! "Feel It Still" was the unavoidable track of the summer that we never wanted to stop hearing. However, this single should not be the sole reason that you are waiting to see this group – these guys put on an unbelievable live show, from originals dating back to 2006 to covers like "Don't Look Back in Anger" by Oasis and "For Whom the Bell Tolls" by Metallica. They were our personal favorite set at this year's Bonnaroo, so we'd highly recommend watching it: https://youtu.be/ASbbNqCqcaU. Don't miss them on Sunday 4:30pm-5:30pm @ Amphitheater!
Nathaniel Rateliff & The Night Sweats: If one of the headliners on this lineup surprised us the most, it would be Nathaniel Rateliff & The Night Sweats – but it was a wonderful surprise! The emergence of this new generation of roots rock & roll adheres to the classic basics of this genre, such as limiting the pop sound and adding more rhythm and blues. Gather your crew up on Friday 5:15pm-6:15pm @ The Meadow!
Liquid Stranger: Our pick to not miss at the pre-party is the ever-expanding electronic master by the stage name of Liquid Stranger. It is difficult to place him into an exact sub-genre due to his overwhelming dexterity to stretch beyond the boundaries within the scope of electronic music. As the creator of the Wakaan label, he encourages and welcomes "freeform electronic music" since he himself felt as though he did not fit a typical mold. The Swedish-born producer is currently co-headlining a tour alongside Manic Focus and already has been added as support for Excision's 2018 tour, proving his unmatched malleability. Be sure to witness his diverse set Thursday 12:45am-1:45am @ The Patch!
Lotus: The presence of Lotus on a Hulaween lineup has been long-awaited, but our prayers have finally been answered! We can confidently say that we have yet to ever meet anyone that dislikes Lotus. Frankly, we don't want to nor ever anticipate doing so! These guys do not disappoint; while mostly playing originals, they will shock you with well-done covers ranging from Talking Heads to RATATAT. Our words might have engaged you, but allow their musical talents to do so on Sunday 7:30pm-8:45pm @ The Patch!
TOKiMONSTA: A TOKiMONSTA performance is to never be overlooked; the opportunity to experience a new adaptation of herself shall be marvelous. Lune Rouge is her forthcoming album consisting solely of tracks that she wrote AFTER her brain surgery – an unfathomable possibility that was brought to life by someone as valiant and brilliant as Jennifer Lee. We are all for female empowerment, and if Jennifer does not exude just that, we are not sure who does. Make sure to find yourself, both literally and figuratively, on Sunday 6:30pm-7:30pm @ Spirit Lake!
Tank & the Bangas: Prepare yourselves for one of the most poetic performances of the entire weekend. Not only are Tank's writing abilities beautifully expressed by her unique delivery, it blends perfectly with the Bangas' fusion of Funk/Jazz/R&B to create a vivid experience. Get a feel for what you'll be witnessing from their victorious performance at the 2017 Tiny Desk Concert Contest: https://www.youtube.com/watch?v=QKzobTCIRDw. You'll be ready to boogie to their set on Saturday 2:00pm-3:00pm @ Amphitheater!
Poolside: Filip Nikolic and Jeffrey Paradise like to refer to their project as "Daytime Disco". Poolside's music is ideal for any outing. They recently dropped their newest album, Heat, in June, that has summer lasting forever in our minds. Do make sure to devote a portion of your time during SCI's fourth set of the weekend to vibe down at Poolside's show on Saturday 7:15pm-8:15pm @ Spirit Lake!
Voodoo Visionary: Hailing from Atlanta, Voodoo Visionary is a funk dance group whose sound emulates one straight out of the 70s. Their live show consists of earthy vocals, improvisation, and a horn line. Their sophomore album, Off the Ground, dropped earlier this year and is available for your pleasure on Spotify. Groove on over to their set Saturday 11:30pm-12:30am @ Campground!
Comments
comments