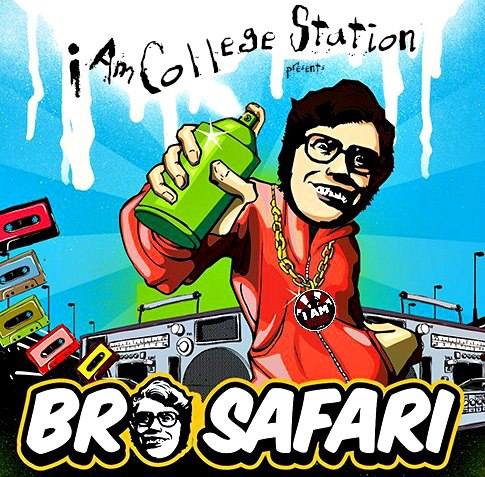 I had been looking forward to this show for a long time because Bro Safari is one of the producers that really got me in to Trap and Moombahton music. The crowd was absolutely electric, and very drunk. We had all just finished our final exams for the semester and we were ready to throw down; Evidently so was Bro Safari. His set was flawless, insane, ratchet, and a lot more cool adjectives that I can't think of right now. He played all of his best remixes, originals, and everyone's favorite Trap and Moombahton anthems. Nothing can describe my level of joy when he threw down his new remix of 'Gal A Bubble' that he worked on with Major Lazer and ETC!ETC!. If you haven't heard it yet, then you're doing it wrong. Music aside, this show was run MUCH better than the Crizzly and CRNKN show I attended last week at the same venue. Shoutout to IAM CollegeStation for flawlessly executing a sold-out show and for booking one of my favorite producers.
Before his set, I had the opportunity to sit down with Bro Safari and talk with him. It went like this:
TSS: Who is Bro Safari?
Bro Safari: "My name is Nick, I've been making electronic music since 1998, I started out making DnB, still making it with Evol Intent. I started Bro Safari around 2008 as a Dubstep project, made weird glitchy strange music, then put the project to rest for a while. I came back to it about 3 years ago when I heard Moombahton and that's kinda where I am now.
TSS: How would you describe your music to a middle-aged soccer mom?
Bro Safari: I would probably say to listen to your average hip hop song, and tie in elements from all different kinds of electronic music. When i'm DJing i'm trying to make the crowd move, when i'm in the studio i'm just trying to make myself move.
TSS: How was it going solo after being with Evol Intent for so long?
Bro Safari: It was a weird transition. I shared all the duties with 2 other guys for so long, so when I started Bro Safari I had to do everything myself. I embraced it, at the time I was really motivated to just make something happen, and that motivation alone made the transition very easy. Whereas before the responsibility was split between the 3 of us, now it was all on me, but I like that kind of pressure. That's how I get better at what I do.
TSS: Where is EDM going?
Bro Safari: It's impossible to predict right now. The best stuff right now is just stuff that happened spontaneously. I think sometime in the next year someone is going to make a song that just blows everyone away and then everyone will just shift their focus and realize we don't have to make the same song over and over. I mean one could argue that the electronic music "bubble" could burst and I don't know what that would mean for the music itself, but I think whenever something gets so big and just implodes on itself that something good always comes out of that. I've been doing this for a long time now, 15 years, i've seen different scenes come and go but as long as the artists stay true to themselves it'll be good.
TSS: Taco Bell or McDonalds?
Bro Safari: McDonalds
TSS: Would you rather fight 100 duck sized horses or one horse sized duck?
Bro Safari: 100 duck sized horses. You could just kick, they can't get above your knees. And giant duck would have that sharp bill, that thing could fuck you up. Yeah i'd definitely want to fight 100 smaller creatures.

TSS: Fuck, Marry, Kill: Dillon Francis, Baauer, Tiesto
Bro Safari: Jesus Christ. I'm going to preface this by saying I don't want to do any of these things to any of these guys. I'd probably fuck Dillon, because I don't know, he seems like a fun guy. I'd probably kill Tiesto, i'm sorry Tiesto. I'd marry Baauer, because he's just a super nice guy and we'd probably get along the best in the long term. I'm sorry Tiesto.
"Follow" Bro Safari: | Facebook | Twitter |
Comments
comments

<!-comments-button-->