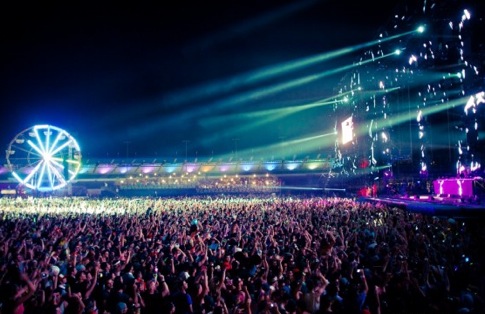 I don't usually do these types of write ups, but someone has to step up and stop this once and for good. Yesterday, the New York Daily News published an article on which festivals you should and should not attend this summer.
Check out their highly unprofessional and absurdly uninformative blurb on EDC NY:
Electric Daisy
When: May 17-18

Where: Citi Field

What you get: A host of top EDM stars (that's electronic dance music, for the uninitiated) including Afrojack, Calvin Harris, Dirty South, Zeds Dead, plus zillions of lesser spinners.

How much? $215 for a two-day pass. $119 for one day. But you also have to factor in the price of the drugs you'll need in order to endure music this repetitive and often lyric-free.

Worth it? If your idea of fun is to flail around in the blinding daylight while unphotogenic DJs hover over turntables playing music meant only for the darkest clubs, the answer would be yes. Even so, you will need the aforementioned drugs.
They had the same point of view on Electric Zoo as well. So here's my thoughts:
Umm excuse me? You don't "need" drugs to "endure" this music. You failed to research the fact that people who truly love EDM, love this music and love this scene. We don't go for the drugs. We go for the people and for the love of the music. Plain and simple. Oh and you think our music is repetitive? Try listening to a main stream radio station that only plays top 40's. That's the definition of repetitive.
I don't mean to sound bitter or anything but this post was extremely biased against EDM without much research done on the writers behalf. I've been to countless shows and festivals and I know plenty of people that go without drugs, including myself. Yes they are relevant within the scene (sadly) but NO they are not a necessity as portrayed in this article. And worth it? I didn't even see them mention the part where theres a full scale Carnival at this event. Also, festival go-ers know that the hundreds of dollars spent on tickets is worth the amazing experience, hence why the festivals are so popular. Again, please conduct more research.
Also, this journalist didn't even fully research the lineup either, "zillions of lesser spinners" have you never heard of Borgore? Seven Lions? Carl Cox?! Come on, invest a little more time before you make uneducated posts. You clearly do not know or understand this music or scene so why write about it? Why be negative toward us?
My overall message here is these main stream news outlets need to study up. Interview festival goers and people who have embedded their lives into EDM. Don't just generalize all of us and assume you know it all. I'm mad, to say the least, but more so, I'm disappointed. This makes us all look bad and we get enough bad reputation and criticism as it is.
I'm done. That's my rant. I think these types of outlets need to be exposed and ridiculed for not doing the right thing. Take it for what it is worth.
Comments
comments

<!-comments-button-->