Currently viewing the tag: "bassnectar"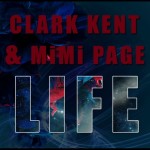 Santa Cruz native and current Santa Barbara resident Tal Levy a.k.a Clark Kent has just released his newest original dubstep tune, this time featuring the incredible voice of fellow Californian, Mimi Page. If the names don't sound familiar to you, get educated because these are two incredibly talented young and upcoming artists. Tal has released a slew of originals along with remixes for many big name artists including Zeds Dead, AN21 & Max Vangeli, B.o.B. & Nicki Minaj and Adele, to name a few. Page has an impressive track record of her having lent her voice on tracks by producers such as Shotgun Radio, Minnesota, Bassnectar & Gladkill.
The track begins with a super mellow piano line underneath the gorgeous vocals of Page and then moves to a quiet breakdown before gradually building up to a glorious synth stacked drop. The track isn't as heavy or hard hitting as some of the other things we've heard from Kent, and it is a perfect balance for the vocals that Page has leant. Kent has the track classified as 'Lovestep' and his soundcloud, and that's exactly what it is. Don't expect some ridiculous drop and you'll definitely enjoy the musical brilliance that went into crafting this beautiful track which to me sounds like a molding of the styles of Bassnectar, Minnesota, Seven Lions & Candyland. This makes a lot of sense too given that both Minnesota & Bassnectar hail from Santa Cruz, while Candyland and Seven Lions are both from Santa Barbara. Keep on the lookout for Clark Kent as he is definitely making some of the freshest dubstep in the scene right now!
Clark Kent & Mimi Page – Life | Download |
"Follow" Clark Kent: | Facebook | Twitter |
"Follow" Mimi Page: | Facebook | Twitter |