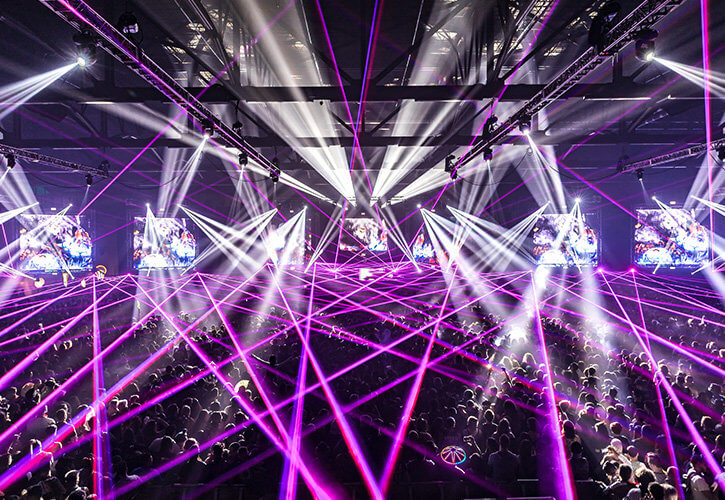 Dallas' premiere New Years festival Lights All Night was a sight to behold. From the main stage setup to the art installations and festival layout, there was plenty for the crowd to see.
I got in on Friday in time for AC Slater's set and he killed it. I wanted to peak at Manila Killa and was not disappointed. After enjoying some of Yung Bae's set I went outside and was wondering why I haven't heard of Nightbass artist Blossom before. She was a damn good surprise at the Prime stage. Golf Clap played right after and they brought the house. Then came Virtual Self at the mainstage, which had a beautiful wide LED screen and several small LED screens from the ceiling. Finally we finished our night with Skrillex and he was fantastic as always!
On Saturday I wanted to get there for Y2K and was not disappointed. This year Lights All Night stepped up on their visuals with several art installations around the festival. At the back of the mainstage were fire performers that had a wonderful show with the music in the background. After Said the Sky and San Holo came Louis the Child and they brought the heat on stage. Finally we finished with Bassnectar and im still not over how great his set was!
Lights All Night was a blast from start to finish. Getting immersed with their selection of art and lights brought me to another world. This was also the best flow of crowd moving I've seen at a Lights All Night. It was not difficult going from place to place. Other improvements included relocating the Silent Disco for an expanded dancefloor that was set to the backdrop of the acclaimed art installation "Light Leaks" – a scattered array of 50+ disco-style mirror balls that reflected light from three different projectors and cast 360-degree patterns that filled attendees' peripheral vision. Don't miss out on next year's 11th anniversary!
Check out the photos from Alive Coverage at https://lightsallnight.com/photos/
Comments
comments