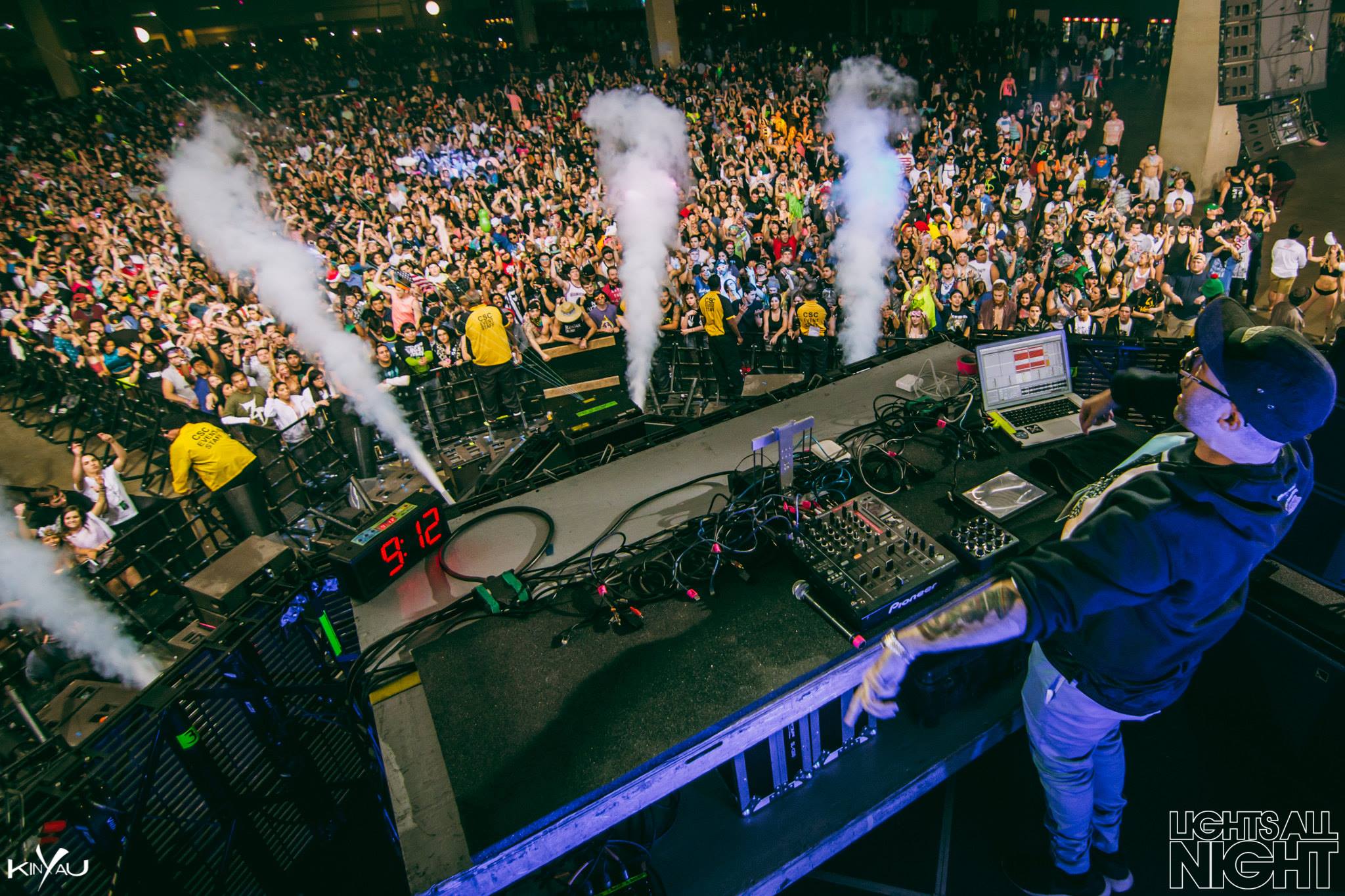 Photo by: Kin Yau Photo
Today is a great day. It's friday, everyone is gearing up for the weekend. Booking flights for SXSW and Miami Music Week. It's just a great time in music right now. With that said, today is dedicated to Paper Diamond who finally just dropped his long-awaited Rain Drops EP. Coming out a little later than expected, having already completed most of his Rain Drops Tour here in the U.S. before hitting the international leg of tour.
We were fortunate enough to spend some time with Paper Diamond this past December at Lights All Night in Dallas to talk about the new Rain Drops EP, the art of a live-show, vision, and the way of Rang Gang in this exclusive interview.
Give it a spin and read along: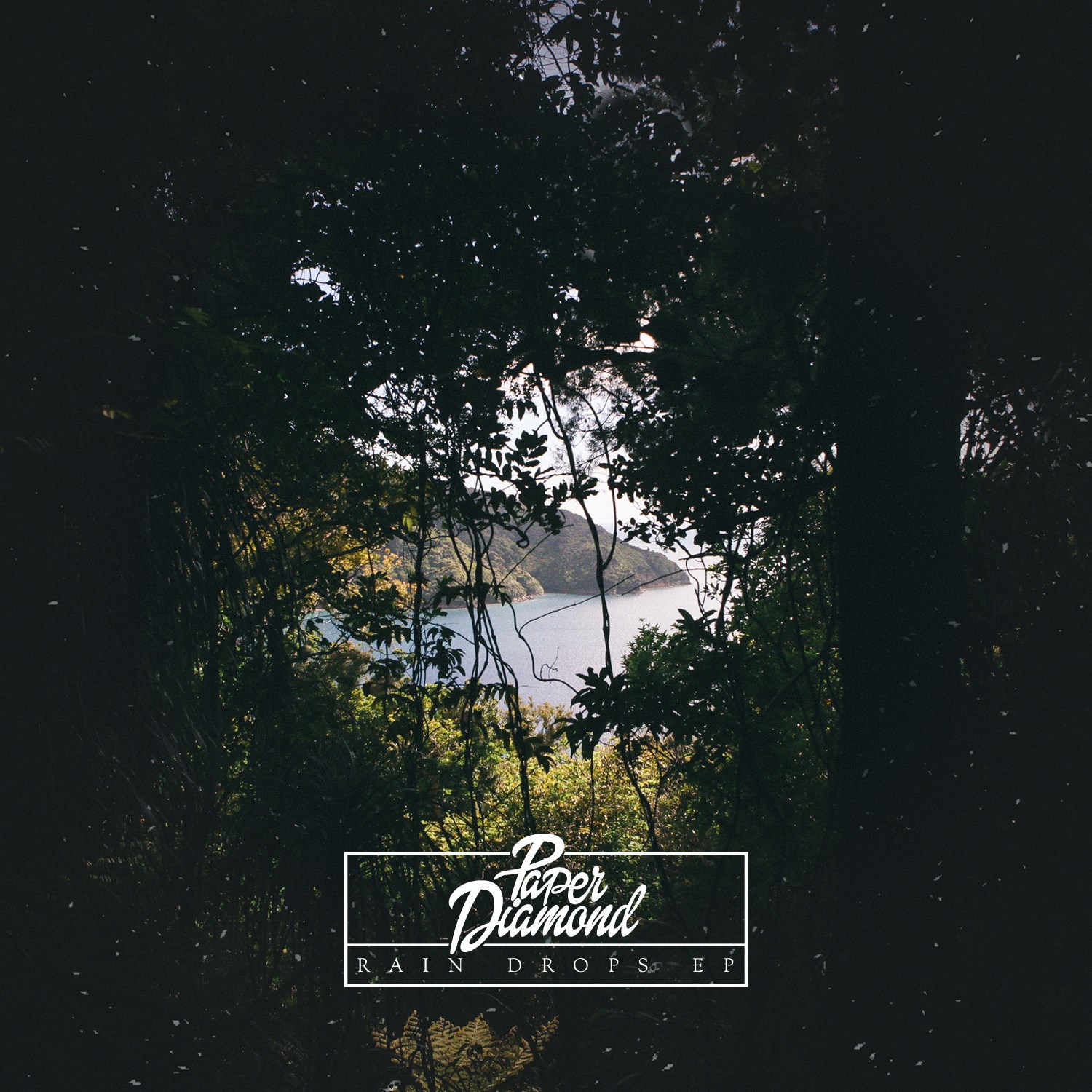 How does your direction with the upcoming Rain Drops EP differ from past work such as Paragon & Levitate?
Yeah, so basically I kinda keep the same method for working on stuff. Everyday I write something. Wherever I am, I make it a point to writer something…everyday. And so, over the past year like before I started this EP I was like managing groups, I had Cherub, Two Fresh. I had the art gallery, was doing mad design work and all these different things. I then realize it was kind of detouring me from like really focusing on music only. So this past year, I've ONLY been writing music. I pretty much alleviated my responsibilitys in every one regard, so we don't have anymore, I'm not doing artwork for anyone else but my own and shit. Like me and boy Burk did all the artwork for the Rain Gang and Rain Drops stuff, we have all that which is only the very tip. We have a whole lot of artwork that we are going to be incorporating into the shit.

So with all that in mind, I've been working with different singers and rappers. I have some really insane guest rappers, which I don't want to announce, but it's gonna be dope. And basically I picked out the 10 best songs that I love from the whole year and the things that are representative in my life because ive been working with these singers and I don't like the way that my voice sounds recorded, but I can sing a little bit.
So you kinda give them the idea and see what can happen?
Yeah exactly, and I can write melodies and I write lyrcis. So sometimes I'll write the whole song and I'll sing it to a singer, get their interpretation on it and then have them sing on. All the songs that I have picked out that are representative emotions and things that are happening in my life , and so that's kind of what is to me. I like to look back at things like Levitate, when you listen to it like its all a big combination of everything that I was insipired by that year, music that I liked, music that I was listening to, music that I wanted to make, and I feel like its continued in that. And now, making music to me is like riding a skateboard. If you stop for a little bit or you slow down, your tricks don't have as much style as they did before. So now, since ive only been doing music this year, I fully feel like in a stride and ready to hit it hard you know?
Absolutely, that's what's up. Takes a bit of time to fully get back into it. But now, you've just announced your biggest tour to date, what is something special about this upcoming tour that sets it a part from others? Like the past one, Cold Crush Tour, with Loudpvck and gLAdiator?
That was an awesome one. I'm always so fuckin hands on, like I went to Loudpvck's house and I was like, "HEY let's go on this tour like I've got the whole tour set-up. we got the bus, we got all this shit going. Let's go together, kick and do some dope shows." So it's the same thing except for this year, I just took a month off, the first time in 3 years that I actually was like , "No, I'm not taking any shows this month". So I went to New Zealand with my girl, and I was there for 3 and half weeks, working on my set and making new things. This is going to be the most experiential show that I've ever put on, like there's a lot of hidden meanings and artwork for this next tour.
That's what we've been hearing, beyond stoked to see.
I want people to leave being like, "WOW, like what the fuck did I just experience?". With that and the new music and everything else we're bringing like 70 2x2ft LED panels.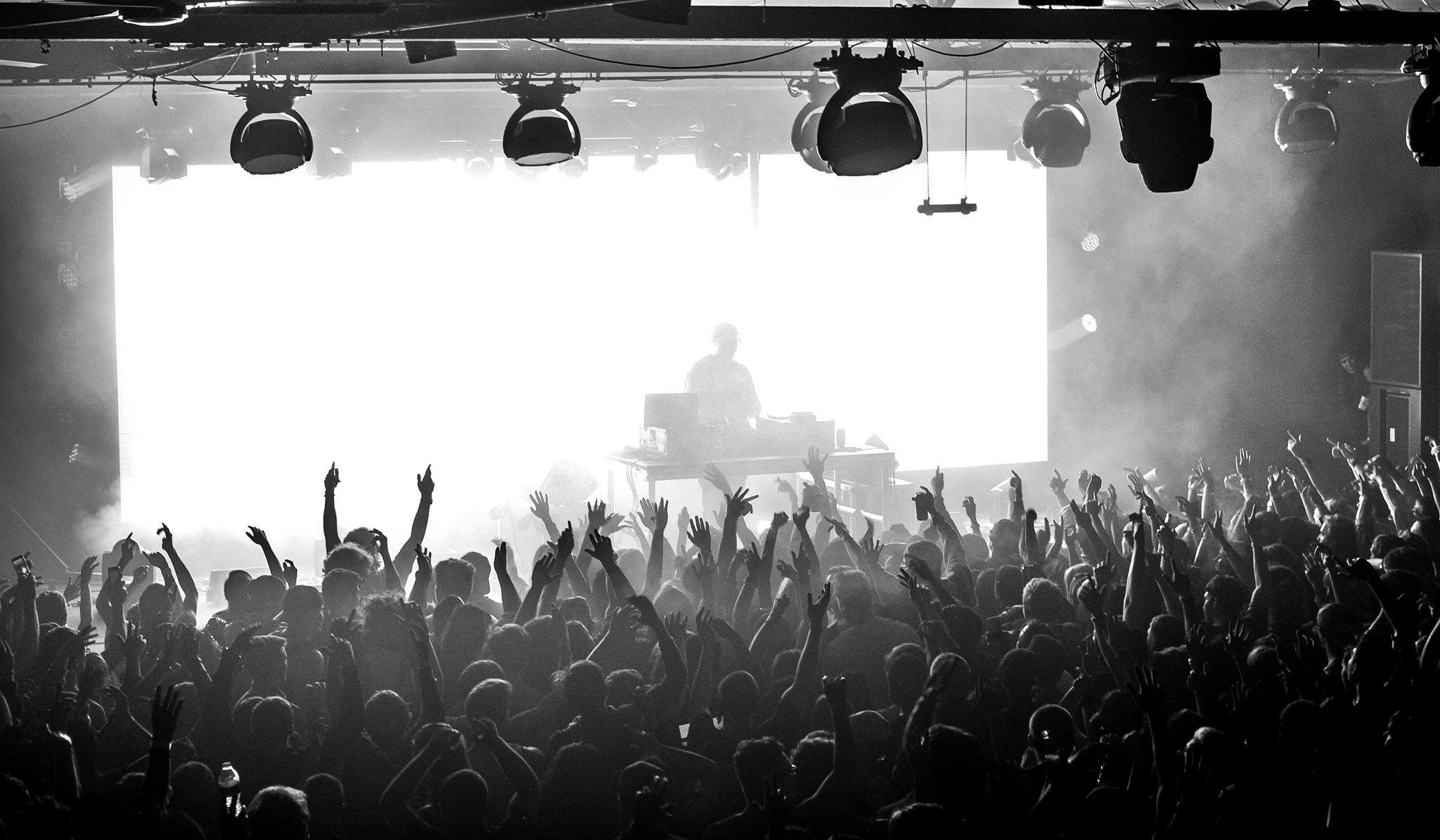 Oh yes, your stop on the Cold Crush Tour when you came through Fayetteville in that tiny ass venue, that light rig…with that insane sound system was just bonkers.
Definitely. We're bringing PK subs and we've doubled the production. I have all these videos that I've hand selected from all these different artists that have taken from the artwork that we've made and put it into ways where we can incorporate it in the live show. So it's gonna be a fucking experience, man.
Cant wait. I think your show should be equally as visually stimulating as the music is. Like when you have artwork that looks like top-notch, that's what puts it over that edge and I really think sets a GOOD tour from like everyone else.
Yeah you know, honestly, I saw Bassnectar play at Madison Square Garden recently as was just like "WOW".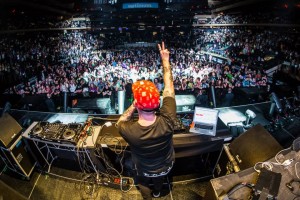 What you mean you 'saw'? I mean you were on the damn bill for that show!
(laughs) I know but when you're on the bill you don't always stay and watch the show you know what I'm saying? So I was actually IN the crowd. Like I enjoy actually going to see the show.
Well yeah, especially when it's Bassnectar…
Exactly. So when I saw it I was like, "Wow he incorporates so much deeper shit than just turn-up all the time". Which I enjoy 'turn-up' don't get me wrong but he's like delivering messages within that and that's what is inspiring to me. He's using music to convey messages and not just like turn-up shit.
Most definitely. That one reason he's got such a massive and loyal following.
Accompanying you on the tour are some amazing artists that are pretty diverse across the board. When thinking about who to bring with on tour what are some aspects you consider?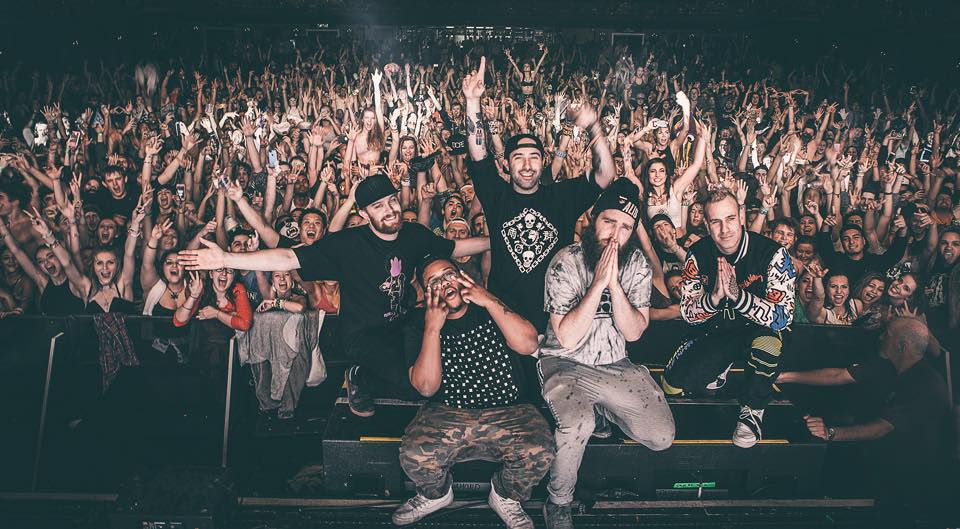 Pretty much everyone that I'm bringing, I personally talk to. I either know them and love their music, or loved their music and reached out to them to make it happen. That's pretty much it. We still have some INSANE shit for some of the shows that isn't announced yet, like NYC and some other dates where we some insane surprises. But yeah so its just like I've done so many tours now, I know what its like to live on a bus with people. Cause when you're happy on your bus and you're getting along, it shows in the actual show. I just wanted it to be personal and that's how I treat my fans too. I just want it to all be personal like I want people to get to know me and know that I was fan at one point you know? I was on the other side of the stage, so I want people to know that I respect that apposition.
Who are some people you liked listening to when growing up?
I mean I've listen to everything from Nirvana to all kinds of rap music. I grew up with 3 sisters and 2 brothers, so it was like the damn Brady Bunch in my fucking house. Everybody to listened to different shit. I was always a musician. I started playing violin when I was 4 so I was like REALLY into music my whole life. My parents played music, my grandparents played music, everyone.
Some MUST HAVES on tour with you?
Uhhh…weed. Or dabs.
I bring Genelec Speakers with me everytime on the road. We actually wrote that song "WYLIN" in the back of the bus because I got these Genelecs. Everyday I have my crew set them up backstage. So I treat it like I'm at home. I get up, do my daily shit, you know, brush the teeth, clean up a little bit, smoke some weed.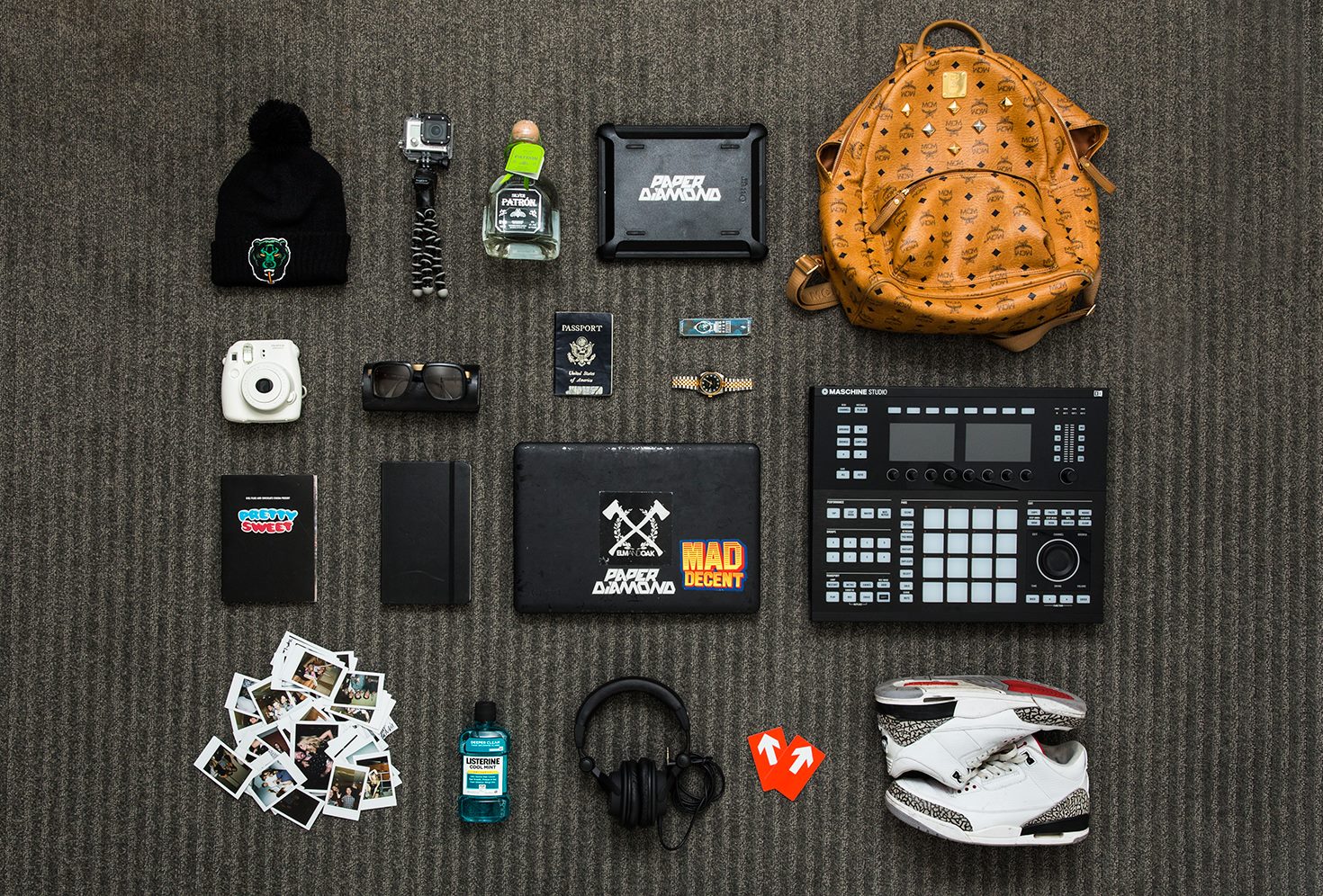 Right on! Your own mobile home studio.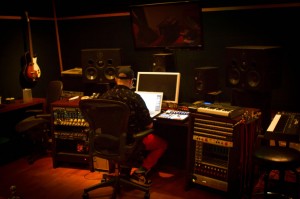 Yeah dude, exactly! (laughs) I go in the venue and I'm like "Okay, studio time then I don't move until show time. I eat all my meals there. Those would be my top things. Weed, Genelecs, and food.
That's all you need man, straight necessities right there.
Will you be testing out some "Rain Drops" material tonight?

Yeah I got some new stuff. I have a bunch of different versions of songs that I always live test and now I'm pretty much solidified on what is coming on the EP. We're just in the talks with a few different labels to see who is going to be releasing right now. But yeah, so I'm going to be testing new shit every show.
How many pairs of sunglasses do you have?
Umm..I two pairs of these (the O.G.s). I got a piar of red ones, I got a pair of clean ones and then I got some regular glasses. But yeah these are all prescription so I pretty much have to wear them all the time. (laughs)
Is Autonomous Music fully supporting you in your efforts to deliver music for free on torrent sites?
They're down for whatever, honestly. Basically my boy Keith who I've been friends with since I was 17, was my first manager for my band, Pnuma, and our tour manager. Then he stepped away from tour managing and started helping us with an office, and then all the sudden he was managing us. He's been managing me throughout all the different phases of my life. He's like my bouncing boy, you know what I'm saying? Like I just throw ideas at him and he either swats it away or likes it. It's crazy cause I have 4 managers now that do different shit. So I've realized that I can't listen to ANYONE (laughs). I have to make my own decisions because if I didn't then I would not be where I'm at. I trust their word but bottom line, there's so many people being like, "Why don't you make music like this", or fans being like "Why don't you make music like Levitate again?". And it's just like "yooo if you want my old shit then go get old albums". That's just kinda where I'm at right now, not listening to what people tell me and just making up my own mind.
What about uTorrent?
Right, so I did a whole uTorrent bundle with them and they were like "Okay, we're gonna just promote the fuck out of it then". I think it had like a million downloads within the first week.
So dope. Yeah, just chillin' on the front page of uTorrent. All the loops and edits are so tight. I love that you just put them out there for everyone.
Ah thanks man! Like those are just the B-sides, when you hear the finished product of this EP…it's definitely something I'm real proud of.
How many iPads have you gone thru/do you have?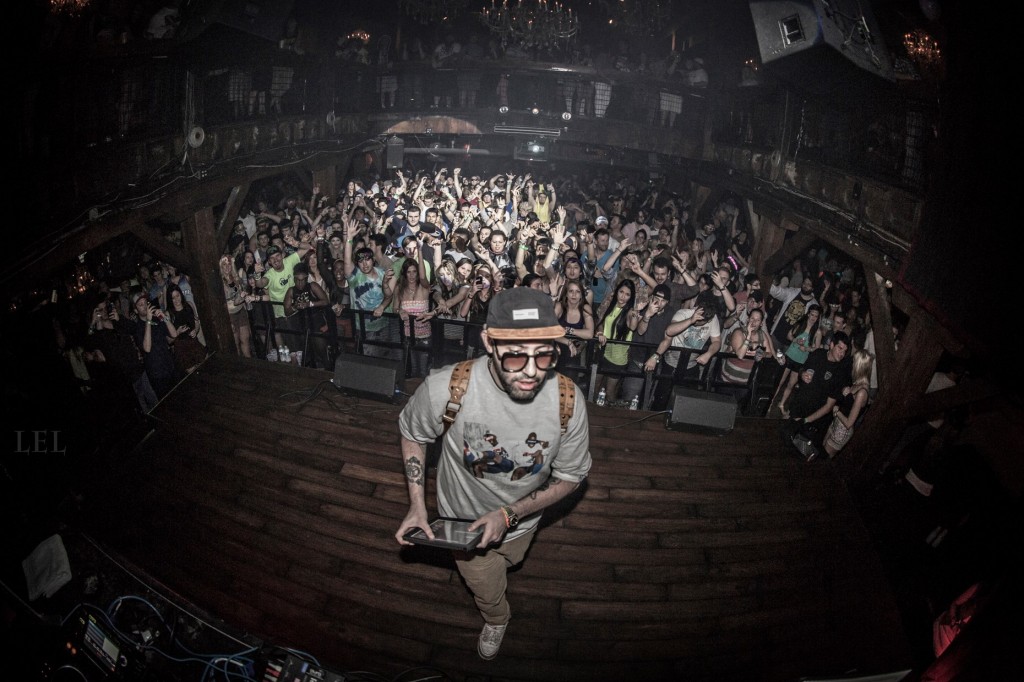 I've gone through 3 or 4. One got stolen in Boston, a couple got smashed and so now I got the Otterbox case on that thing. But what's interesting is that I do backup controllers on stage now because recently when I'm doing big air festivals and outdoor shit, for some reason the wifi connection is not that great. I set up a Wi-Fi connection from my laptop and control the two computers via Wi-Fi. But for some reason like at Red Rocks this summer it started fucking up and I was like, "I'm never doing this again, I'm never not going to have a back-up". Now, if got a Twister by DJ Tech Tools, so I use one of those because it's portable and what not.
I remember at the Fayetteville show, you came out to the front of the stage with the iPad as you were opening up and someone just ripped the cord right out.
People just get excited I guess!
Do you get 'Full Ricky' just as much as you're on schedule?
Uhhhh I'm definitely FULL RICKY on schedule EVERY damn day. Going full hammer all the time, making it straight WEEZLESTICKS! (LOLs all around)
Will there be a new Tour Mix?
Yeah, I'm going to put out a tour mix with a lot of the new stuff and a lot of things I'm most likely playing on tour.
Hell yes. That last tour mix was on repeat forever.
What are your plans for the future with the Rain Gang?
Man, honestly, like we were doing so many things with Elm & Oak. We're keeping that but with the Rain Gang , I just want a place where people can thing for themselves, and express artistic ideas, and talk about where they want to meet up and create more of a community. For me, music has always been about community. Just as much as I love the music…like the actual shows and stuff, it was always about the comradery and the cohesiveness that you get. It's kind of a natural thing. I just want people to know that there's a community of people that love music, just like them that think for themselves, love to party but love to be responsible, take care of their shit but party as well. I like to think that I'm one of the most functioning full time stoners around. I smoke everyday, but I'm getting work done too. So I like people that do their shit on schedule, know how to party and have a good time, but care about the music too and isn't only about the turn-up.

P/c: Live Edits Lab
"Follow" Paper Diamond: Facebook | Soundcloud | Twitter
"Follow" ThisSongSlaps: Facebook | Soundcloud | Twitter
Comments
comments