If you're a fellow Los Angelite like me, HARD Summer is one of the most anticipated events of the Summer season. Let's face it, even if you're not from Los Angeles, HARD Summer speaks enough volume to reach across the country and call to all EDM fans alike for an amazing weekend to remember.
This past Saturday and Sunday, HARD rolled out its welcome mat to unveil its new temporary home at Whittier Narrows Recreation Area while L.A Historic Park undergoes some renovations. While I remained skeptical of replacing the familiarity of downtown LA for South El Monte, the team members of HARD proved home is where the music is and not in location.
DAY ONE
For the first day, fellow photographer Christina Khulmann and I decided to try out a hotel in the area to get to South El Monte early and give a taxi a try. While the idea proved to be a logical one, the traffic still remained the same. However, once we stepped foot upon HARD soil everything was a breeze. The staff welcomed eager faces with friendly smiles and helpful pamphlets as we all were directed to the entrance for speedy searches.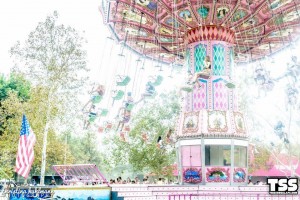 My first impression of the layout was, "how incredibly vast and beautiful and green." Before me lay a haven of trees, carnival rides, and music. With five stages spread across a green field, this setting was almost like a music sanctuary for attendees. Besides having the warm and welcoming ambience of string lights in the trees, there were also plenty of trailers filled with refreshments, food, and free water fueling stations.
Now for the nitty gritty and heart and soul of the festival: the music. While the HARD and HARDER stage proved to be the biggest physical stages, Christina and myself found ourselves running back and forth from the Purple (OWSLA) stage and HARDER stage most of the day. These two stages would host over dozens of our favorite DJs including: TWRK, Bro Safari, Valentino Khan,Lunice, Alex Metric, What So Not, Baauer, Kill The Noise, and The M Machine.
For opening sets, TWRK, Bro Safari, and Valentino Khan provided just the right amount of bass and vitality to set off the audience into mayhem. As someone who had never had the opportunity to check out TWRK,I was pleasantly surprised by the live sound of Benzi & DJ Esentrik's energy and fluidity from remix to remix to even originals. Of course, Bro Safari and MC Sharpness took the crowd to new heights with incredible bass and some tasty trap tunes.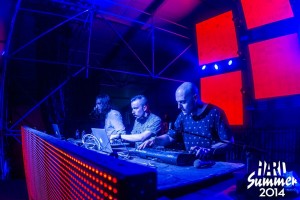 As the muggy, overcast day (shout out to pale people who welcomed it like me), progressed the music only continued to get better and better. The Purple Stage was uncontrollably, exceptional as the tunes of What So Not rocked the stage and brought the sounds of Australia alive. It wasn't until the first droplets begin to seek our thirsty skin during the Tower of Baauer set that the real magic happened. Tower of Baauer you ask? Well, imagine the sound area among the middle of the crowd lifting Baauer high over our heads as tunes boomed over the speakers. While his set ended with "The Harlem Shake", we ended our night with the an incredible set from Kill The Noise and creative minds of The M Machine.
Even though our original idea to take a taxi seemed logical at first, it would have appeared after the festival everyone and their friend needed one. Christina and I spent about an hour walking until we came across an empty taxi that endured the traffic filled streets for us. After about an hour of exploration to less busier streets we arrived to our hotel tired and ready to sleep until day two.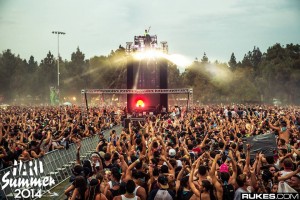 DAY TWO
Since our planning of the first day didn't go so well, Christina and I decided to try our luck with parking our own car. At around 12:30, we found ourselves pleasantly surprised with how little traffic and easy parking was, not to mention how convenient it was that our spot was right across the street from the entrance.
As we had begun the day before, we started at the HARDER stage to catch the opening sounds of Cory Enemy and ETC!ETC!. Now, I don't know about you, but these two sets were easily worth getting up early. From Cory Enemy's exuberant performance to his dance inducing set, Christina and I couldn't control our urge to move and sweat it out in the sun. After Cory's set ETC!ETC! continued with the high energy playing tunes like "Crank Dat Soulja Boy," and everyone's summer favorite, "Summertime Sadness." In between these sets, we also found ourselves bumping to Djemba Djemba's unique tunes at the Purple Stage with Mr. Carmack flawlessly playing right after. These four hours were pure music gold.
Now, while the sun proved to be a little hotter than anyone had anticipated, it was amongst the trees you could find people lounging and enjoying the cool breeze. What made it even better was that no matter where you were music would find you.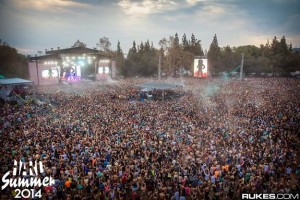 I have to mention that Day Two probably provided the best sounds in general. I could continue on and on about how amazing it was to watch A-Trak scratch in person or Clockwork play his new single "Signals," live with Taylr Renee, or Dillon Francis playing to a sea of 38,000 people with the funniest visuals you've ever seen, to even Disclosure bringing out Eliza Doolittle to perform, but this would all lead to one really long paragraph and an even longer run on sentence.
Due to work concerns for the next day and the dread of traffic, I ended the night early with the sweet sounds of Disclosure resonating in my ears.
Overall, I have to say Gary Richards and the team at HARD provided one incredible setting for one unforgettable weekend. Whether I fought traffic, danced in the rain, or stood in the blistering sun; I was among music lovers like me and enjoying every minute of life. I was home.
Comments
comments