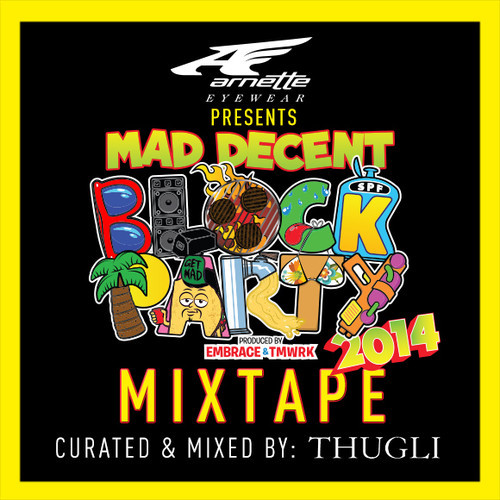 Mad Decent Block Party has now been official kicked off into full force as of this weekend after obliterating Fort Lauderdale on Saturday with probably one of the illest lineups on the tour. And then today , Diplo and his Mad Decent squad are out doing their thing in ATL!
In order to prepare yourself for Mad Decent Block Party coming to a city near you, the duo hailing from Canada that go by the name of Thugli have sculpted a beautiful mix together full of trap and hip-hop beats for a classic Mad Decent twerk mix full of your favorite various artists on tour with the crew.
Vibe to this. Party to this. Buy your tickets.
Some cities are already sold out, so buy your tickets now to make sure you don't miss out on one of the best 1-day events created in the scene.
Track list:
01. Intro / Red Milk & TastyTreat – It's You
02. Baxta – Skyline
03. M.I.A feat Rye Rye – Bang (Acapella)
04. Dj Sliink – Put Cha Bank In It
05. Nadus – Nxwxrk (RL Grime Edit)
06. Diplo – Express Yourself (Tomsize & Simeon Remix)
07. Grandtheft & Thugli – Heavy Hitterz
08. Jillionaire & Salvatore Ganacci feat Sanjin – Fresh
09. Grandtheft & Smalltown DJs – Flying
10. GTA – Booty Bounce
11. GTA – Booty Bounce (Happy Colors Remix)
12. 2 Chainz – Birthday Song (Ruen & Mister Gray Remix)
13. Panama – Always (Wave Racer Remix)
14. What So Not – Jaguar
15. Zeds Dead – Hadouken
16. Bro Safari & UFO! – Burn The Block (Gent & Jawns Remix)
17. Flosstradamus – Mosh Pit (Acapella)
18. Ricky Remedy – Welcome To The Trap
19. Paper Diamond & Loudpvck – Wylin
20. Keys N Krates & Grandtheft – Keep It 100
21. Swizzymack – Bump
22. Elliphant – Revolusion (UZ Remix)
23. Skrillex & Diplo – Dirty Vibe (Nick Bike Edit)
24. Maddjazz – Spanish Juke
25. Esther Dean – Drop It Low (Ape Drums Tool)
26. Skrillex & Kill The Noise – Recess (Ape Drums Remix)
27. Yellow Claw – Turn it Up (Nick Bike Edit)
28. DJ Snake, Yellow Claw & Spanker – Slow Down
29. Major Lazer feat Sean Paul – Come On To Me (Tomsize Remix)
30. Big Chocolate – Blue Milk (Dj Sliink Remix)
31. Jay Z ft. Rick Ross – Fuckwithmeyouknowigotit (Thugli Remix)
32. Yellow Claw & LNY TNZ – Last Night Ever (Thugli Remix)
33. Diplo & GTA – Boy Oh Boy (Thugli Remix)
Thanks to Mad Decent Block party's partner Arnette Eyewear for getting this mix together with Thugli – they are also hosting a Mad Decent Block Party Ticket Sweepstakes HERE.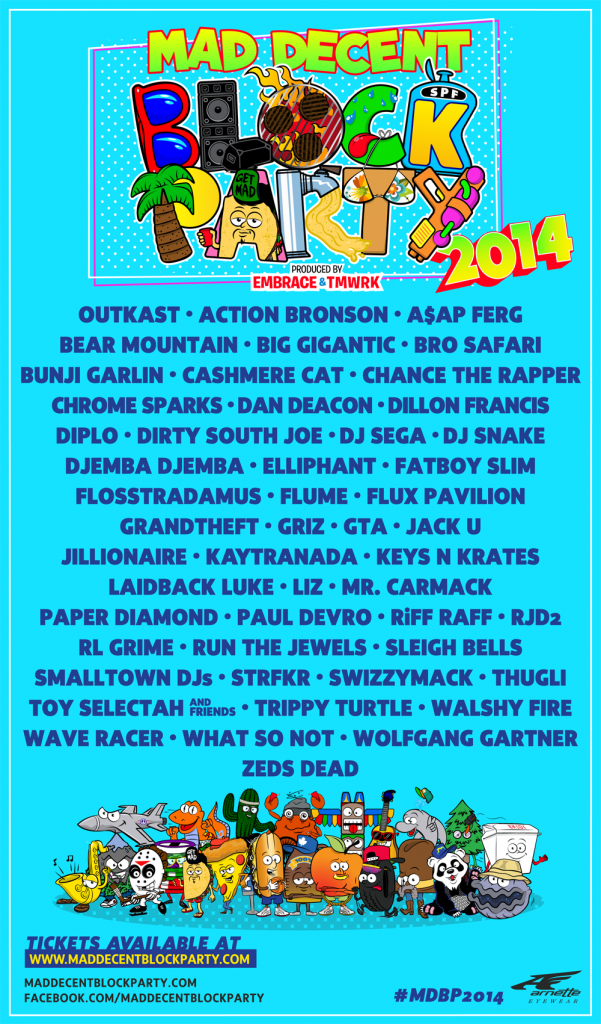 "Follow & Support" THUGLI: | Facebook | Twitter | Soundcloud |
"Follow & Support" Mad Decent: | Facebook | Twitter | Soundcloud |
Comments
comments