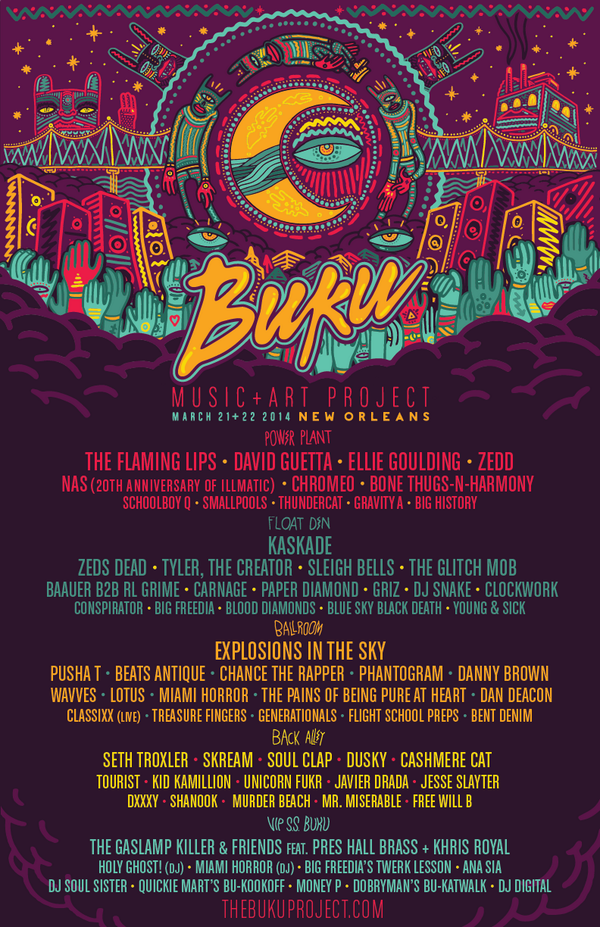 BUKU Music and Art Project is only a week out and the good people running the festival over in NOLA have just announced the official daily lineup schedule as well as the locations and times for the after hours events that have been dubbed BUKU LATE. Keep in mind that there are 4 different stages (Power Plant, Back Alley, Float Den and the Ballroom) and if you copped VIP tix you also have access to the VIP S.S. BLU-KU. After looking over the schedule we have some suggestions for you…
FRIDAY
BUKU kicks off the 21st of March with some great sets! Personally I'm all about Hip-Hop and Bass music so my recommendations are a bit biased. I would start the afternoon by checking out the Miami based hip-hop trio, Flight School Preps. The group is made up of three emcees by the names of Sly, Jay and Reese. Their latest project BlackMarketED is seriously dope and with another EP in the works for later this year the Flight School Preps are in a position to make a serious dent in 2014.
After that I would check out Blood Diamonds, aka Michael Diamond. He is a crazy nice LA based pop artist best known for his imaginative and unique production. His influences stem from a variety of genres including Hip-Hop, Bass and Pop. He is definitely an act worth checking out! His latest release Osaka is out now on OWSLA. Then mosey on over to the Ballroom and catch the rest of Treasure Fingers set. Trust me the dude pumps straight crack out of the speakers.
The next three hours is easy for me. It goes Conspirator, Bone Thugs N Harmony, Kid Kamillion and then NaS for the 20th anniversary of illmatic. If you aren't really into any of those artists and like more disco type dance music then be sure to check out Miami Horror, an Australian indie band that brings high energy and great vibes to the stage. I'll probably bypass Carnage (since he'll be at almost every other festival this year) and head over to check out the first thirty minutes of Wavves, an alternative duo that have a sound all their own. Next is Zedd, Sleigh Bells, Pusha T and Ellie Goulding but if you aren't into them or have just seen them too many times then you might want to check out London based house music duo DUSKY.
This is where it starts getting tricky. Obviously BUKU has to schedule artists around the same time to stager crowds and minimize the risk of injury but the fact that Chance The Rapper and KASKADE are playing at the exact same time makes me feel some type of way… and I don't like it, but because Chano is going to be playing just about every music festival from LA to the UK makes my choice a little easier. Zeds Dead will be closing out the night and by that time if you aren't already suffering from extreme fatigue then you are a true BUKU warrior!
SATURDAY
Day two of BUKU is going to be intense! Depending on the type of music you're into you have a few choices to start off the day. Big History and Bent Denim both play at the same time. Big History is a six piece electro/pop band out of New Orleans that I have pretty high hopes for! Bent Denim is a pretty chill duo that may be just what you need after a crazy night in NOLA. After that we're excited to check out New York native Mr. Miserable, who is making waves in the underground electronic scene in NY and the musical genius that is Thundercat. Stephen Bruner, aka Thundercat, is an incredibly talented bassist, songwriter and vocalist whose roots in music go back through countless generations. He was once the bassist for Suicidal Tendencies and has worked with the likes of Flying Lotus, Wiz Khalifa and Earl Sweatshirt. His is most definitely a set you can find me at.
After that I would recommend watching TSS vet DJ Snake. His live sets are epic and his music is brilliant. I will however be missing the last 15 minutes of his set in order to get a deep spot in the crowd at the Power Plant, put one up and wait for ScHoolboy Q to bless the stage. His new album 'OXYMORON' has been on repeat in my truck since it dropped in February. After Q finishes his set you can catch the Bass heavy antics of Dim Mak signee Clockwork right before the suave funk duo Chromeo takes the stage. Then of course, GriZ is a must see!
The next few hours are packed with some of the best performers and DJ's in the lime light at the moment. Up and coming electronic duo Phantogram, who we're stoked to see, starts 15 minutes before the real mello music of Cashmere Cat graces our ears. Both of these sets are some that we are extremely excited for. Unfortunately Baauer and RL Grime are playing what I can only assume is going to be one of the craziest sets of the week at the same damn time as Phantogram and Cashmere Cat. This is going to be a rough choice to make but I can tell you right now I will not be missing that extreme B2B set. Really difficult decisions will have to be made… Such is life.
If you stay for that whole set then you'll miss Explosions In The Sky but you'll be able to mob over to the Power Plant stage just in time to catch David Guetta. After that Tyler The Creator, Beats Antique and SKREAM all go on at the same time, so depending on what kind of mood you're in you'll need to decide which of those sets you want to see. Then The Glitch Mob goes live and only 15 minutes after that Danny Brown takes the stage. It's going to be a great way to close out the festival.
If you aren't already near death from two days of raging hard and you want to keep the party going then make sure you check out the BUKU LATE after parties. The dates, locations, sets and times can all be found in the image below. Trippy Turtle, Just Blaze and Valentino Khan are just a few of the incredibly awesome names that are going to be throwing down late night. All in all it should make for a pretty epic weekend in the Cresent City! So make sure you stay hydrated, stay safe and have an amazing time! See you in NOLA!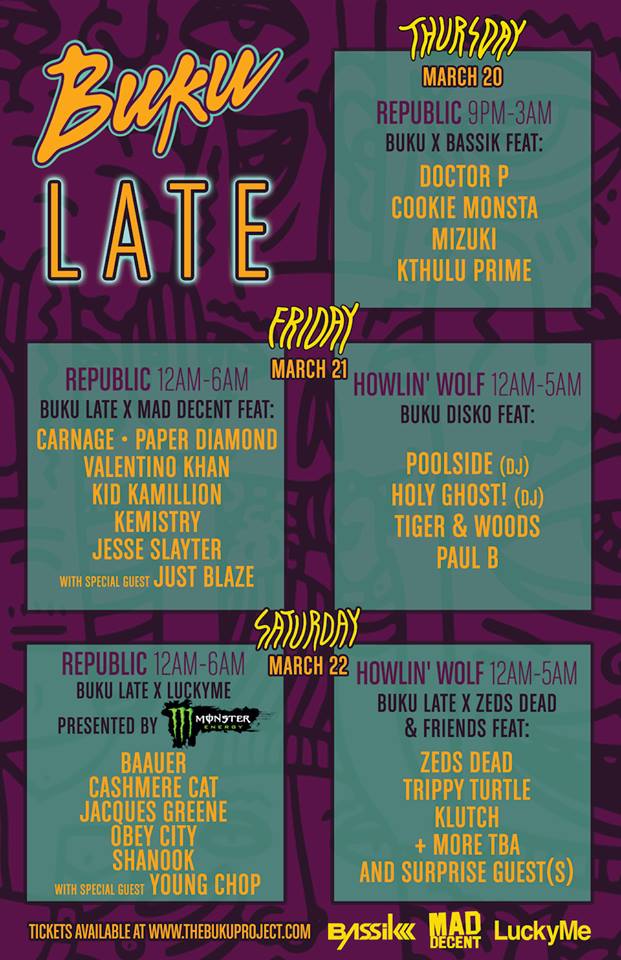 "Follow" BUKU Music & Art Project: | Facebook | Twitter |
Comments
comments