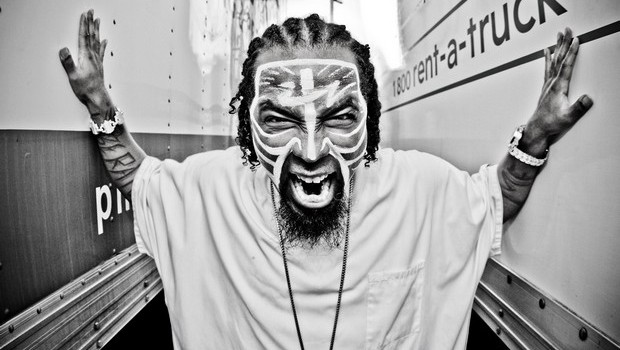 It's finally here!!! Undoubtedly one of the most talked about and highly anticipated collaborations of the year. The independent underground king Tech N9ne teams up with one of the biggest and best producer in the bass music scene, Excision, for the dubstep hip hop hybrid "Road Kill" off Tech's new record "Special Effects". We've heard rappers and electronic music producers work together with tracks like "Wild For The Night" with A$AP Rocky X Skrillex, "Ferbreaze" with 2 Chainz X Jack U or "Roll It Light It" with Cypress Hill X Rusko, but this track is a stand alone that set's the standard for crossovers from here on out.
More reminiscent of UK Grime and old school minimal dubstep, Excision produces a steady growling bass line, paired along with pounding dubstep drums, set at a bouncing hip hop tempo, Tech N9ne and his Strange Music brother Krizz Kaliko lay down their trademark Midwest chopper style flow to create a dark and banging track that'll be sure to turn crowds into riots. X's ability as a producer shines through not only on the beat, but in his use of Tech's vocals. Manipulating and distorting them over the boars and hook, meshing Tech's style into an electronic format. It almost gets to the point where he sounds just like a rapping machine (Which he kind of is). The bars are just pure energy with pin point delivery and is matched by the haunting auto tuned choruses, it almost reminds you of a death metal track in it's style. If any producers want to feature rappers on your beats, I'd take notes from this one.
This song had alot of hype leading up to it's release and unlike the Manny Paquio, Floyd Mayweather fight, it is everything it we'd hoped it be. This seemed like a genuine collaboration that when fans caught wind of it and when some where lucky enough to see it performed live, it created a buzz like no other song has in sometime. Hopefully this will expand the sound of hip hop and electronic music going forward and this track is the example of the best of the best at their best.
So check out the record, check out the album, get ready to have some fun and turn those speakers up!
Rage On My People
Tech N9ne & Excision – Roadkill (feat. Krizz Kaliko) | iTunes |
"Follow" Excision: | Facebook | Twitter | Soundcloud |
"Follow" Tech N9ne: | Facebook | Twitter |
Comments
comments