Currently viewing the category: "Drumstep"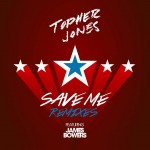 Alright so Topher Jones 'Save Me' just recieved a brand new remix package on Ultra and so we've chosen our favourites to post here! First up is Vancouver producer Vanic who brings out a monster of a remix that blends electro and hardstyle. His remix packs the heat and a lot of energy to get you going.
Topher Jones – Save Me (Vanic Remix) | Beatport |
On Candyland's remix they bring out this pure AWESOME drum 'n bass remix that's very feel good, upbeat and happy. Josie and Ethan do an INCREDIBLE job as usual, and this just goes to show how versatile they are. Whether it's dubstep, "OG" trap, or drum 'n bass and anything in-between, they always do a phenomenal job!
Topher Jones – Save Me (Candyland Remix) | Beatport |
"Follow" Candyland: | Facebook | Twitter |
"Follow" Vanic: | Facebook | Twitter |