On a memorable night at XS Las Vegas, electronic dance music enthusiasts were treated to an extraordinary DJ set by the renowned duo, The Chainsmokers. The dynamic duo, composed of Alex Pall and Drew Taggart, took the stage by storm and left the crowd mesmerized with their infectious energy and an impressive selection of hits. The event was a sensational journey through their chart-topping tracks, alongside captivating remixes and surprising edits that kept the crowd buzzing all night long. This show was someone around the 300th show mark at Wynn Las Vegas. That is absolutely mental when you stop and think about it.
The night kicked off with an explosion of excitement as the gents dove headfirst into their timeless hits. The familiar lyrics reverberated through the venue, and the crowd erupted with joy, singing along to every word. The energy in the air was palpable as people from all walks of life came together, unified by their love for music and the infectious beats provided by The Chainsmokers.
As the night progressed, the duo flawlessly transitioned into their hit collaboration with the legendary Chris Martin of Coldplay, "Something Just Like This." The crowd was transported to another dimension as the stadium-sized anthem filled the air, creating an exhilarating atmosphere. The seamless blend of electronic sounds and Martin's distinctive vocals stirred up an intense wave of emotion that could be felt throughout the entire venue.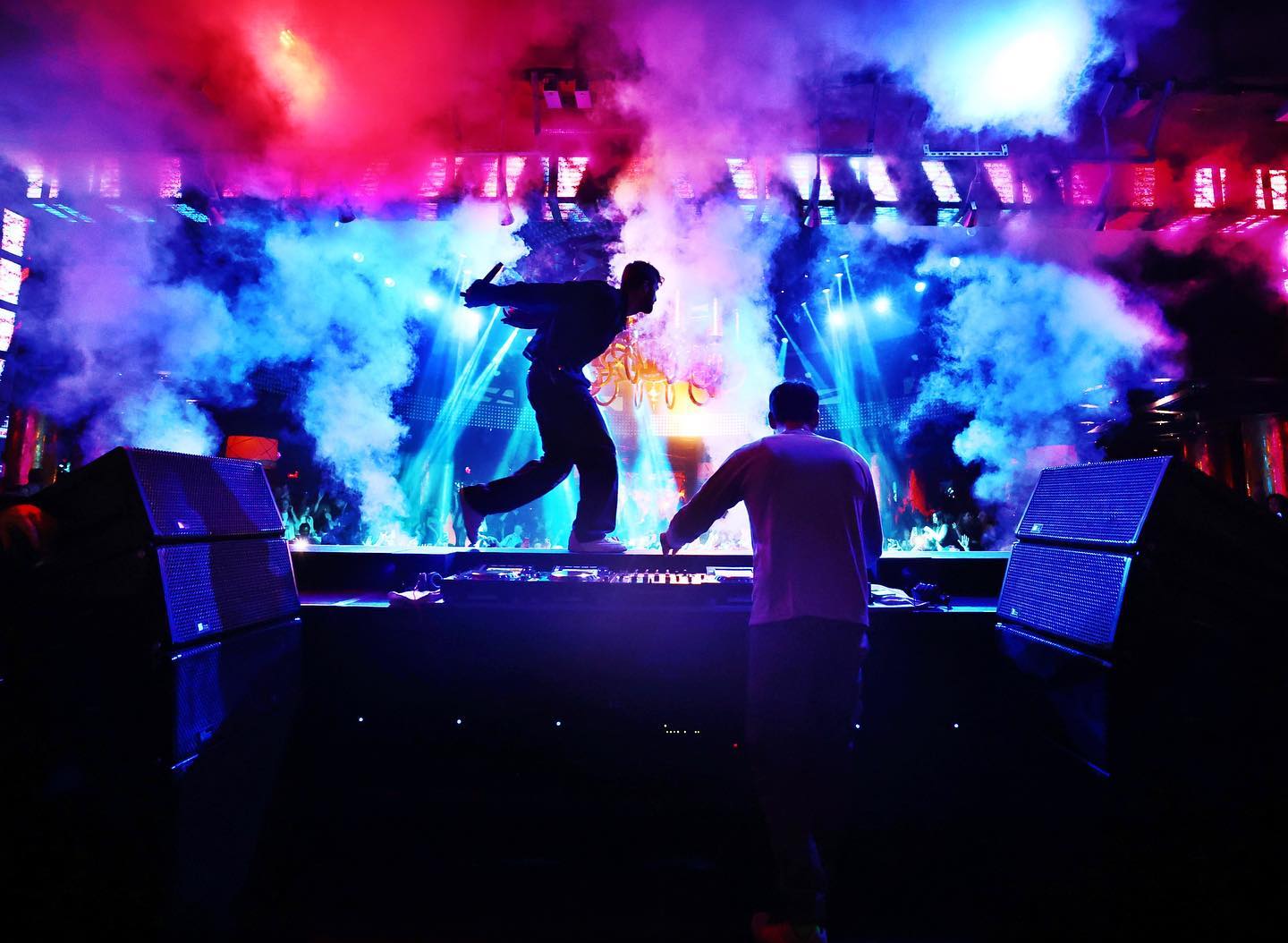 Not content with just their own hits, The Chainsmokers surprised the audience with a series of electrifying edits from artists like Red Hot Chili Peppers and Fall Out Boy. These unexpected twists injected a surge of adrenaline into the set, sending the crowd into a frenzy. The fusion of their signature sound with these rock-inspired remixes showcased The Chainsmokers' versatility as DJs, further solidifying their status as pioneers of the EDM genre.
One of the standout moments of the night came when The Chainsmokers dropped their latest single, "Up&Down," featuring the talented 347aidan. The pulsating beats and infectious melodies instantly captivated the audience, who eagerly embraced the new release. The combination of The Chainsmokers' mastery of production and 347aidan's unique vocal style created a truly memorable experience that left everyone craving for more.
Throughout the entire set, Drew Taggart, known for his high-flying stage presence, took the energy to new heights. He soared above the crowd, commanding their attention and creating an atmosphere of pure euphoria. His charismatic presence elevated the already exceptional performance, making it an unforgettable spectacle that will be etched in the memories of all those lucky enough to witness it.
The duo has also taken to the internet to announce two massive shows. One in Los Angeles on August 19th at the LA state historic park and the other at Red Rocks in Colorado just outside of Denver on September 2nd. Signup for the pre-sale at thechainsmokers.com.
Comments
comments