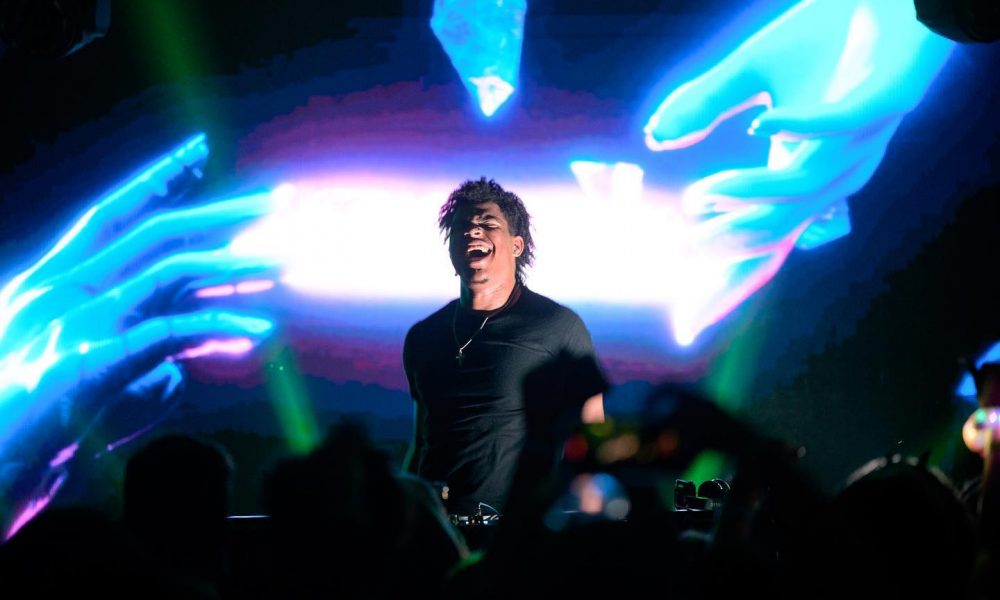 There is certainly no shortage of talent in the world of bass music and while at times it may seems a bit overwhelming, there are a number of producers who have separated themselves from the rest to the bunch with Ace Aura being one of them.
Being one of the most promising names in dubstep with his bone-rattling productions that always come with a captivating melodic touch in addition to his DJ sets being equally electrifying coming equipped with an expertly-curated wave of dubstep, hardwave, trap and hardstyle, with a sprinkle of nostalgic pop cuts, this Texas native has become quite the an enemy of speaker systems across the globe.
Fresh off the release of his recent collaboration "I'll Be Waiting" with NAZAAR and Dani King, we took the time to get to know Ace Aura a little better!
Ace Aura, NAZAAR & Dani King – I'll Be Waiting | Download |
TSS: Who or what introduced you to the world of electronic dance music?
Ace Aura: I played Dance Dance Revolution a lot as a kid and that was my first introduction to electronic music. Later on I had a friend show me Dirtyphonics' remix of Scary Monsters and Nice Sprites in eighth grade, and from then on I was hooked!
TSS: What made you fall in love with dubstep as a whole?
Ace Aura: Definitely Skrillex. His music opened my eyes to the possibilities of what music could be.
TSS: When it comes to the bass music scene, what are some changes you've noticed over the years?
Ace Aura: I think in general, the scene has become a lot more creative over time. There are so many different takes on different genres that eventually become their own subgenres, and what's trending changes by the month it seems. That's one of the reasons I love it so much!
TSS: DJing or production – which came first?
Ace Aura: Production! I didn't start DJing until about 6 years after I started producing.
TSS: For anyone who may not be familiar with Ace Aura, how would you describe your music to someone who has never heard it before?
Ace Aura: Melodic + Heavy = Ace Aura
TSS: There always seems to be a never-ending barrage of up-and-coming bass music talent popping up; what words of wisdom do you have for those looking to get their music heard?
Ace Aura: Always prioritize having fun and getting better at your craft. That's probably the reason you got into producing in the first place, but it's super easy to get distracted by external things like follower count, streams, and ticket sales. Those things depend on other people, but the only thing you can directly control is your musical output!
TSS: What gear and programs are you using these days when it comes to production?
Ace Aura: I've been in Ableton since 2016 as my DAW of choice. The biggest change to my workflow in the last few years would definitely be the purchase of Pitchmap by Zynaptiq!
TSS: What's your creative process in the studio?
Ace Aura: It definitely varies every session. A lot of the time I'm drafting short ideas searching for something that has potential, and then I'll listen back later and finish the most promising ones.
TSS: When you have a rough week or hit a wall creatively, how do you get yourself back on track?
Ace Aura: Usually it's by taking music a little less seriously or creating a lower-stakes environment. My writer's block usually manifests from pressuring myself too much to make something "good" rather than just experimenting and having fun, so making something in a different genre that I most likely wouldn't release anyway usually helps with that.
TSS: Tell us a little about your recent collaboration, "I'll Be Waiting" alongside NAZAAR and Dani King. How did that one come together?
Ace Aura: That one was in the works for a couple of years! I met NAZAAR at a show in 2021 and we knew we wanted to make a track together so he sent me an idea that was right up my alley. We then mostly completed the track and just left it sitting for a while because we felt it was missing something. We reached out to Dani and she was most definitely the missing piece!
TSS: How does it feel to continue to have releases on the powerhouse dance music imprint that is Monstercat?
Ace Aura: It's honestly still pretty wild. I've been sending demos to Monstercat since 2013 (those were really really bad) and to finally be on there releasing consistently is a literal dream come true!
TSS: What does Ace Aura have in store for the remainder of 2023 and beyond?
Ace Aura: The Crystal Coalition Tour is still going until June! After that I've got a few festival dates that I can't quite announce yet, plus something pretty special planned toward the end of the year ;)
"Follow" Ace Aura : | Facebook | Instagram | Soundcloud |
Comments
comments