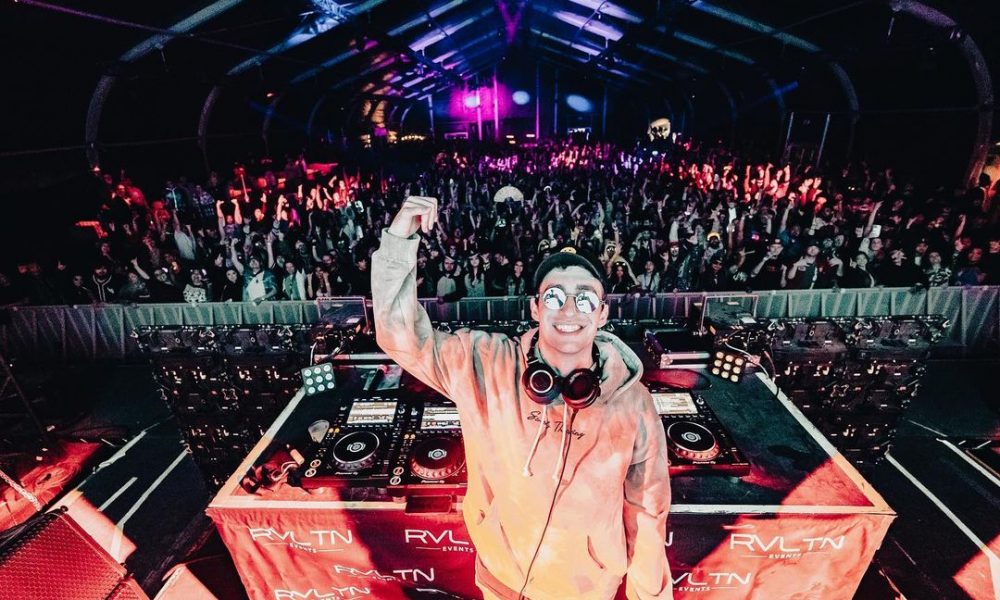 When it comes to getting down at your favorite club or festival, it's always vital to stay hydrated, and who plays a crucial role in spreading that message, DRINKURWATER!
The Atlanta native has been rising the ranks when it comes to the dubstep scene, not only for his ability to be a constant reminder to stay hydrated, but he has been an absolute tear when it comes to releases with his relentless "refills" and bone-rattling originals while showcasing his versatility as a producer in the process.
Still buzzing off the release of his hard-hitting Movement EP on Wakaan, we took the time to get to know DRINKURWATER a little bit better!
DRINKURWATER – Movement EP | Download |
TSS: For anyone who may not be familiar with DRINKURWATER, how would you describe your music to someone who has never heard it before?
I would describe it as an audio hydration session filled with catchy melodies and long wet sustain notes. Each song is different and has it's own personality. My sets are very diverse with many kinds of sounds and bpms, guaranteed to have everyone moving the whole time.
TSS: Who or what introduced you to the world of bass music?
When I was in high school I discovered Skrillex, Mt. Eden, and Blackmill and immediately fell in love with dubstep. Over my years doing hip hop music full time I started to produce bass music under this alias because of the connections I was blessed with while being able to work with numerous artists.
TSS: What was so appealing about these bone-rattling sounds that you wanted to produce them yourself?
In my rave days I would always go to these shows not only as a spectator, but as a student. I would study how sets were built, how the energy was shifted in between sounds and transitions. I knew I could move a crowd with the sounds I've always had in my head, it was just about learning countless hours of stuff to perfect my sound.
TSS: How would you say the bass scene has evolved since it first caught your attention?
I see so much love for more underground and not as well known producers and I think that's something that's grown a lot. Seeing my idols all throwing their own music festivals is inspiring too because of the platform these guys give the up and comers.
TSS: DJing or production – which came first?
I've been producing long before I knew how to DJ, but learning the craft of DJ'ing and controlling a crowd is something that I'm still a student of every day.
TSS: Speaking of production, what does your studio setup look like these days?
I have a nice L shaped desk with dual monitors set up. Apollo interface into 2 Yamaha HS7s powered by my Macbook M1 Pro!
TSS: What's your creative process in the studio?
I listen to a lot of different music to catch inspiration, I like starting with the drop because I can write around the vibe and energy I want to initially bring. I usually do a nice mixdown and master at the end and give it a car test!
TSS: How do you get back on track when you have a rough week or hit a wall creatively?
I go to the gym, get a good workout in. I've noticed anytime I hit a wall, I would go on an inspiring hike with my girlfriend and as soon as I'd get home I'd have ideas flowing. It's all about moderation and making sure you're listening to your body and mind when you don't feel creative.
TSS: Give us the inside scoop on when it comes to pouring up a "refill," it seems like no song is off limits.
No song is safe and I WILL be refilling many more anthems from our time. I really enjoy doing this because it gets the crowd involved live, and gives everyone my perspective of the original song refilled in my head.
TSS: Tell us a little about your new Movement EP and how it came together.
It all started with heavy support from Liquid Stranger on "Bendy Riddim Straw". The constant rinse generated some nice hype and we wanted to build an EP that could house this monster and the other weird tunes we included. Wakaan has been nothing short of amazing to me, its an absolute dream come true to be able to release on this beautiful platform.
TSS: WAKAAN has become a true powerhouse world of electronic music; how does it feel to continue to have releases on the label?
Like I said before, they've been so amazing to me and have given me so many shots that have changed my career. They truly make it feel like family and I'm so blessed to know the beautiful people who run it.
TSS: 2023 seems to be flying by; what's next for DRINKURWATER?
Wrapping up the last half of the Atliens & Marauda tours I'm on, got some HUGE festivals locked in for later this year. Things are moving finally and I'm just so grateful. See u soon!
"Follow" DRINKURWATER : | Facebook | Instagram | Soundcloud |
Comments
comments