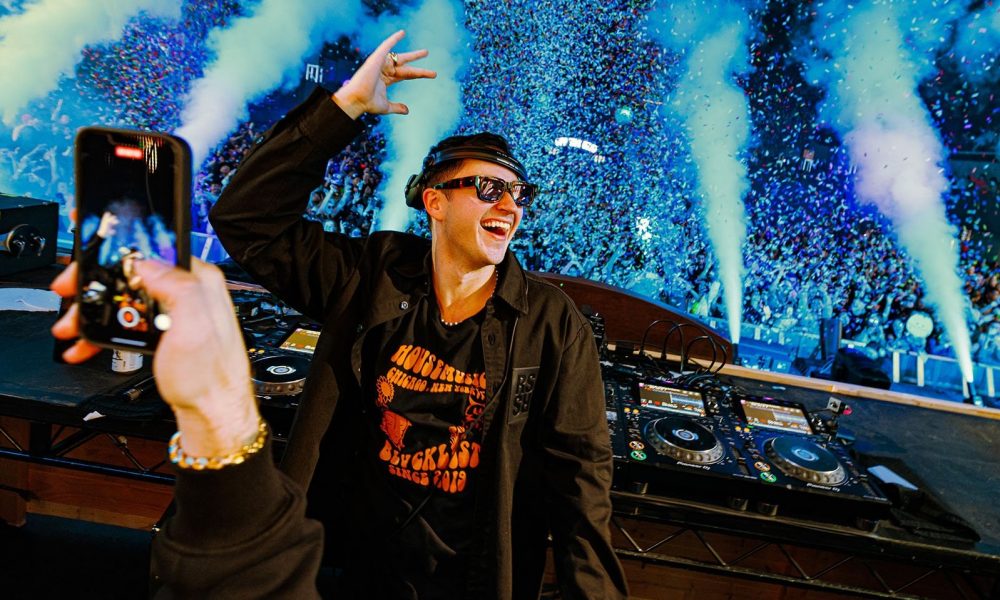 Chicago's very own John Summit touched down in Atlanta's hottest rising venue Domaine Atlanta this past Friday March 10th. John is behind some of the biggest tracks in dance music of the last few years including, "Human", "Deep End", "La Danza" and more. Before he took the decks, we had an opportunity to sit down with the talented producer and DJ to hear how his latest collaboration with Hayla titled "Where You Are" came to be, how Chicago has catered to his musical prowess, and more!
John Summit, Hayla – Where You Are | Download |
TSS: You provide such a worldwide fusion throughout all of your work. Is there a culture/style/genre by which you feel inspired the most?
John Summit: Inspired the most by my hometown Chicago of course. That is where house music started. I have been there my entire life that is why I am into this shit.
TSS: We all saw the madness that was "Sumtronics" or "Subjohnics" that was once brought into existence. Are there any other collaborations/projects of such magnitude on the horizon?
John Summit: Well, what made that so cool was that it was so spur of the moment. There was really no plan. I am really good friends with Jessie. Anything is possible, but I love that everything has been super last minute. If our paths ever cross, we are going to put something together.
TSS: Last year alone – Bonnaroo (thank you for that), Tomorrowland, Coachella, Burning Man, etc. I have an energizer bunny mindset, so the endless feeling of FOMO is palpable. How do you go about structuring your schedule?
John Summit: What schedule bro? I don't know, you have to live everyday one day at a time. You just have to be flexible. I find a few hours each day to work. You just have to power through the hangovers.
TSS: OFF THE GRID – I feel that there's a lot of freedom embedded within your label. What is your goal & premise as you two continue growing simultaneously?
John Summit: Hopefully, it continues growing as its own entity. It would be cool to keep having events without me even being on the lineup. You know because I don't have to headline every OFF THE GRID event. Long term vision is planning on having events all over the world. Events in Ibiza, in Tulum, Egypt, wherever the fuck. Wherever you can go OFF THE GRID. It's cool because I can sign artists and give them a platform for them to have a shot at this.
TSS: I don't think anybody can get over the musical brilliance that is "Where You Are." Every aspect is soothing, melodic, and layered to a level of genius. How did that come about? Who approached who?
John Summit: I remixed Escape by Kx5 (Kaskade and Deadmau5 superduo) and it was my biggest track of the year. Kaskade initially DM'd me and I left him on read. Jokes, it was a no brainer. So, I told Hayla, we got to do something together. There was a lot of back and forth via emails over the months. It took a while to get to the point where we liked it. It's kinda like all my tracks came together cohesively.
TSS: "You don't have to reinvent the wheel, but you should innovate it." I love that! EVERYTHING you're doing exemplifies that. Is there a segment of this industry that you're prepared to revolutionize?
John Summit: That's a very good question. *Grabs phone to speak into it due to loud music*. House music is perfect in my opinion. 120-130bpm. You don't have to create a whole new genre. A kick drum and bass drum and it will work. Extra vocals, extra melodies. The way that OFF THE GRID is putting the power in the independent record label hands and throwing our own events and having our own people instead of being victims to these festivals. These festivals put artists in these year-long radius contracts and you can only play in these cities one time a year. I said no to a lot of festivals so that I could perform more often and on my own terms.
TSS: At this point, based on our dastardly good looks, which one of us would you say is Caleb and which one is Glenny of Barstool Sports?
John Summit: Glenny is the bigger one who's always doing something in the corner, right? Yea so, you're Glenny with the ice cream haha. Because you are the guy that the camera pans to in awkward moments and you're always doing something funny.
TSS: Do you enjoy playing Hard? *pause* Are you excited to play Hard Fest?
John Summit: Of course haha! Kaskade and I have a lot of things planned. He is from Chicago too and he reached out about doing a "Made in Chicago" set. You are the newer blood and I am the older blood. We have a very similar sound nowadays. He is going more techno. I am going in a more vocal direction. It meets in the middle really well. We are going to go really heavy and hope the people like it.
If you think Mr. Summit is laid back, hungry, and knows how to have a good time, you would be spot on. The set launched off with his brand new single, "Where Are You" which is burning up the airwaves as we speak to an incredibly responsive fan base for a week-old track. Can you believe that John is going back-to-back with another Chicago mastermind during Hard Fest this summer? That makes that festival a must-attend this year. If you haven't seen a Subjonics set yet, stay tuned, because it appears we will see more pop-up sets coming around the corner.
"Follow" John Summit : | Facebook | Twitter | Soundcloud |
Comments
comments