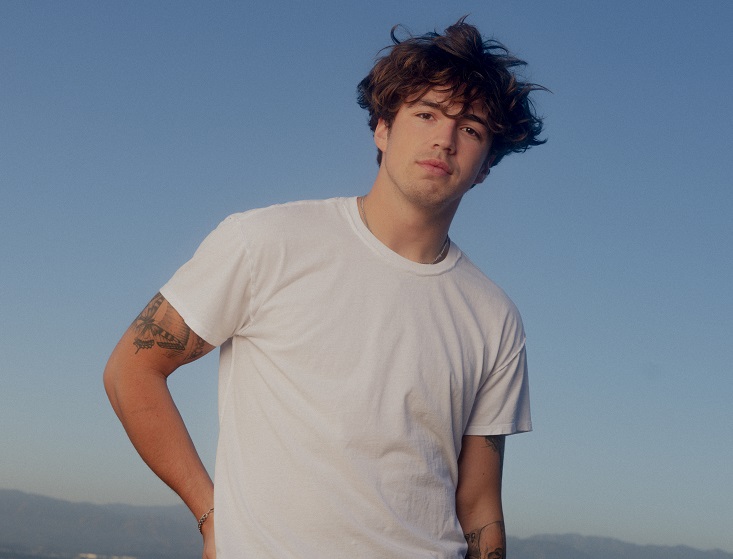 At just 22, Surf Mesa has been making waves in the electronic music scene from his Los Angeles home. He has already topped the charts with his breakthrough song "ily" and is looking to build up himself with music that encapsulates what he calls his "true sound" while also finding some hits in between. He recently released his first song of the year, "City of Love" with vocalist Selah Sol, to high praise. We were able to chat with Surf Mesa about the release, what else he has in store for 2023, and other interesting tidbits about his thoughts on the scene and where he wants to go.
TSS: Your new song "City of Love" just released. Can you tell us about the track and what went into the making of it?
Surf Mesa: I've never been so excited for a song to come out. This song has been over a year in the making and getting it right. Selah Sol sent me a demo that was more of a ballad vibe. It was so euphoric and beautiful and I had to take it to the next level! Nick Henriques and I had been working lots that week and this idea sparked both of our interests and we made this!
TSS: What attracted you to Selah Sol to do the vocals for the track?
Surf Mesa: "Looking For Me" by Paul Woolford and Diplo was my top track in 2021 and some of 2022. I love that song so much because of the vocals, chords, drums, and arrangement. It's perfect! I made it a goal to get a song with Selah Sol on the vocals.
TSS: You tapped Cole Trotta, professional downhill skater, to be featured in the visuals to go with the song. What about this helps complement the message and energy you are trying to convey with the music?
Surf Mesa: I grew up obsessed with action sports! I always watched the X-Games, Winter Olympics, and following along Red Bull sports. With this music video I wanted to blend these images together. I hadn't seen it been done before and I'm really excited my vision came to life. Now it's a matter of time for my vision to resonate with young artists and the world as my ultimate goal.
TSS: "City of Love" was your first release of the new year. Now that you have gotten that done, what else do you have planned for 2023?
Surf Mesa: I'm so excited this song is out. 2023 is going to be a huge year! So many amazing collabs are in the works. Every gear in my brand is working as fast and hardest as It can. I have a strong clear vision and I am going to make it come true.
TSS: Now reflecting on 2022, what were some of the lessons you learned that you are bringing into this new year?
Surf Mesa: I wish I put out more music! I think waiting to put out songs only slows things down. That and I was pretty slow on social media. I know I'm not the only artist saying this, but it's not the easiest putting myself out there on TikTok and becoming more than an artist! It's not for everyone but the statistics show how much it pays off and how much more it gets your music in front of other new unique listeners.
TSS: Any word on when we can see you perform this year outside of your current dates in Las Vegas with Wynn Nightlife?
Surf Mesa: A lot of exciting festivals!! I'll leave it up to the festivals to announce. But definitely a handful in the works!
TSS: With just being 22, the Las Vegas club scene must be a bit more new to you. How does playing at a venue like that differ from your more standard venue, if at all?
Surf Mesa: With Las Vegas, you gotta read the crowd lol. People didn't fly to las Vegas to see an artist. They came because they're on their bachelorette party and the music was kind of a bonus! A majority may have not heard of me. They want to hear the hits. Same goes for clubs. It's one of those unwritten rules. I still play my own songs regardless, but I don't forget to mix in house remixes of some old classics! Just part of the formula.
TSS: Electronic music has been a great avenue for younger artists to break out into the music scene without having to go through tons of hoops artists of other genres need to. Do you feel the accessibility to create this type of music has helped you get to where you are today?
Surf Mesa: Yes, absolutely. I didn't have to go out and find a band. I didn't have to fully understand music theory. I didn't have to learn to record. I didn't have to pay for studio time to be in the studio for the first time in my life! Digital Audio Workstations, better known as DAWs have enabled artists across the globe to get their feet straight into the door of music production. You pair that with YouTube and it's just a matter of time and passion before you get more comfortable with what you're doing.
TSS: Are there any artists in particular who have inspired you or that you would wish to work with someday?
Surf Mesa: Petit Biscuit inspired me to make electronic music with vocal chops. That's a core element you can hear in "ily". Duke Dumont inspired me to make "cool" tropical house. It's like tropical house but not insanely on the nose. Like his song "I Got U" with Jax Jones… that song is so freaking good.
TSS: Anything else you would like to add?
Surf Mesa: By the time everything in music slows down for me and I start to drift away, I want people to know me for my true sound and songs outside of the "hits." I really aspire to be an artist that people look up to. I'm only 22 now and don't want to slow down anytime soon. In my eyes I have until I'm like 40 to make a few more hits. All the music in between I want people to like too!
So there you have it! "City of Love" is out now via Astralwerks and you can grab and stream it through the link below. With just being so young and with a track record as strong as he already has, we can expect to see Surf Mesa's name for a long time to come.
Surf Mesa, Selah Sol – City of Love | Download |
"Follow" Surf Mesa: | Facebook | Twitter | Instagram | YouTube |
Comments
comments