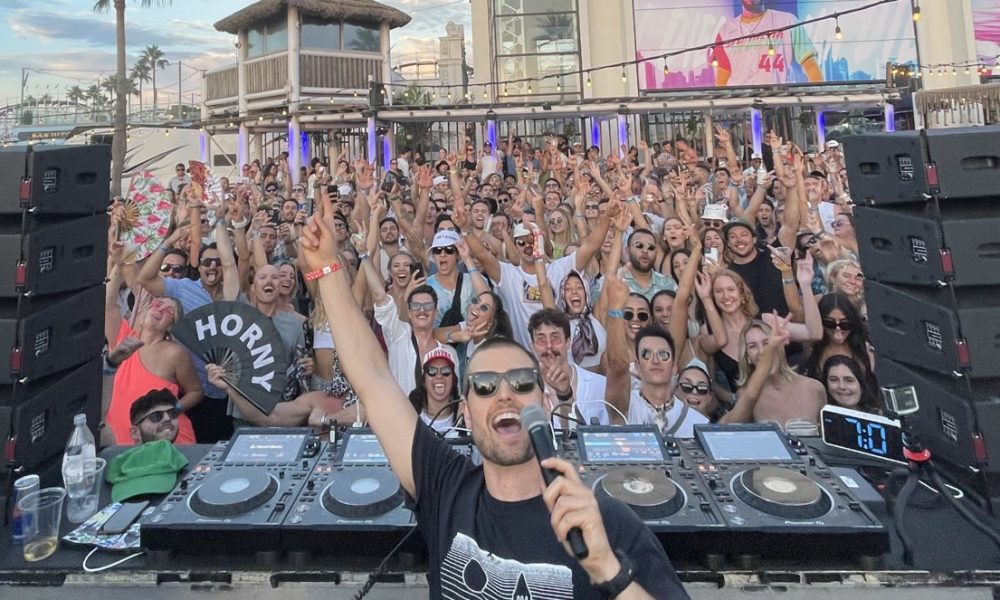 Having himself quite the 2022 unloading a steady stream of new music, warner case looks to pick up right where he left making his way over to Monstercat for his latest offering "do my own thing."
Being a blossoming talent from the world of house music, the New York native is a trained percussionist who taught himself to produce while studying at Cornell University and working at Jimi Hendrix's famed Electric Lady Studios.
Fresh off the release of his collaboration "do my own thing" with Brazil's Bhaskar, we took the time to get to know warner case a little bit better!
warner case & Bhaskar – do my own thing | Download |
TSS: Who or what introduced you to the world of electronic dance music?
warner case: youtube and an ex. pretty sure i discovered Daft Punk on youtube when i was in middle school, then really dove into EDM after a girlfriend introduced me to the blog scene in the late aughts, when Simian Mobile Disco, Calvin Harris' "I Created Disco" and Hot Chip were relatively new. i'd been a drummer and music fan my whole life, so to discover what was, to me, a brave new world with no rules was intoxicating.
TSS: What made you fall in love with dance music as a whole?
warner case: house was founded with a focus on love and acceptance by black and queer folks who didn't get much of either from the world. what better thing to be part of, and to help spread?
TSS: You're currently based in New York; how much has the big city influenced your music?
warner case: immensely. being exposed to burgeoning artists in DIY parties in gritty basements, teaming up with them to help through the next one, and watching the community grow gave me an even more personal appreciation for the power of music and of being true to yourself and your art. New Yokers have an almost unhinged, unhealthy obsession with their craft – it has its cons, but the pros are unmatched. this song is precisely about that: you're the only one like you, so make music that's real to you.
TSS: DJing or production – which came first?
warner case: production kinda?. i was in bands growing up, and we did some self-recorded tracks that I helped produce, terribly. so when I discovered that Daft Punk and everyone in the house scene was making music primarily on computers, i had just started DJing and everything clicked.
TSS: What does your studio setup look like these days?
warner case: tiny lol. i'm in brooklyn and anything bigger than a shoebox that's not a 2hr train ride from society is dumb expensive. but it's cozy, and i took my time planning out the setup and acoustic treatment, so i'm really happy with it. i'm pretty gear- and plugin-minimal, so i just have Yamaha HS50M and 10W monitors, Shure SM7B w/ Coda MB-1 preamp, Ableton Push 2, a few midi keyboards, Apogee Duet interface, too many headphones, and 2 cats for morale.
TSS: When you have a rough week or hit a wall creatively, how do you get yourself back on track?
warner case: i try to go out into nature and see friends and family. checking in with what really matters takes my mind off of whatever creative/professional block i'm experiencing, and usually i come back fresh and fixed. i bike through the city, run, play soccer… if i can get out into the mountains, i love to snowboard and hike. and if i'm in the boonies, i love maintaining land – cultivating a garden, a yard, a forest… is a simple, human pleasure that's as far away from EDM as you can go. and i love it.
TSS: For anyone who may not be familiar with warner case, how would you describe your music to someone who has never heard it before?
warner case: it's unpretentious fun where house, disco, and techno meet.
TSS: Tell us a little about your new collaboration, "do my own thing," with Brazilian producer Bhaskar, and how it came together.
warner case: Bhaskar sent me a heater of an instrumental, which i immediately started writing a topline for. as a producer too, i couldn't help but tweak the structure and bassline a bit, and sent him a draft which he liked. it languished in demo purgatory for about a year. then we met up in Denver while he was on tour to put on the finishing touches, and it was ready for the world.
TSS: Monstercat has become a staple within the world of electronic music; how does it feel to have a release on the label?
warner case: exciting! i've heard nothing but good things, so it's an honor to release with them, and to be introduced to their awesome community. it's rare that a label has such a robust, real, and meaningful connection with its fans.
TSS: 2023 has arrived; what can the world expect from warner case this year?
warner case: i'm sitting on the most exciting, genre-bending demos i've ever had, and am heading to play shows and connect with fans in cities i've never seen. it's going to be an exciting year – for those of you reading this, i can't wait to see you soon!
"Follow" warner case : | Facebook | Twitter | Soundcloud |
Comments
comments