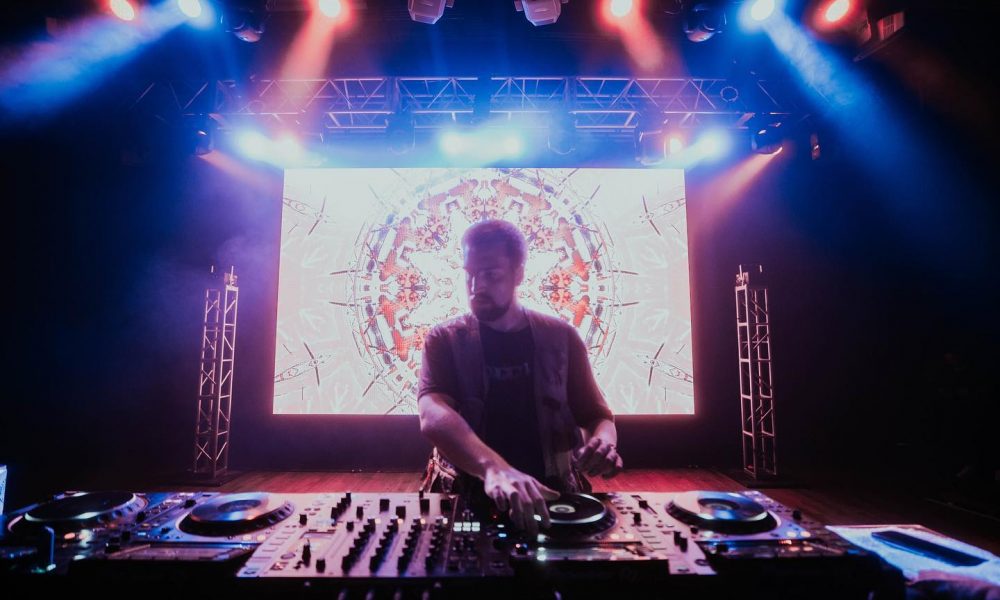 Still riding the ripples of his bone-crushing "CATACLYSM" mix, Jiqui looks to set the tone for 2023 with his first release of the year coming in the form of "SONAR."
For those lucky enough to attend, his latest offering originally premiered at Bass Canyon this past year and has been a staple in his sets ever since for all the right reasons. As expected, the bass enthusiast adds to his arsenal with a merciless production driven by wobbly synths, trippy vox, and brain-tickling freeform basslines.
Being one of the hottest names in dubstep and with his new single hot off the press, we took the time to get to know Jiqui a little bit better!
Jiqui – SONAR | Download |
TSS: Where does the name Jiqui come from?
Jiqui: When I started producing (2012), my friend and I were brainstorming names of what to
call the music project, and he mentioned Jiqui and it just kinda stuck. It doesn't really
have a meaning, it just kinda came about that way.
TSS: For anyone who may not be familiar with Jiqui, how would you describe your music to someone who has never heard it before?
Jiqui: Bouncy, dark, chonky, and stinky for sure.
TSS: Who or what introduced you to the world of bass music?
Jiqui: The first time I got introduced to bass music was back in 2011/2012 I believe. My friend
(the same friend that helped me come up with Jiqui) showed me Skrillex's Scary Monsters and Nice Sprites and I instantly fell in love. Then I started going down the rabbit hole and started getting into artists like Flux Pavillion, Gemini, Funtcase and a lot more. It pretty much became the only thing I listened to.
TSS: What made you fall in love with bass music as a whole?
Jiqui: I grew up going to concerts with my dad and playing guitar at a really young age, so I've
always been very passionate about many different genres of music. I think bass music was just something so far off of anything I'd ever heard at the time and it was just an instant attraction to the sounds/style. I was on Youtube searching how to make dubstep the next day after hearing it for the first time.
TSS: How would you say the bass scene has evolved since you first started releasing music back in 2013?

Jiqui: I feel like the scene goes through a lot of ups and downs. Lots of people like to say there's no originality/fresh ideas, which I understand to an extent, but there have been so many of these little "phases" since I've been involved in the scene. I've always tried my best to not let that mindset shape the way I feel about dubstep. At the end of the day there are always artists that are pushing boundaries and bringing fresh ideas to the table and I think adapting that mindset would bring a lot more positivity all around. I started doing this because I love the music, and that hasn't changed at all since 2012. So I guess to answer the question, I think it's evolved in positive ways and negative ways, but I try my best to ignore the negativity and focus on keeping a healthy/positive mindset about everything.
TSS: What was one piece of equipment that helped define your sound early on?
Jiqui: I feel like my sound has changed a lot over the years but the first thing I learned in detail was NI Massive. One of my favorite plugins ever!
TSS: Speaking of producing, what hardware and software do you use?
Jiqui: I use Ableton and my headphones.
TSS: DJing or production – which came first?
Jiqui: Producing, I learned how to DJ in 2017 when I got my first mixer.
TSS: When you have a rough week or hit a wall creatively, how do you get yourself back on track?
Jiqui: I try to just take a step back from everything and mentally reset, learn a new plugin, play
video games etc. I'm really bad for being way too hard on myself and it's something I should definitely be better at.
TSS: Tell us about your new single, "Sonar" and how it came together.
Jiqui: I would say 'Sonar' is definitely one of those tracks that I'm really proud of and I feel like it really just captures what Jiqui sounds and feels like. The main inspo came from my friend sending me this Youtube video that was a documentary about submarines/ how sonar works, and it instantly just sparked this idea. I ended up making the whole idea in a matter of a couple days, but I spent probably 5-6 months making small tweaks on it up until we distributed it.
TSS: 2023 has arrived; what can the world expect from Jiqui?
Jiqui: LOTS of new music and big shows that I'm super stoked on. Also, a lot of new branding/visuals which is one of the things I'm most excited about. We've been working really hard on it and it's all finally starting to come together. We just revealed a brand new logo and mix with the new branding and the response has been super dope so far. So expect a lot of fresh and new elements with the Jiqui project.
"Follow" Jiqui : | Facebook | Twitter | Soundcloud |
Comments
comments