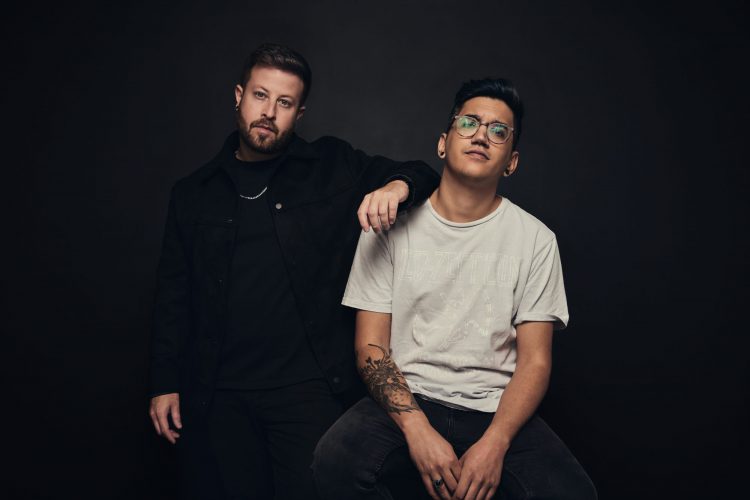 Wasting no time after dropping their IN CASE OF FIRE EP, RIOT has struck again making their Deadbeats debut with the release of "Buck Shots."
In what is their tenth anniversary as artists together, "Buck Shots" serves as a celebration of the past, present, and future of all the good and hard times with their loyal fans who always stood by them.
"Buck shots was a journey from start to finish! An extension of our quest to explore new, innovative sounds. We continued to incorporate hip-hop-inspired elements with bass music while creating a piece of art that takes you on a musical journey. We've been eager to try the fusion of hard-hitting bass music with hip-hop and orchestral music for a long time. Easily one of our favorite tunes we wrote recently and we're super excited for it to be our debut single with Deadbeats!" RIOT explains.
Take a listen to "Buck Shots" and check out our exclusive interview with the Israeli-born talents below. Enjoy!
RIOT – Buck Shots | Download |
TSS: How would you say your sound has evolved since popping onto the scene 10 years ago?
RIOT: Oh man, I dare you to go back and listen to our first original "smokin' aces" from 2012 and see for yourself haha. Throughout the years we've definitely experienced pretty much every genre and explored million of sounds until we've found "home". Home for us doesn't necessarily mean a specific genre, as we believe in diversity and artist freedom, but we have definitely developed our sound signature. A lot has changed since then, especially when it comes to technology.
TSS: What gear and programs do you use in the studio these days?
RIOT: I think the biggest and most crucial change is computer CPU power. Being able to run insanely big projects with a lot of virtual instruments and CPU-intensive effects, allows us to focus on creating. Which is the most important thing.
TSS: You two have been a part of this bass-music scene for a decade now. What are some changes you've noticed over the years?
RIOT: The popularity of bass music definitely evolved over the years. Bass-music acts are taking stages today that were pretty much out of the question a decade ago. From Coachella to Ultra Music Festival Main-stages, you can also hear bass music being used in trailers, promos, and commercials more than ever and we love to see it.
TSS: When it comes to the world of electronic dance music, what would you say is the key to longevity and success over such a large chunk of time?
RIOT: We believe that the main "key" to longevity is creating timeless pieces of art while being consistent. We never try to make what's "hot" or "popping" right now. We always strive to take our fans on a journey with our production. Something that they can hear a decade from now and remember how they felt the first time they heard it.
TSS: What words of wisdom do you have for up-and-coming producers looking to make their presence felt but feel overwhelmed having to juggle all these social media platforms?
RIOT: It's honestly overwhelming for us as well. We didn't grow up in an era where social media played such a huge role. With that being said we highly suggest being yourself while finding the most comfortable and efficient way to share that with your fans. At the end of the day, if you try to copy something that works for someone else, it might work for you in a short term but it might begin to feel more disingenuous in the long run. Find your voice and be as authentic as you possibly can.
TSS: Any other advice when it comes to aiming at a career in the music industry as a whole?
RIOT: Do it for the right reasons. Whether in the music industry or in any other profession, you won't find happiness and longevity unless you are doing it for the right reasons. Whatever it may be, do something that you have the utmost passion for because the end of the day, that will help you not only to feel happy but also keep you going through hardships.
TSS: When it comes to production, walk us through a studio session with RIOT.
RIOT: Well, it usually starts with sound design. Trying new and unique ways to create sounds that will eventually lead to a compelling record. Sometimes we have a complete theme we'd like to explore from the get-go. In that case, we'll search for interesting vocals that could bring that theme to life.
TSS: When you have a rough week or hit a wall creatively, how do you get back on track?
RIOT: We've learned with time that for us we take some time off of what we're working on atm and focus more on sound design to ignite some creativity but can also be gaming, watching tv, reading a book, etc.
TSS: Your IN CASE OF FIRE EP is still in heavy rotation. Tell us a little bit about putting that 3-track offering together.
RIOT: We feel like IN CASE OF FIRE represents the first accord of the new era of RIOT in the best way possible. We've been on a quest of exploring new sounds while finding that "spark" in the studio while working on music for quite some time now. Something about those 3 tracks just felt right together while also providing the fans a deeper look at what we've been up to and what's to come.
TSS: With 2023 right about the corner, what does RIOT have planned for the future?
RIOT: We have our debut release with Deadbeats next month and we couldn't be more stoked to share it with you, to be honest. Started live-streaming on YouTube regularly, and started working on our next EP and some collaborations while booking future shows!
"Follow" RIOT : | Facebook | Twitter | Soundcloud |
Comments
comments