Following a number of coveted festival appearances, sold-out shows, and esteemed record releases, South African DJ and producer Kyle Watson is about to embark on his 12-date 'My Machines' US tour. Kicking off in Tempe, AZ on September 16 and wrapping up in Denver, CO in late October, Watson will be debuting his brand-new show concept which will tap into his expansive collection of music to develop a specially curated all-original Kyle Watson DJ set. Alongside the auditory component of the experience, Watson has put together a visual element and brand that echoes the concept of 'My Machines' including custom visuals.
Ahead of the tour, we were able to talk to Watson about what we can expect from the tour, how it came together, and how it is unique to any of his previous shows.
TSS: Tempe on 9/16 is the first stop of your tour, any nerves ahead of it or is it business as usual?
Kyle Watson: A bit of both, exciting and daunting both for the same reason I think. It feels kinda surreal that I can do an entire tour like this halfway across the world from the scene where I originally grew my sound. It's exciting because I've put a lot into making the experience as good as it can be, but it's daunting because at the end of the day I really want it to kick off with a bang!
TSS: How do you feel the experience you have created for this tour evolved from your last solo tour?
Kyle Watson: Well, this is the first time I've ever toured this type of show. My previous runs have been built around one or two anchor shows whereas 'My Machines' is built around the concept of a 'producer set'.
TSS: What makes the shows on this tour more unique to your standard show or festival sets?
Kyle Watson: The 'My Machines' set is all-original, meaning everything you will hear was created in my own studio (whether it's released or not). I've been writing music for around 15 years, so this allows me to dig right back into my catalogue and expose the audience to where my music has come from, how it's evolved, and where it's heading. I've also spent the past few weeks building edits and VIP mixes which are going to be played for the first time on this run!
TSS: While there are festival appearances during your tour, will those stops have the full 'My Machines' experience or will they be more similar to your past festival sets?
Kyle Watson: I'm really excited to play Life Is Beautiful in Las Vegas the day after Tempe, but that set won't necessarily follow the 'My Machines' format (although there will definitely be some crossover tracks).
TSS: You have had custom visuals made specifically for this tour. How will those be incorporated into your set to make this a holistic experience?
Kyle Watson: The My Machines 'machine' illustration was done by Bruno Morphet from Plan B, a company based in South Africa. Luckily, I have a history in video editing and motion design, so I've personally built out video loops and animated elements based on that illustration that will play during my set. I wanted to make sure people felt the visual experience of the set matched every design element leading up to it, basically just for it all to feel cohesive and a little more special than generic visual loops.
TSS: What are you trying to showcase and achieve with this tour?
Kyle Watson: It's really a platform for me to showcase the scale of my productions over the course of my career, and at the same time hopefully introduce people to some music of mine that they may not have been aware of. It's also going to be the perfect opportunity to road-test my newest music.
TSS: It has been a busy year for you all-around. You have made plenty of festival appearances alongside other shows while also releasing a handful of songs. How have you managed to balance both the playing and creating music?
Kyle Watson: The last year or so has felt tricky to balance things as we've been settling in a new country and moving houses. In saying that though, I have had good stretches without travel which I've spent working on music. At the end of the day, it's always going to be tricky to balance things as an artist in this industry since it's not only getting the studio/live balance right but also making sure there is time for everything else that's important in life.
TSS: On the flip side of staying busy with your career, what do you do when you have some downtime to unwind?
Kyle Watson: We enjoy going for walks, getting out into nature, catching up on TV shows, and occasionally hitting the PlayStation. Sometimes life feels so crazy that when you get a chance to vegetate on the couch you jump at it, it's kinda cathartic!
So there you have it! This tour should be exciting and unique, while showcasing what Kyle Watson is all about. Tickets are available now and you can grab them through the link below.
Kyle Watson – 'My Machines' Tour | Tickets |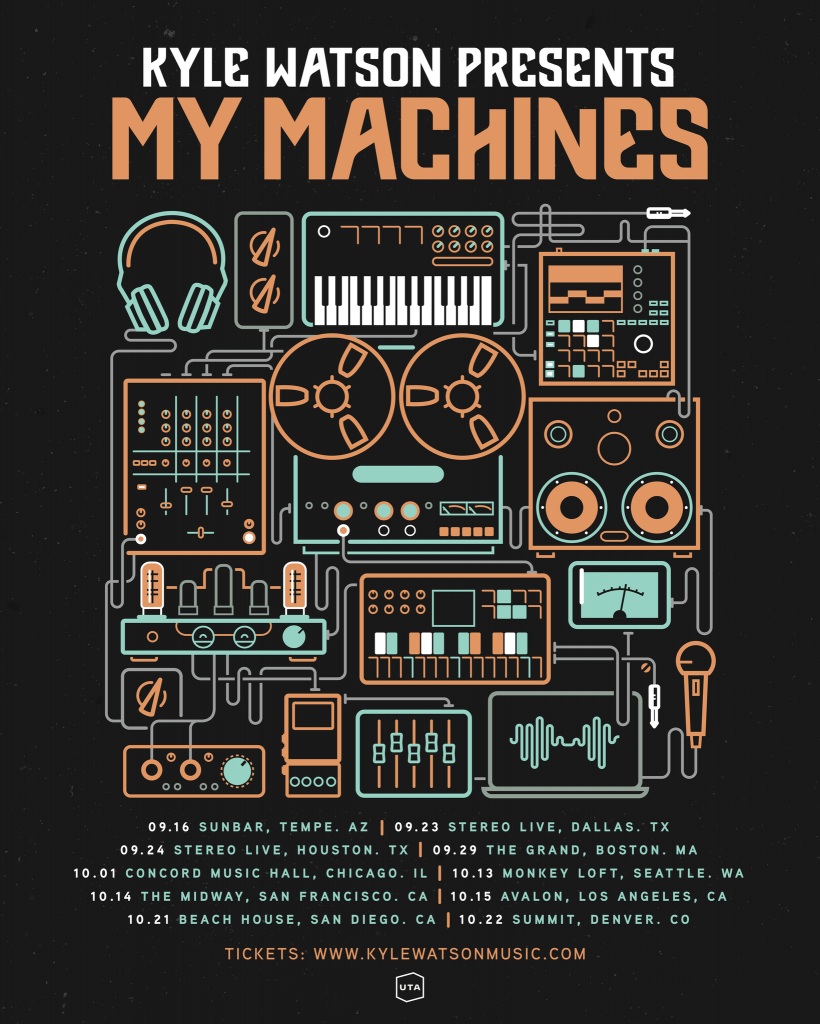 "Follow" Kyle Watson: | Facebook | Twitter | Instagram | Soundcloud |
Comments
comments