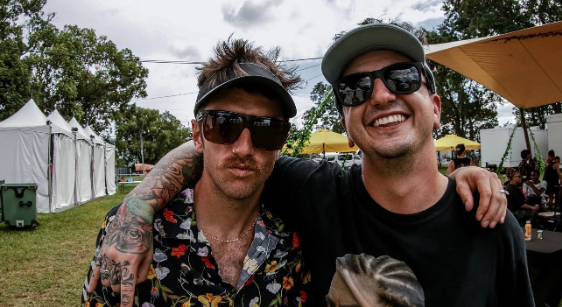 Dirt Monkey and SubDocta are two mainstays in the dubstep and bass scene and have formed a strong bond over the years. The two collabed, remixed, and played together many times since meeting. The two are set to join forces next month at North Coast Music festival in Chicago for a special b2b set which we know will be crazy. In preparation for their appearance at the festival, we sat down with them for a joint interview about their friendship and what we can expect from them at the festival.
TSS: You two have a long history of working together. Can you explain the backstory of how your relationship began?
Dirt Monkey: Well, however many years ago I stumbled upon his music, loved it, and shared with my friend (& booking agent) Jake, and all the sudden we are touring together & wearing button up shirts to our b2bs at festivals!
SubDocta: Once upon a time, I had a few songs that I thought he would like so I slid in to his DM's on Facebook messenger with them lol. We started chatting and hit it off (old guys like old dubstep) and shortly after I signed with our agent. The rest is pretty well documented history haha.
TSS: You recently played a show together in Portland. How was that show for those excited to see you at North Coast?
Dirt Monkey: That was a real hum-dinger. Warehouse party vibes and the sound system was sick too, couldn't have asked for much more.
SubDocta: I mean at this point we've probably played 40-50 shows together over the years, and they're always a blast with a fun mix of styles. Same same, but different.
TSS: Chicago has a rich history of electronic music. What does playing in the city mean to you both?
Dirt Monkey: I've always loved playing in Chicago, especially when I get into the house-y stuff. Overall, Chicago has a consistent and epic crowd every time. The fact that its an epicenter for house music makes that part of my set really fun too, everyone just gets it there, I love it.
SubDocta: I've had the pleasure of playing both small intimate shows as well as massive Aragon Ballroom sets. Chicago always shows out and shows up.
TSS: It has been two years since your collaboration "Blue Line" came out. Can we expect to hear that somewhere during your set?
Dirt Monkey: Yeah sure, let's play Blue Line!
SubDocta: Every b2b we have done has been freestyled so I can honestly say, I have no idea haha.
TSS: When going b2b, how do you play off of each other and do you plan a b2b set in the same way as you plan a solo set or is it more freestyle?
Dirt Monkey: Our b2bs are 95% freestyle – we usually plan the first and last songs but that's it. We both love DNB so we tend to get a little carried away during that section…
SubDocta: Dirt Monkey plays a good song, I play a bad one. Pretty standard formula for our sets!
TSS: What else can we expect from your set?
Dirt Monkey: A bunch of new stuff I've been working on, in my opinion, the best music I've ever made.
SubDocta: Probably at least half drum and bass lol.
We also asked both Dirt Monkey and SubDocta some questions individually.
TSS: What are some things that SubDocta does that really inspires you?
Dirt Monkey: He gives me honest feedback about my music, especially when I have a shitty snare.
TSS: What's your favorite thing about working with SubDocta?
Dirt Monkey: He's good at stuff that I'm not efficient at, mainly finding good samples for songs. That reminds me we should probably start a new one soon hmmm.
TSS: What are some things that Dirt Monkey does that really inspires you?
SubDocta: I've always envied his ability to write on the road. When we first toured together he just had his first son so he kind of had to learn it. I've never, ever been able to do that.
TSS: What's your favorite thing about working with Dirt Monkey?
SubDocta: He's so chill. Too chill, like just get mad or somethin!
So there you have it! You can certainly tell that these two have a fantastic friendship which translates to their working relationship together. This gets us excited for their set and we hope it gets you pumped too! Tickets to the festival are still available so grab them from the link below to secure your Labor Day weekend plans!
North Coast Music Festival | Tickets |
"Follow" Dirt Monkey: | Facebook | Twitter | Instagram | Soundcloud |
"Follow" SubDocta: | Facebook | Twitter | Instagram | Soundcloud |
"Follow" North Coast Music Festival: | Facebook | Twitter | Instagram | Website |
Comments
comments