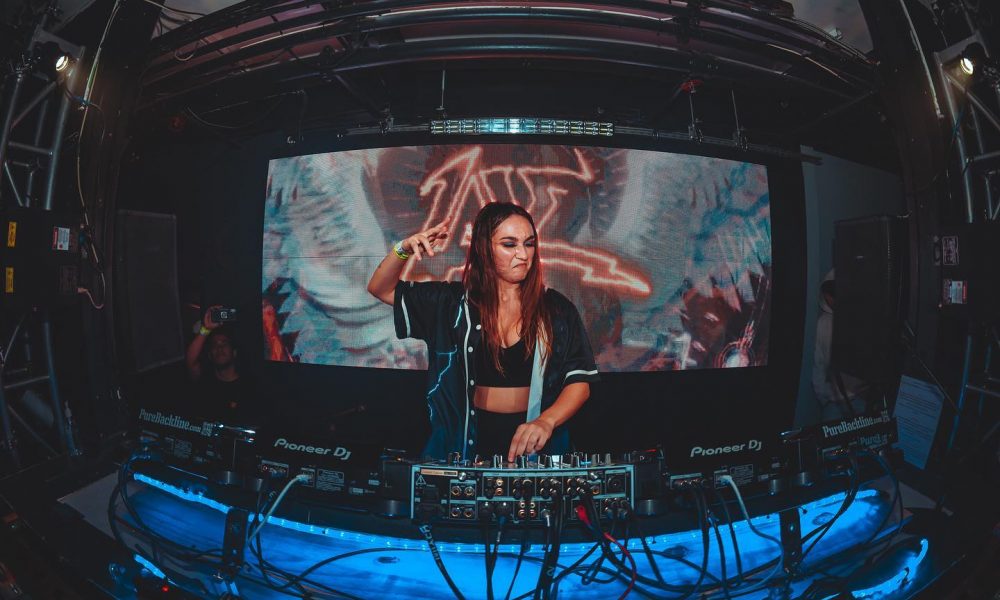 Being one of the most promising producers and fasting rising stars in the world of dubstep, LAYZ is riding quite the hot streak here in 2022 with the release of her relentless originals "SPARK," "Downpour" and "Lay It Down" in addition to playing some of the biggest clubs and festivals across the globe.
While she has been popping up on some of the wildest lineups assembled so far this year, she is still a relatively fresh face to many, so we wanted to dig a little deeper to see what molded her into the artist she is today.
Just ahead of her playing the role of hometown hero at Baltimore's Moonrise Festival this weekend, LAYZ took the time to hit rewind and introduce us to the tracks that inspired her most. These are the five tracks that ignited her passion for electronic music, and I guess you could say the rest is history.
Check out her list below, there are some serious classics featured in this one!
LAYZ – Lay It Down |
1. Avicii – Levels (Skrillex Remix)
LAYZ: "Every time I play this song, I'm instantly back to 2011. All my childhood memories start to flood in my head. Not only is this a sick Skrillex remix, but the original was created by an absolute legend, Avicii, Rest In Peace. I've heard people ask "What is the first dubstep song you've ever listened to?" Honestly, I wish I could remember but if I had to answer, I'm pretty sure this song would be it. Skrillex played a huge role during my middle school years. I was a huge gamer as a kid – I would play Call of Duty tournaments, wait in line at midnight for games to drop at GameStop, and had endless hours on the game. I started to upload gaming videos on YouTube and created my own Call of Duty montages! The majority of montages you see on YouTube would use rap or dubstep and Skrillex was the go-to for dubstep. Another core memory I have of this song is when I would go to the ice rink with my friends in middle school and would always request the DJ to play this song…… every. friday. night. Pretty funny/ironic that I am now the DJ haha!"
John Summit ft. Echos – Human
LAYZ: "'Human' is one of those tracks that instantly puts me in a good mood, between the catchy baseline and beautiful vocals, it's been a go-to for me. Tech-house never fails to make me feel good & happy! I try to not listen to dubstep much since I hear it enough at shows/producing/creating sets, etc. and listening to other genres allows me to not get burnt out from dubstep."
FuntCase, Barely Alive, Merky ACE – 4 Barz of Fury (Barely Alive Remix)
LAYZ: "Songs like '4 Barz of Fury,' or most of the dubstep songs that came out in the 2016-2017 era is what got me into learning how to DJ. I loved and still love the old-school 'bro-steppy' dubstep songs back in the day. I remember this song specifically was always on repeat because it had two of my favorite dubstep producers on it (Funtcase and Barely Alive). 4 Barz of Fury was one of the songs I added in the first mix I ever put out! It's awesome looking back at all the artists I looked up to when I was 16 and fast forward to today, I'm playing shows and on the same festival lineups as them! It goes to show you that if you want it really bad, nothing and nobody can stop you. The only thing that can stop you from turning your dreams into your reality is yourself!"
4. In Hearts Wake – Survival (The Chariot)
LAYZ: "In Hearts Wake is one of my favorite bands. I love this song specifically because it has some EDM elements in its song structure. In dubstep, we usually have a pre-drop vocal and in this specific song, it has a "pre-drop" vocal before the breakdown that says "KILLING FRENZY" which has been used in dubstep songs and video games. Just another example of my two worlds colliding! I absolutely love the mixture of heavy metal and dubstep! Bands such as In Hearts Wake, Northlane, I Prevail, and August Burns Red consistently inspire me with my own tracks like "SPARK", along with others that I am currently working on. Heavy metal and dubstep go perfectly together and you can expect many more tracks like "SPARK" in the future!"
Swedish House Mafia, John Martin – Don't You Worry Child
LAYZ: "This song gives me memories as a child (no pun intended), I remember my dad playing this song all the time and it always stuck with me. The lyrics are beautiful and I love the story it tells. During those years, I remember this being one of the tracks that got me into the EDM world."
"Follow" LAYZ : | Facebook | Twitter | Soundcloud |
Comments
comments