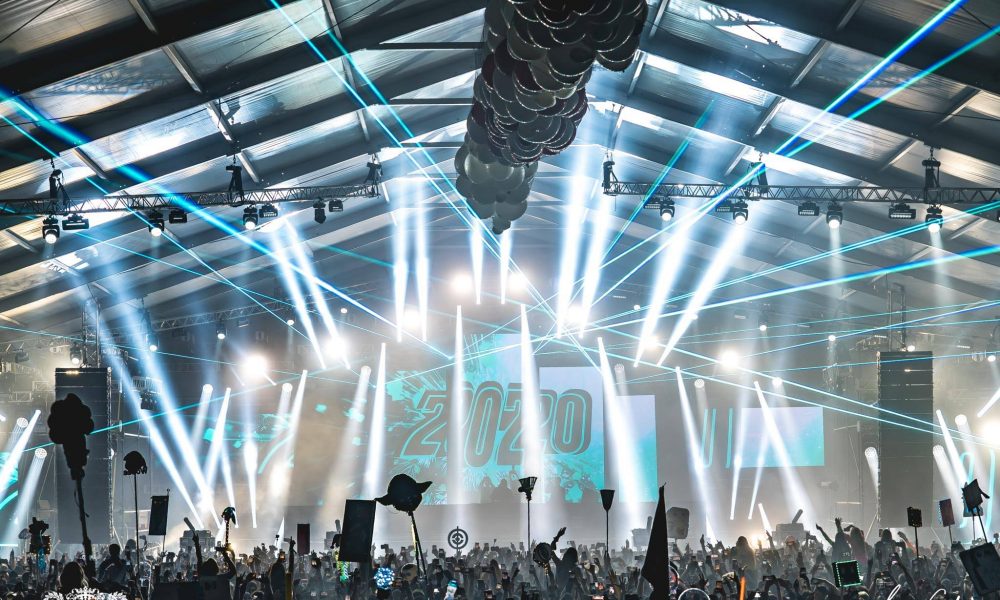 With the start of Decadence Arizona just a few short days away, it's time to get familiar with all the festival has to offer. From artists and set times to all the amenities featured at the festival, this is your one stop shop for the event.
Artists, Set Times, and Stages
We'll start off with whatever is always the most interested, the artists, their set times (*crosses fingers for no conflicts*), and where they'll be playing. The images below gives you all of that information so be sure to either save this to your phone or use the handy festival hack of making it your lock screen photo so you don't have to open it each time to check who and where someone is playing!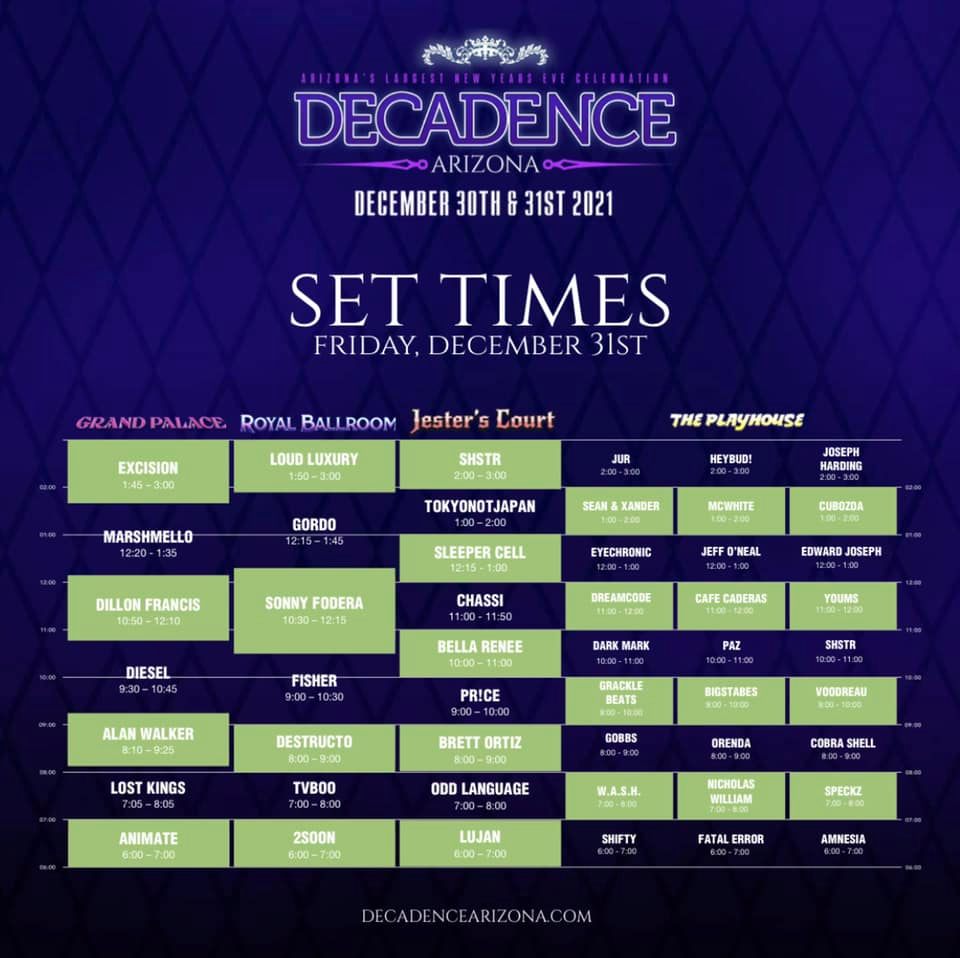 Map
Next you probably want to know where everything is so here is a handy, dandy map for you to peruse what the festival has to offer and to help you navigate the grounds!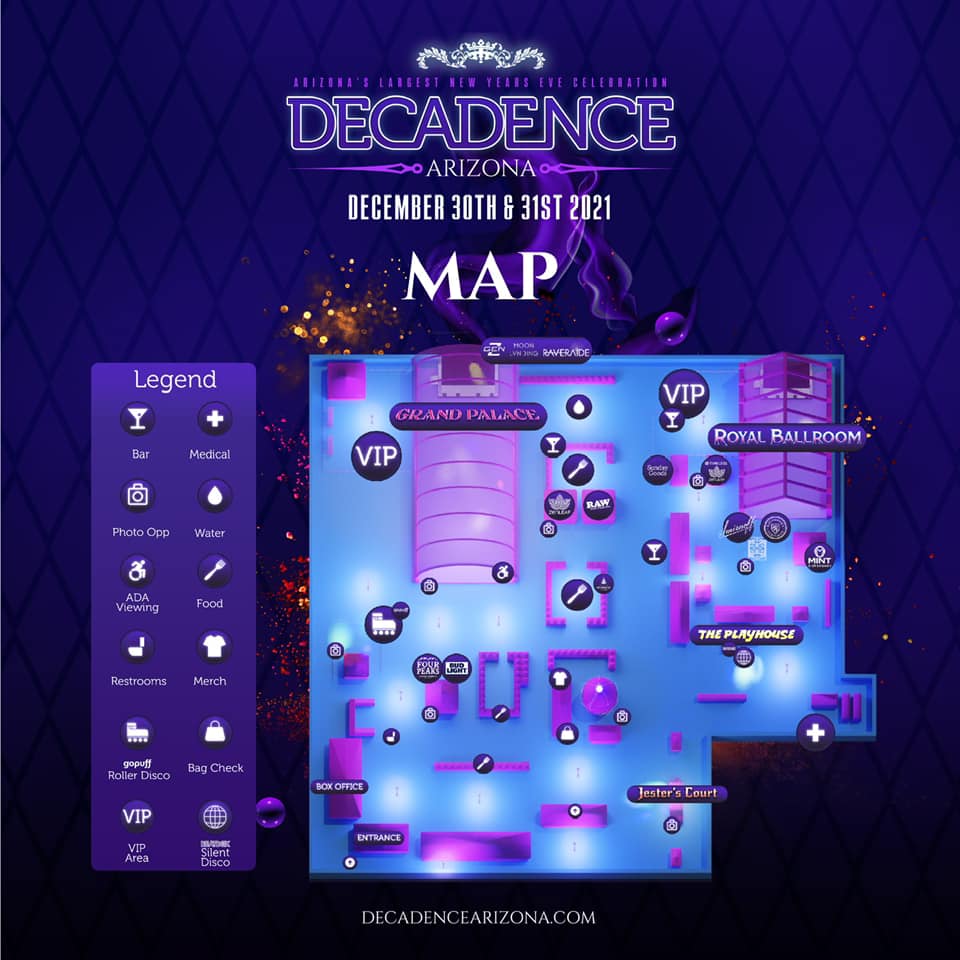 Amenities and Other Features
So what can you do other than check out music from your favorite artists? Well here is a list of all the other cool things featured at the festival:
Clear Bag Policy
Rawhide Event Center has implemented a clear bag policy for all large events. Here are the details:
A clear bag means a fully clear or colored clear plastic, vinyl or mesh bag.
One-gallon clear plastic freezer bags are acceptable.
The maximum bag size is 15 inches by 15 inches by 5 inches.
In addition to a clear bag, guests may bring one small clutch up to 5 inches by 7 inches by 2 inches and two factory sealed water bottles.
Empty hydration packs are permitted.
What You Can Bring
Nonprofessional cameras including Go Pros.
Cellphones.
Lighters.
Sealed cigarette packages, tampons, packs of gum and lip balm/lip gloss.
Glowing or illuminated costumes or jewelry.
Sunglasses and hats.
Sealed liquid sunscreen and cosmetic products.
Disposable e-cigs and nicotine vaporizer pens but none with refillable chambers containing visible liquid.
Guide dogs for people with disabilities and other service animals with current rabies certification.
What You Can't Bring
Illegal substances.
Drugs or drug paraphernalia.
Pets.
Massagers.
Laser pens or pointers.
Eye drops.
Glass, cans, cups or coolers.
Markers, pens or spray paint.
Large chains or spiked jewelry.
Stickers or flyers.
Tents, large umbrellas, chairs.
Open cigarettes, lipstick, lip balm or tampons.
Outside food, beverage or alcohol.
Professional cameras – SLR or detachable lens.
Video or audio recording equipment.
Knives, firearms, pepper spray, fireworks or weapons of any kind, including toy weapons.
Open sunscreen.
Balloons, balls, Frisbees or any other projectiles.
Native American headdresses.
Festival totems.
Tickets
If you are looking for last minute tickets, you are in luck as they are still available. Two-day general admission is currently $199.00+fees while single day tickets are available for $109.00+fees. If you are still on the fence just say why not a go full send by coming to Decadence which should be the most poppin' place to be to bring in the new year in AZ.
Wrapping It Up
So this is everything to know before heading to the festival on Thursday. This will be one to remember as we lost out on NYE festivals last year due to the pandemic so this is your chance to make up for lost time. I for one can't wait to ring in the new year in my favorite fashion, and that is dancing to the beats of the best artists in the world. If you haven't yet grabbed tickets, I hope this guide will help sway your decision to get you there. See all you lovely folks there at Decadence!
Decadence Arizona | Tickets |
"Follow" Decadence Arizona: | Website | Facebook | Twitter |
Comments
comments