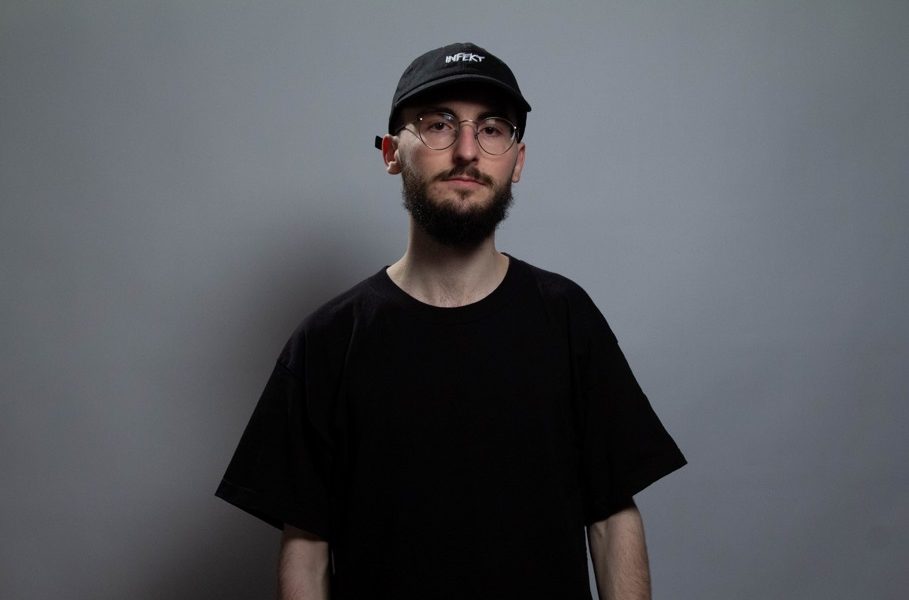 While the dubstep community continues to go bananas with "Monkey Dance" which was featured on Disciple Alliance Vol. 7, we took the time to talk tunes with Infekt!
After dropping a boatload of new music this past year in addition to his debut sample pack on Splice topping the charts, the German talent looks to carry his recent momentum into 2022 continuing to be a dominant force in the world of dubstep.
Check out our exclusive interview with Infekt and list of his favorite tracks below. Enjoy!
INFEKT – Monkey Dance | Download |
What's your cur­rent set­up in the studio?
Infekt: I re­cent­ly got the 14" Mac­Book Pro with the M1 Pro pro­ces­sor, which has been han­dling big projects ex­cep­tion­al­ly well! I don't use mon­i­tors for mu­sic pro­duc­tion, only headphones. The ones I use cur­rent­ly are the Bey­er­dy­nam­ics DT770 Pro 80-Ohm.
What's your cre­ative process in the stu­dio?
Infekt:Typ­i­cal­ly, it starts ei­ther with lis­ten­ing to some mu­sic and then open­ing Able­ton Live when I feel in­spired, or with just try­ing out some new sound de­sign tech­niques and seeing where it takes me!
When you have a tough week or hit a wall cre­ative­ly, how do you get your­self back on track?
Infekt:It's to­tal­ly nat­ur­al to feel less cre­ative on some days, I just try not to let it get to me, and in­stead take the day to do tasks that don't re­quire as much mu­si­cal cre­ativ­i­ty; like working on my Mas­ter­class, or even pre­paring some veg­gies for fer­men­ta­tion in the kitchen!
What words of wis­dom do you have for up-and-com­ing bass pro­duc­ers?
Infekt:I would say the most im­por­tant thing is to keep in mind that you should make mu­sic that you en­joy mak­ing. That's the only way to be gen­uine, and the only way you'll be able to stay con­sis­tent. Oth­er than that, don't pay so much at­ten­tion to the num­bers, and instead fo­cus on meet­ing peo­ple, talk­ing, and mak­ing friends—share your pas­sion!
Infekt's Five Fa­vo­ri­tes:
Sub­fil­tro­nik & Cof­fi – Ba­ron Green­back
"I con­sid­er this to be the best 'Rid­dim"' track of all time, by far. This track is per­fect in every way, and noth­ing has ever, or will ever, come close."
Bad­pha­ze & Sub­fil­tro­nik – Out­put Con­trol
"If the favourites list of a Rid­dim pro­duc­er doesn't con­tain at least two tracks from Sub­filtron­ik, can you re­al­ly trust them? This is an­oth­er ab­so­lute clas­sic, a per­fect ex­e­cu­tion of the style that didn't even have a name oth­er than Dub­step at the time it was made.
Commodo – Loan Shark
"Every­thing this man makes is just so good. From the sam­ple se­lec­tion to the tim­ing of the sounds, the lay­er­ing, the en­er­gy—every­thing about this track is so well done."
Sam­ba & Cho­kez – Ghastly
"The ice-cold vibe of this track is guar­an­teed to send shiv­ers down your spine. I was extreme­ly ex­cit­ed about the re­lease of this track, and I still love lis­ten­ing to it so much."
Coki – Go­blin
"This will for­ev­er be one of the best Dub­step tracks of all time. I don't dare call­ing this Rid­dim, so let's say in my mind this is to Dub­step what Baron Green­back is to Rid­dim."
The Up­beats & Noi­sia – Shi­bu­ya Pet Store
"This is some of the most well-pro­duced mu­sic you will ever hear. These guys know what they're do­ing, and it shows!"

"Follow" Infekt : | Facebook | Twitter | Soundcloud |
Comments
comments