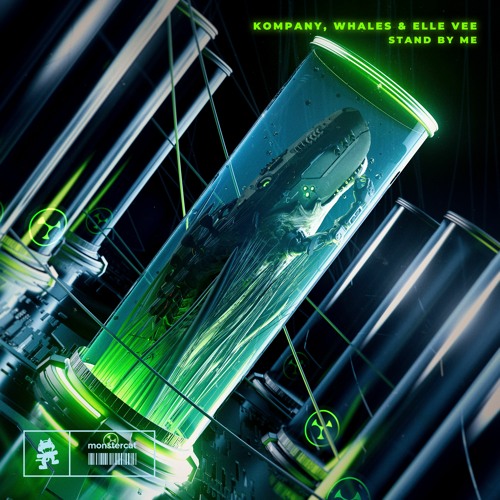 It is always great to see a heavyweight join forces with an up-and-comer and that is what we have with Kompany and Whales coming together for their new song "Stand By Me" with Las Vegas-based vocalist Elle Vee.
The song starts innocently with light and airy piano chords with Vee's vocals backing it up. The lyrics are deep and emotive as they lead into the drop which infuses that heavy emotion and feel-good melodic bass synths. The song then takes a left turn as it gets heavy as it goes dubstep and turns you on your head. The song then gets back on track and returns to the lighter side of things with the piano and Vee's vocals righting the ship. The drop the second go around is all the uplifting version as it goes out on this high note and everything feels right in the world with the feeling you have people standing by you.
Each of the artists commented on the song and this is what they said:
"It's always a fun writing process when I get to tap into my melodic side a bit more. Whales had sent me this tune very early on, and I hopped on it the moment I heard the vocals. I really loved working on this one and hope everyone enjoys it! – Kompany
"Kyle and I always wanted to create a super heavy track, but after the success with "Save You," we realized how much our fans loved the melodic side of Kompany. "Stand By Me" is a song you can enjoy whether you're at home or on the dance floor. After adding Elle Vee onto the track, we created an emotional, but heavy masterpiece." – Whales
"This song is about a person who is aware that they have issues within relationships, and they've found a person that matters so much to them that they're inspired to change those personal flaws for them for the sake of a relationship. "Stand By Me" is about loyalty, love, learning, and acceptance." – Elle Vee
"Stand By Me" is out now via Monstercat and you can grab it from the link below. As the artists said, it is great to hear the more melodic side from Kompany as we are accustomed to his heavier sound. So check this out now and know that you have somebody standing by you no matter what.
Kompany, Whales & Elle Vee – Stand By Me | Download |
"Follow" Kompany: | Facebook | Twitter | Instagram | Soundcloud |
"Follow" Whales: | Facebook | Twitter | Instagram | Soundcloud |
"Follow" Elle Vee: | Facebook | Twitter | Instagram | Soundcloud |
Comments
comments