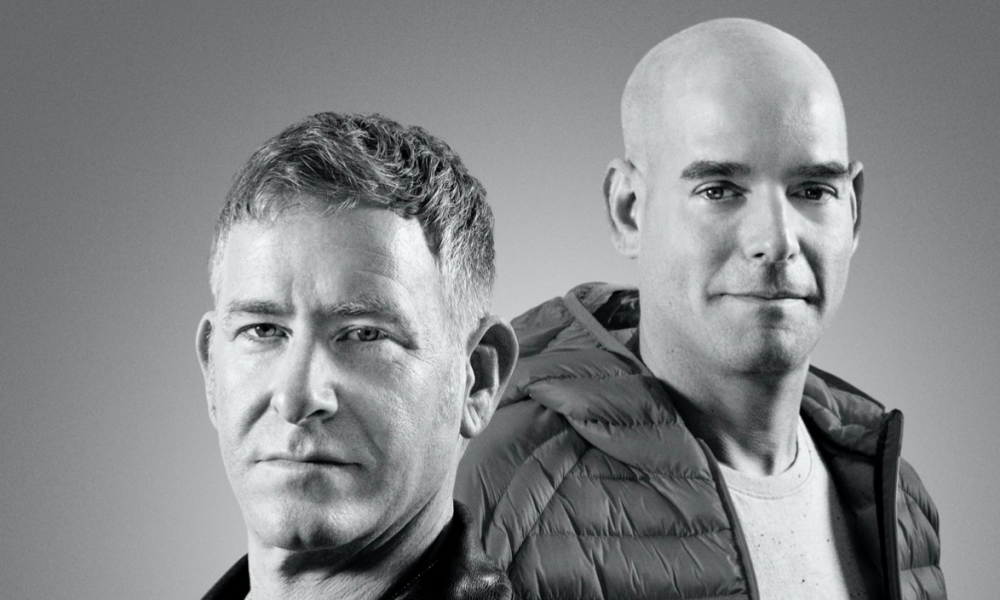 Gabriel & Dresden are back and better than ever with their third full-length artist LP. 'Remedy,' which is out now on Anjunabeats, is complete with 20 diverse tracks, each better than the last. There's no doubt that 'Remedy' will be a hit and we can't wait to see what's next for this Grammy-nominated duo. We had the pleasure of chatting with Gabriel & Dresden about how they first met, the inspiration behind their new album, their Kickstarter campaigns and so much more. Listen to to 'Remedy,' catch Gabriel & Dresden on tour in a city near you and check out the complete interview below!
Gabriel & Dresden – Remedy | Download |
TSS: Tell us your origin story. How did you two decide to form Gabriel & Dresden? 
Gabriel & Dresden: Forming Gabriel & Dresden happened super organically. We met at Miami WMC in 2001. Dave was out scouting for talent for Pete Tong's radio show, Essential Selection, and record label, FFRR. Josh was there handing out copies of his first 12" single called "Wave 3."
We were both at a party being thrown by Giant LA (a huge club brand at the time) and Leon Alexander was DJing and dropped Dirty Vegas' "Days Go By." We both looked at each other and said, "wow this is a great song" (it was a brand-new record not really known yet) and then Josh proceeded to pull a vinyl record out of his bag and excused himself so he could give a copy to Leon.
When Josh returned, Dave asked him what was it that he just gave out?
"It's my first 12" single called 'Wave 3'" said Josh.
Dave then explained that he was a scout for Pete and that he was looking for music to give him for consideration. From his facial expression, Josh didn't really believe Dave that he had any connection to Pete Tong but reluctantly gave him a copy anyways.
Fast forward a couple of weeks and Tong played "Wave 3" on Essential Selection. From there we struck up a working relationship and spoke on the phone regularly. Josh would send Dave some of his unfinished works and Dave would offer comments on how he could improve his tracks, especially in the area of making them more DJ and dance floor friendly.
Josh really appreciated the feedback and joked to Dave, "maybe one day we should make a song."
In August of that year, Pete asked Dave if he wanted to do a spec remix on a New Order single. Dave immediately thought of Josh and asked him if he'd like to work on the remix with him. Josh agreed and the rest is history!
TSS: How would you define your sound? 
Gabriel & Dresden: Our sound is hard to pinpoint. We are sort of at the crossroads between house, progressive house, indie dance and techno. In this era where everything is so genre-specific, this variety has always been both a blessing and a curse but it's really all we know.
TSS: If you could collaborate with one person, dead or alive, who would it be? 
Gabriel & Dresden: We've always wanted to make an original song with either U2 or The Cure. Either would be amazing to us as they are both such huge influences on our music.
TSS: If you could give one piece of advice to someone just starting out in the music industry, what would it be?
Gabriel & Dresden: It's so easy to want to make music that is directly inspired by your influences. We tell anyone asking us for this sort of advice that it's okay to be inspired, but try your best to only be influenced by it. Don't copy other people's ideas; be original because those who are original are the ones who usually break through and have lasting careers.
TSS: You've created Kickstarter campaigns to fund your last two albums. How does it make you feel to see so many people supporting you and donating to your campaigns?
Gabriel & Dresden: It's truly an amazing feeling to know that we have fans who not only will support our music but also support us on a level like this and we really enjoy this way of making music. It makes us feel like we are all in this together.
TSS: You invited some of the Kickstarter funders to appear on your new album, 'Remedy.' What made you decide to do this?
Gabriel & Dresden: To be honest, we had no idea that anyone would even back us at that level but from the first time we collaborated with one of our backers, we really enjoyed the entire process. With most of these collaborators, we have become friends whom we communicate with regularly. Each person who has come to the studio to work with us has improved the outcome and helped the process along immensely. Even if just to have another person in the room to bounce ideas off of, we found a lot of answers as to where to go from our backer collaborators. Each one has brought something special and unique to the table that helped the final outcome. This has been one of the most rewarding parts of the Kickstarter campaigns for us.
TSS: What was the inspiration behind 'Remedy?'
Gabriel & Dresden: The night before our album was released, Anjuna asked us to write about what inspired the name Remedy and the meaning behind it. We wrote the following:
"Remedy started out as a feeling. Each time we stepped away from the city and ventured into nature, we returned feeling rejuvenated with a strong sense of being connected to something bigger than ourselves."
What we are trying to convey with this album and its title is that "nature is the remedy" that ails us, and we wanted to share that notion with our listeners. The best things in life are truly free. Just step outside and take it all in.
TSS: What else can fans expect from you in 2020? 
Gabriel & Dresden: After spending much of 2019 locked away in our studio creating 'Remedy,' we are planning on spending 2020 on the road promoting the album around the world.
We are also hoping to make a techno-inspired EP as well. Techno has always been in our blood and there are so many musical ideas we stumbled upon while making Remedy that wasn't right for the album but would be great for this techno EP, so we plan on putting these ideas to the test very soon.
"Follow" Gabriel & Dresden: | Facebook | Twitter | Soundcloud |
Comments
comments