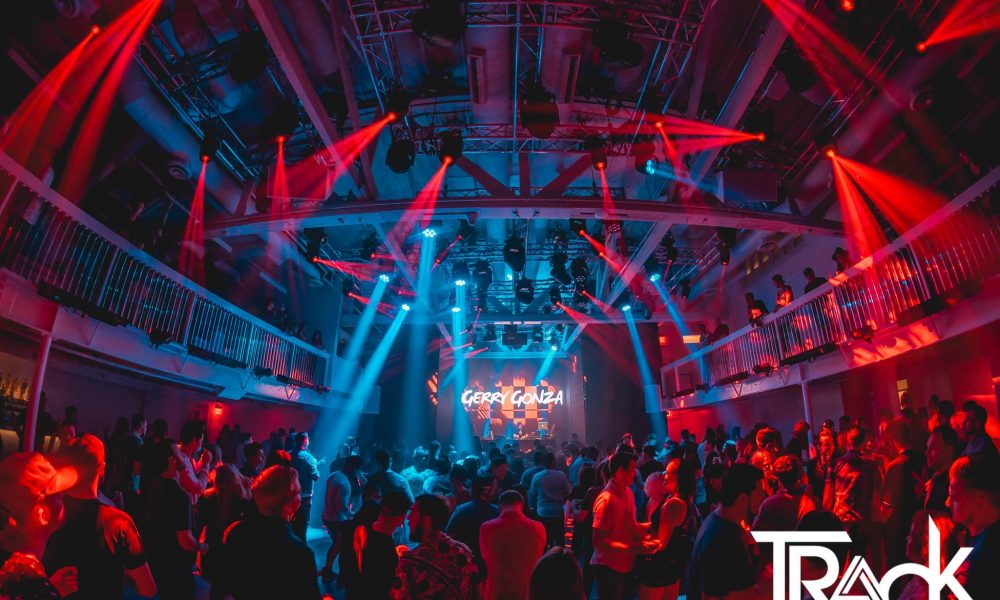 Those who are familiar with the Phoenix area know that there are plenty of venues to catch the hottest electronic music acts spanning every genre. From Rawhide which hosts the festivals to intimate Shady Park, there are places around the city and surrounding areas for everyone.
One thing that was lacking though was a proper club-like venue downtown. The city has the clubs which are located in Old Town Tempe, but downtown was really missing a real hub for electronic music. Well, that has now changed thanks to the trio of Chuckie Duff, Thomas Turner, and Damon Scott. Duff runs one of the largest development companies in the state, EQ Arizona, Turner is the head of the mega event production company Relentless Beats, and Scott oversees Rattle and Rum, a craft cocktail provider which services venues and festivals across the country. The three combined their forces to create Track Club, which is located in the heart of downtown Phoenix. Track Club fills a void within Phoenix's nightlife scene. The club will include three distinct areas spanning an impressive 12,000 square feet featuring a lounge and nightclub, along with a remodeled patio on the corner of Roosevelt and Central and restaurant that will both launch as a part of phase two of development. The concept harkens back to the dance culture of history's iconic nightclubs, with an athletic aesthetic as the base for overall vibe.
We were able to talk to Damon about what the club is going to be all about and get some details ahead of the official grand opening during the first weekend of November featuring shows with Kaskade and Malaa. The club has soft-opened and has already seen a slew of big acts roll through.
TSS: Tell us about what Track Club is going to be all about and how it came to be.
Damon Scott: The project came up in conversation with Chuckie over drinks about a year ago. Once I heard the scope and who was involved, I knew it was something I wanted to be a part of. It was not a project I entered into lightly and thus you will get the best of all the partners involved.
TSS: What is the average night at Track Club going to look like during each the week and weekend?
DS: Weekdays are for the Lounge. Cocktails and great music in a chill space that guests can be comfortable in. Weekends are for those that came to get down, with world-class DJs and entertainment in the Club.
TSS: What is the role that Rattle and Rum is going to play with shaping Track Club?
DS: Rattle and Rum has been involved from the start, designing the bar to our specs, and making the space ready to manage high volume bar service. We will be hiring and training the bar staff and be boots on the ground to make sure it all goes according to plan.
TSS: Can we expect a rotating menu of drinks with some staples or is there going to be a set selection?
DS: The menu will change, but how often is undetermined at this point. While it will constantly evolve, we will of course keep some of the favorites. Fader-Aid is a keeper.
TSS: What can you tell us about the club which others may not know about it yet?
DS: No stone has been left unturned- Track Club is a very deliberate space. From the projections in the Lounge to the lighting and sound systems, the directive of Track Club is to create a larger than life experience, while also being approachable.
TSS: Can you give us a sneak peek of what the grand opening weekend with Kaskade and Malaa will look like?
DS: I'm sure that weekend will be frantic and amazing. We are bringing a much higher caliber of experience to Downtown than I think most are used to. The anticipation on both sides of the bar is very high and are expecting a capacity crowd. Track Club is definitely looking forward to showing Phoenix a party like it's never seen before.
TSS: Anything else you would like to add?
DS: This place is breaking into new territory for Downtown Phoenix and I am proud to be part of it. That being said, Track Club is to be experienced rather to just be read about, so please come say hi!
So like Damon said, if you are in the area come by and say hi and check out the awesome space. The grand opening weekend is going to be wild and you can get tickets here. Getting a glimpse of the club myself ahead of its soft opening a couple weeks ago I can tell you that it is quite impressive and I am looking forward to catching a show there. This is going to be the talk of Phoenix here pretty soon and I hope that I will see you all there!
Track Club | Event Calendar |
"Follow" Track Club: | Facebook | Twitter | Website |
Comments
comments