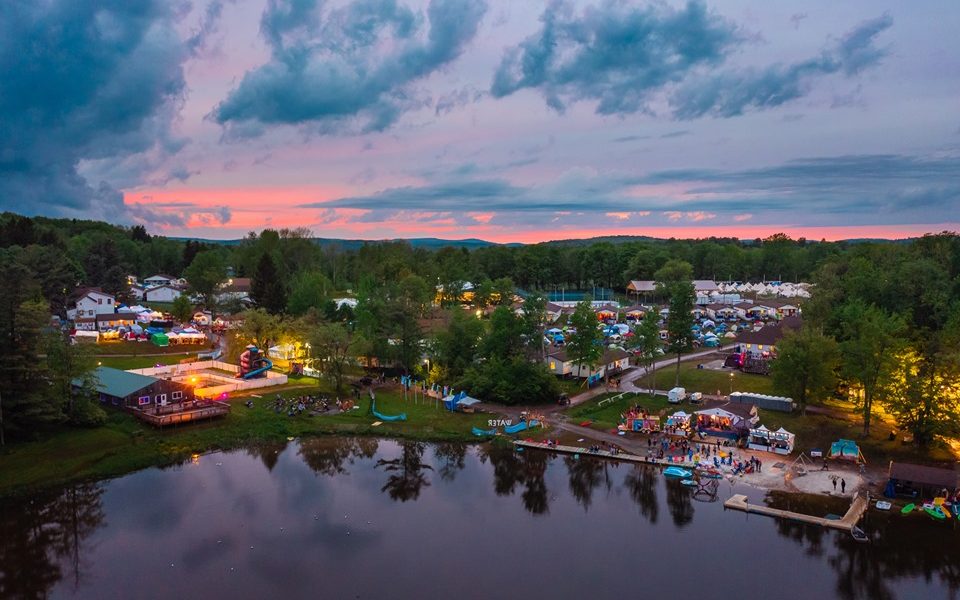 There's something special about a festival that introduces you to new things; Elements Music & Arts Festival showed me a lot and got me familiar with a bunch of new artists. This was my first time at Lakewood and I'm glad I impulsively made the last minute trek. House music wasn't my thing before this past weekend but I can honestly say, Elements showed me the light. It wasn't only the music that left me sparked, everything about this event was a breath of fresh of air. The venue was absolutely stunning, the production was astonishing and the staff was warm and welcoming; not even the rain could dampen the energy around us.
The Venue
Lakewood is easily one of the most beautiful venues I have ever been to, reminiscent of childhood summer camp but with music and shenanigans until the sunrise. Cabins all around, camp fires, roller skating, team sports and a lake to cool off in. If you've ever been to a festival in the North East, then you know to check the weather before you pack. It's bound to rain at least a little bit and I can not stress enough how much of a luxury it was to have a cabin for this weekend. Hot showers and actual beds aren't a necessity but I'd be lying if I said they didn't increase my experience tenfold. Not being from New York, I was unfamiliar with the states alcohol laws which left me unprepared and dehydrated. If it weren't for our gracious hosts and their on-site bottle service we would have went all weekend long without Jameson, imagine that.
The Music
Elements gets a 10 out of 10 as far as bookings go and I have to give the artists the same when it comes to execution. This weekend saw so many crazy sets, all good in their own regard. I witnessed some awesome performances from artists I know/love and was also introduced to a few that I wasn't hip to. House music never really was my cup of tea but in this environment how could I not succumb. Justin Martin lit up the Fire Stage, showed me that 128 bpm is indeed the way to set a party off and keep it going. A few of my favorite sets from the earth stage included; the 5AM Trio, lone bass music headliner Liquid Stranger and the always emphatic Beat Kitty. Just like I presumed, me and my squad found ourselves planted at the Theatre Stage for the majority of the late night. I swear everyone who pulled up came proper because every set in that building was gas. 5AM came through and did another set minus the trio that had a completely different feel but was equally dope. Of course, the homie Cyber G set it off and had the whole room moving. Supersillyus definitely stole the show Saturday (or I guess technically Sunday morning) and true to the general vibe of this fest had people getting down into the wee hours.
The Art
Art is a huge part of our community and it manifests itself in many different forms. Between the ceremonies, installations and performance arts, there was plenty to keep your eyes and mind stimulated. The Earth, Fire, Air and Water stages were uniquely crafted to match their namesake. The stage design paired with the performance arts, i.e. fire spinning, really elevated the aesthetic. If you didn't get to catch the Amanda Sage art installation you missed a spectacle to marvel at, her work is truly something else. The weekend came to a close with the ceremonial boat burn; marking the end to an amazing, well thought out, event filled weekend.
If you didn't make it out for this one not to fret, I'm certain they will be back next year with yet another incredible event. Check out that after movie below from BangOn! NYC and start planning your 2020 adventure to Lakewood. Unfortunately the super early birds already sold out but you can drop a like on their socials to make sure you stay in the loop!
Elements Music & Arts Festival Facebook /Twitter/Website
Comments
comments