Every festival has something about it that makes it unique, that's the key to separating yourself and remaining relevant. Nowadays just having a crazy music lineup isn't enough to keep people interested; it's about the whole experience, going above and beyond. Things like workshops, vendors, performance arts, yoga, late night moves and vip amenities are crucial. Disc Jam has all of that and then some, have you ever heard of a music festival being held on a disc golf course? Didn't think so. I haven't thrown a frisbee in a hot minute but I reckon I'm going to get real good this weekend.
The gracious hosts, Gardner's Ice Cream & Coffee, will be operating their diner/walk up all weekend. So if disc golf isn't your jam, you can grab a game on their miniature golf course while eating your ice cream cones. I really can't think of a more prime location than Gardner's Farm! The venue will be decked out with two main stages boasting top notch sound and lights, a giant tent stage that hosts both day and late night sets. One huge perk of this spot is that everything is a short walk so you'll have plenty of energy to see everything this beautiful venue has to offer!
This billing features a solid variety of bands and DJs with little to no scheduling conflicts. The mainstages will be hosted by Grassroots and Live For The Music while the Woods stage will feature takeovers from Sermon and Rezinate. The disc golf affiliates, Invovva, will be holding down the tent stage all weekend with dope acts like The Floozies and Wax Future. Providing tunes on main stages A & B you have awesome bands like: Papadosio, Sunsquabi, Dopapod and Lotus with Barber & Friends.
If you were wondering where you might be able to find us the majority of the weekend, look no further than the Woods stage. Friday you absolutely will not want to miss Spacegeisha, Bricksquash, Detox Unit or Mindset. Saturday is equally as fire with homies like The Widdler, Truth and Faceplant there to set it off. This stage will also be where the silent disco takes place from three to six in the morning. Pathwey, Smokestax and Diceman (to name a few) will be on the decks, in your headset, to keep you moving into the early hours.
Check out that hourly schedule and map below to plan your weekend accordingly. If you haven't grabbed your tickets yet, they are still reasonably priced at $200 and you can do that here. It's just two days away so act quick, we couldn't be more stoked and we hope to see all of you there!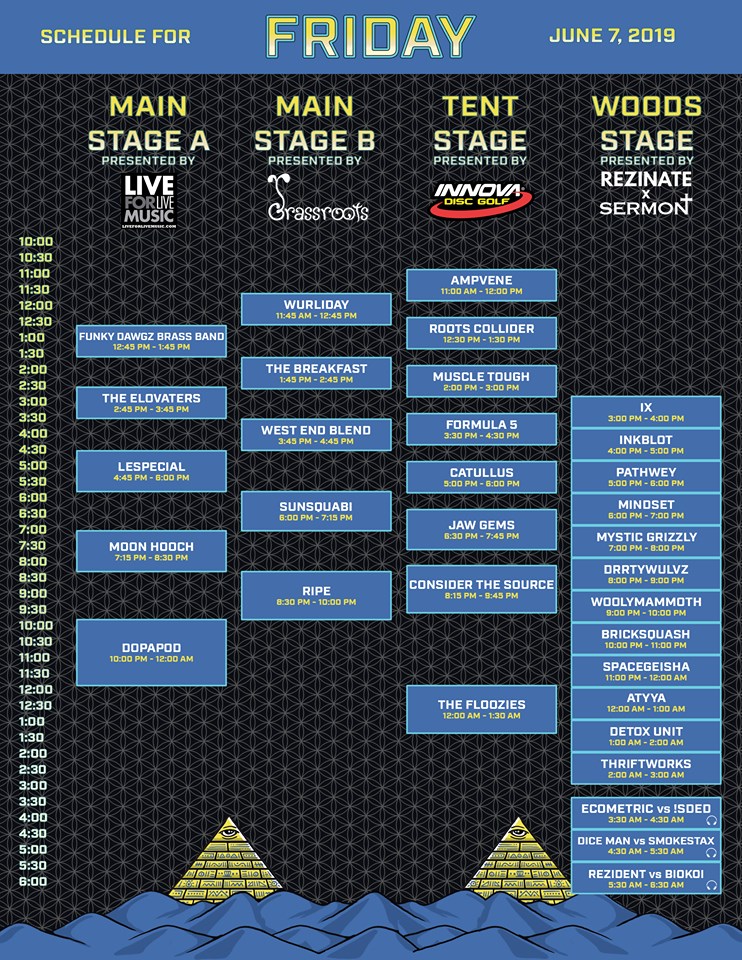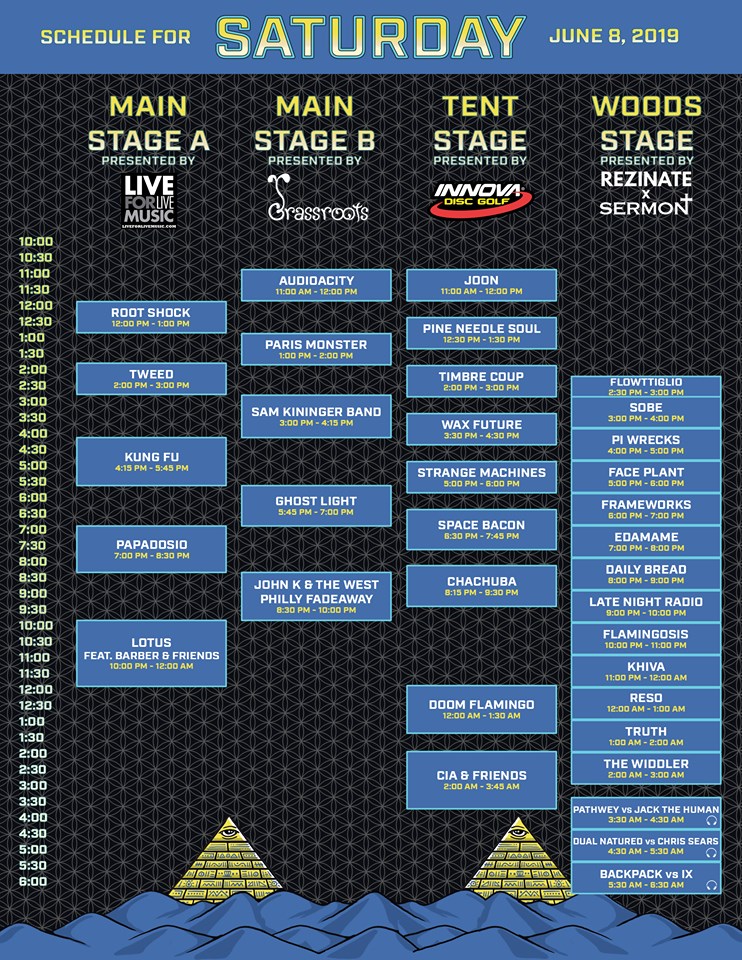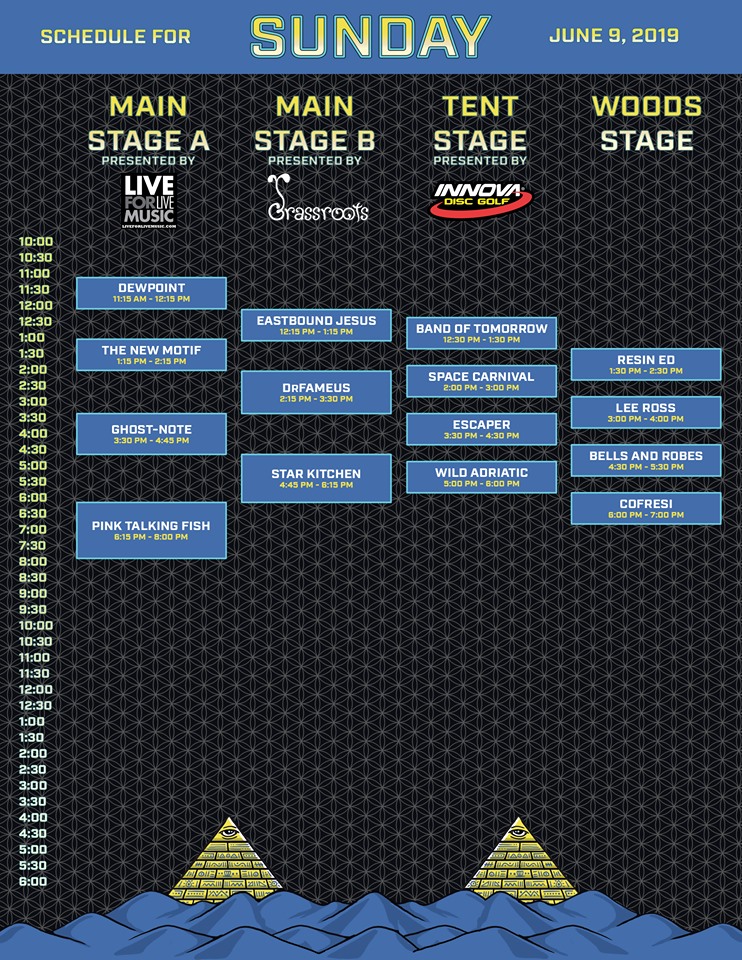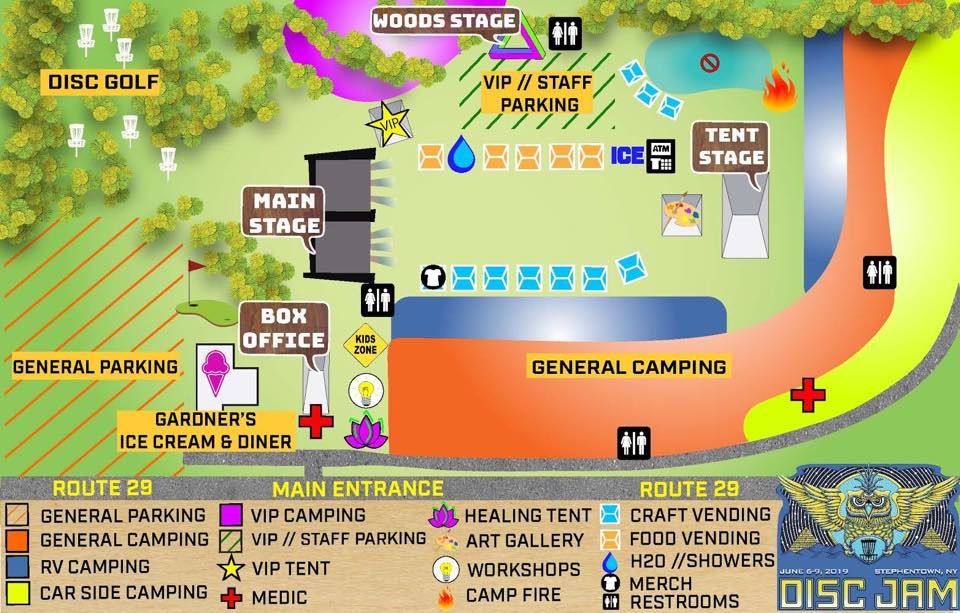 Disc Jam Music Festival Facebook/Twitter/Website
Comments
comments