Shiba San may be one of the most recognizable names in today's house music scene. His accession came after the release of his hit single "Okay" in 2014 and it has been nothing but up for the Parisian since then. We were lucky enough to catch up with Shiba San prior to his upcoming set at Phoenix Lights this upcoming weekend, April 5 & 6 at Rawhide Western Town just outside of Phoenix. Check out the full interview below to learn Shiba San's thoughts on the city, what he has been up to this year, and what to expect from his performance at Phoenix Lights.
TSS: You're currently on a pretty large tour with both US and international dates consisting of your own headlining shows and festivals. What keeps you motivated throughout that whole process?
Shiba San: The music and the fans keep me going. When I'm not on tour, I spend most of my time working in my studio and then I test the tracks out at my shows. I love seeing the crowds' reactions.
TSS: You've played in Phoenix a number of times over the past couple of years, what about the city do you believe is unique?
Shiba San: Phoenix has really good Mexican food and the sunsets are beautiful.
TSS: Do you notice differences with the crowd and the vibe of the crowd between the different cities you play in? If so how would you compare the Phoenix crowd to others?
Shiba San: The Phoenix crowd is very friendly and welcoming of all different types of music and artists. They just want to have a good time and I love playing there.
TSS: Outside of Phoenix, what are some of your other favorite cities to play in?
Shiba San: I love playing in London, Miami, Los Angeles, San Francisco, Brooklyn…just to name a few. One of the best parts of my job is getting to travel and seeing new places around the world so it's hard to just pick a few.
TSS: A few weeks ago you dropped your lone release of the year thus far "My Harmony." Can you tell us what went into that track and what you were looking for out of it?
Shiba San: I've been working on and playing "My Harmony" in my sets for the past few months. When it came down to which label I wanted to release it on, I thought it would be the perfect sound for my own label, Basement Leak.
TSS: What else is currently cooking up in your lab?
Shiba San: Lots of new music coming soon! My next release is Some More EP with Tim Baresko, who's been supporting my North American spring tour and is one of my best friends. After "All I Need" (DFTD Records), we were inspired to make more tracks together. Some More EP will be out on April 12th via Steve Lawler's label, VIVA LiMITED. You can pre-order it now: https://www.beatport.com/release/some-more-ep/2545952
TSS: It is pretty well known that you started your music career in hip-hop and have infused that with the Chicago house sound, but what other sources have influenced your production style or what music are you currently listening to that inspires you today?
Shiba San: I am inspired by all different types of music and artists – new and old. Some of my biggest influences when I first started making music were DJ Premier and Pete Rock, among many others. I also find inspiration in the culture and art around me while traveling on tour.
TSS: Tech house as a whole has been growing in popularity stateside. A lot of that can be attributed to the sound you, Dirtybird as a whole, and a slew of others have pioneered. What do you think of this asurgence in the genre and do you think it is here to stay?
Shiba San: I think it's awesome that more and more people are getting into house music in general, as well as techno. I play a few different styles of house music and a little bit of techno in my sets. The community of artists and fans in house music has grown so much over the last few years – I think it is here to stay.
TSS: So after all that what can we expect from you at Phoenix Lights?
Shiba San: Expect to have a really great time. I will be playing some new music, including the tracks from Some More EP, as well as some of my favorite songs at the moment. I also finished some new tracks that I will test for the first time.
TSS: Anything else you would like to add?
Shiba San: Thank you for your support and stay tuned for new music and tour dates. See you in Phoenix very soon!
With the festival only days away the excitement is really starting to build, especially after hearing what Shiba San had to say. You can catch him at the Colony State on Friday, April 5. If you are looking for last minute Tickets they are still available!. It is going to be a great couple of days and the weather is looking to be great so this is a can't miss event if you are in the area. So grab your tickets now before it is too late and catch you all at Shiba San's set in just a few days!
Phoenix Lights | Tickets |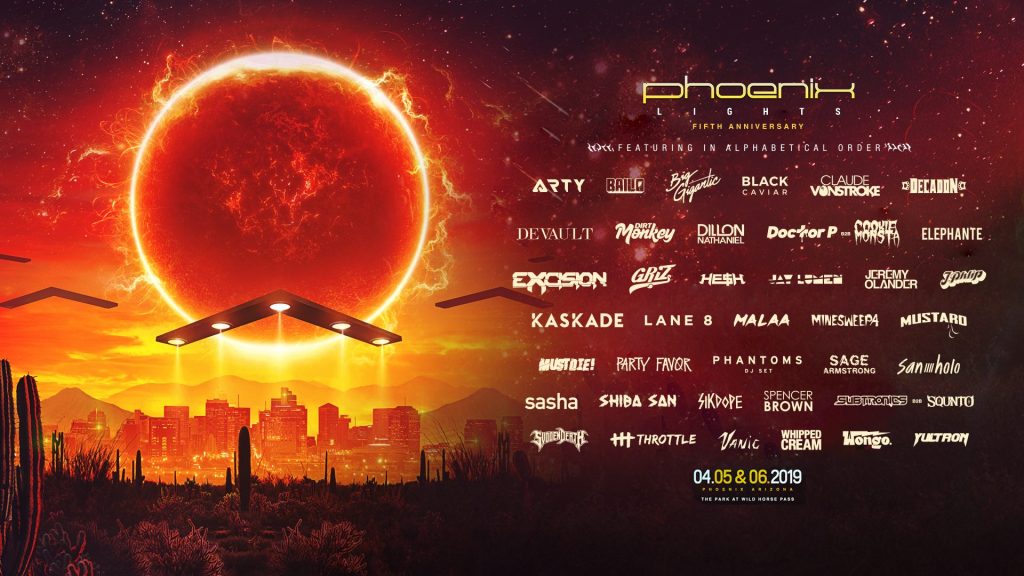 "Follow" Shiba San: | Facebook | Twitter | Soundcloud |
"Follow" Phoenix Lights: | Facebook | Twitter | Website |
Comments
comments