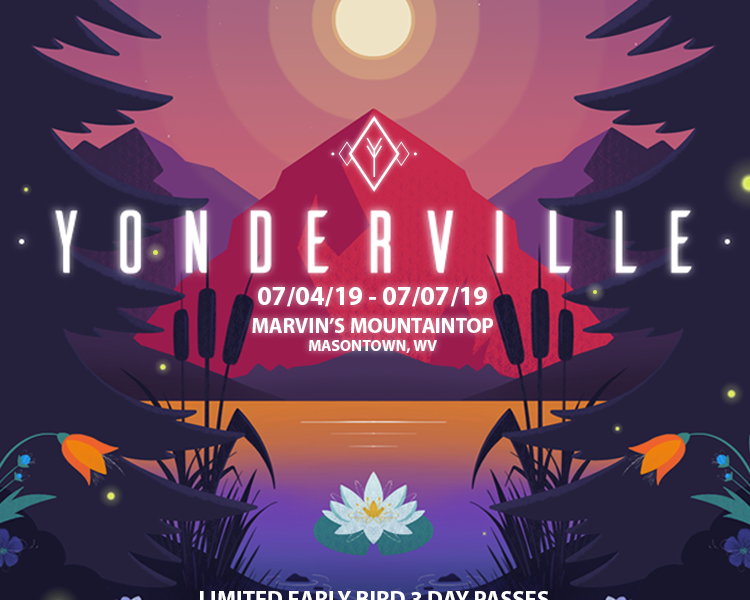 Securing a dope location is one of the most important and probably the most difficult parts of curating an event. Pretty frequently you hear about festivals running into issues with different venues. Having to find new space that still accommodates an already established vibe is definitely a challenge. We've seen festivals come and go over the years because of this exact problem. Some however take the minor set back and deliver an evolved product. See, Yonderville Music & Arts Festival!
I know the fest hasn't even happened yet but let's look at the facts real quick. They've once again delivered a stacked lineup which I'm sure will be matched with a1 production. Looking at last years bill and comparing it to this years, you can clearly see the progress. After having troubles securing a location they seem to have found a new home for Yonderville at the iconic Marvin's Mountaintop. Don't get me wrong, last year was on point and Rixeyville is beautiful but this is without a doubt a level up. Thus far everything they've done has been proper and it's just the beginning.
Like last year, there is no shortage of fire acts making their way up to Yonderville. This year features a solid mix of awesome jam acts and all of the biggest names pushing underground, experimental bass music. I'd be faking if I said I didn't favor one of those more than other. That being said; Jade Cicada, G-Space, Detox Unit, Of The Trees, Tiedye Kye, Supertask, Desert Dwellers, Spoonbill and I could go on but do I really need to? Oh yeah I do because I forgot to mention that Dubday was coming through with the Dub Bus. The collective showcases from The Gradient Perspective, The Rust, Ebisu Sound and The 40 Oz. is just the icing on the cake.
Tickets for this one are on sale now and remember this is only the phase one. I'm sure the good people over at Yonderville have much more in store with their new location and all. Drop a like on their socials below to make sure you don't miss a beat!
Yonderville Music & Arts Festival Facebook /Instagram/Website/RSVP
Comments
comments