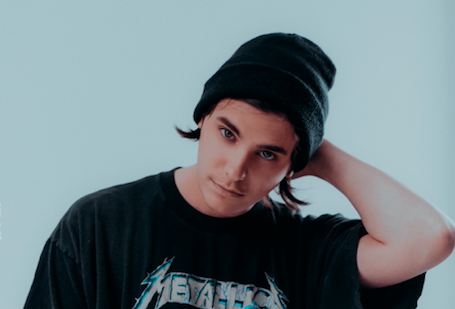 Audien just dropped a new collaboration with multi-platinum trio, Echosmith and we're truly impressed. "Favorite Sound," which is out now via Red Music/Cranberry Records, was co-written by Audien and Echosmith's lead singer, Sydney Sierota and it's the emotional single we've been waiting for. Audien combines his pop-oriented production with Echosmith's empowering lyrics and an intoxicating melody, resulting in a musical masterpiece. We had the pleasure of chatting with Audien about the inspiration behind "Favorite Sound," the evolution of his music, his dream collaborations and so much more. Listen to "Favorite Sound" and check out the complete interview below!
Audien (Feat. Echosmith) – Favorite Sound | Download |
TSS: You got your start with your 2009 single, "Rise and Shine." How would you say your music has evolved since then?
Audien: So much! I honestly can't listen to that without cringing. I think I've become a much better producer since then, but then again, I do over-produce these days and that was a simpler time, so maybe I could learn something from my old self.
TSS: What's one piece of advice you'd give to artists who are just starting out?
Audien: Stay true to yourself, especially when everyone's watching.
TSS: Who are some of your musical influences?
Audien: Some of my musical influences include Pink Floyd, Nirvana, Porter Robinson, Armin Van Buuren, Calvin Harris, Above & Beyond. Such a diverse list!
TSS: You've performed at countless music festivals including Tomorrowland, Lollapalooza and Ultra. If you had to choose one, which was your favorite to play and why?
Audien: I seriously can't choose one. I know all artists say this to not take favorites, but seriously, all different vibes and great in their own way.
TSS: You've released collaborations with big names, including MAX, Lady Antebellum and 3LAU. Who have you yet to collaborate with but hope to in the future?
Audien: After Echosmith on this new one, the world is my oyster. I'm thinking Elvis. Kidding, I'd love to work with Lauv, Above & Beyond, Calvin Harris, to name a few.
TSS: You just released "Favorite Sound," featuring Echosmith. What was your inspiration behind this incredible new single?
Audien: My inspiration for "Favorite Sound" was to make melodic goodness, with a message that speaks to me. We think it will speak to many other people as well dealing with doubt and depression brought on by those voices in your head. In the past year, I've been dealing with stuff that this song gave a voice to… just on a personal note.
TSS: What was it like working with Echosmith? What made them the perfect choice for this song?
Audien: So easy and fun! They're so talented. They were the perfect choice because they each brought a unique and great element to the song. Guitars, bass, and amazing vocals.
TSS: What can your fans expect from you for the rest of 2019?
Audien: More great melodic music.
"Follow" Audien : | Facebook | Twitter | Soundcloud |
Comments
comments