Sage Armstrong has made waves in the tech house world over the past couple of years. The Dirtybird has become a fan favorite with his weird sound which he mixes with some of the hottest tracks out there to create wild and groovy sets. Since his ascendance he has played numerous festivals and shows across the country and next month he is making his way down to Arizona for Phoenix Lights, one of the state's largest festivals of the year. Ahead of his performance next month we sat down with Sage to talk about his thoughts on Phoenix, what he has been up to, and what we can expect from him moving forward.
TSS: So you've played in Phoenix a number of times over the past couple of years, what about the city do you believe in unique?
Sage Armstrong: Yea Phoenix is dope! I think it's unique in the sense of all the venues & cool events happening in the desert.
TSS: Shady Park in Tempe is one of my favorite venues I've attended and you have also played there multiple times. Can you tell us about some of your experiences there?
SA: I love the fact that it's a outdoor venue and the sound & crowd are on point.
TSS: Between preparing for a festival and a show on tour, are there any differences or do you go through the same process for each?
SA: I'd say the process does change a little here and there but for the most part, I normally just download new tracks before shows and mix them with the tracks I already have.
TSS: Do you notice if different cities vibe to different kinds of music/sets you play or is this also pretty uniform across all places you go to?
SA: For sure, some cities are more into the underground weirder tracks and some festivals and cities I would say are the opposite, they're more into what they are more familiar with like remixes/bangers.
TSS: You just started a new record label, Dumb Fat Records, with Steady Rock and Frankyln Watts. Tell us about the inspiration behind this and what direction you are looking to go with the label.
SA: We all hang and work on a lot of music and have some similarities in taste but have our own individual styles at the same time and basically wanted to create a home for our own music, we aim to keep it bass heavy and original.
TSS:Your first release on the label is also coming out on March 15. Can you give us some info on the new track?
SA: It's a two track EP collab with Steady, Frank and I, its been getting a lot of good feedback and is a hybrid of our three styles in two tracks. Was a ton of fun making them.
TSS: You've also been releasing some rap music this year under the alias $age. What made you want to step into this direction?
SA: I've always loved rap music and all types of music all my life. It has always inspired me and it's really just me having fun doing and what I love and sharing it with the world.
TSS: With being so busy with the record label launch and the $age side project, it has been a little bit of time since you have released some music under the Sage Armstrong name. Do you have some stuff cooking up in the studio right now outside of your release coming this week?
SA: For sure, I am actually really excited about my upcoming releases this year. Over the next few months I have a lot of new stuff coming out and have been working hard on my album.
TSS: With all that said what can we expect from you next month at Phoenix Lights?
SA: Some of these unreleased Dumb fat Records and new remixes and songs from myself!
So if this doesn't get you excited to see Sage at Phoenix Lights I don't know what will. This will be a banging set so do not miss it! You can catch him there at the Colony stage on Saturday, April 6. Tickets are still available so grab them early before they increase in price as the festival nears. Also, if you are feeling lucky we teamed up with the festival to giveaway a pair of weekend GA tickets which you can enter here. The contest runs through March 25. We are now only three weeks out from the festival so act now before it is too late!
Phoenix Lights | Tickets |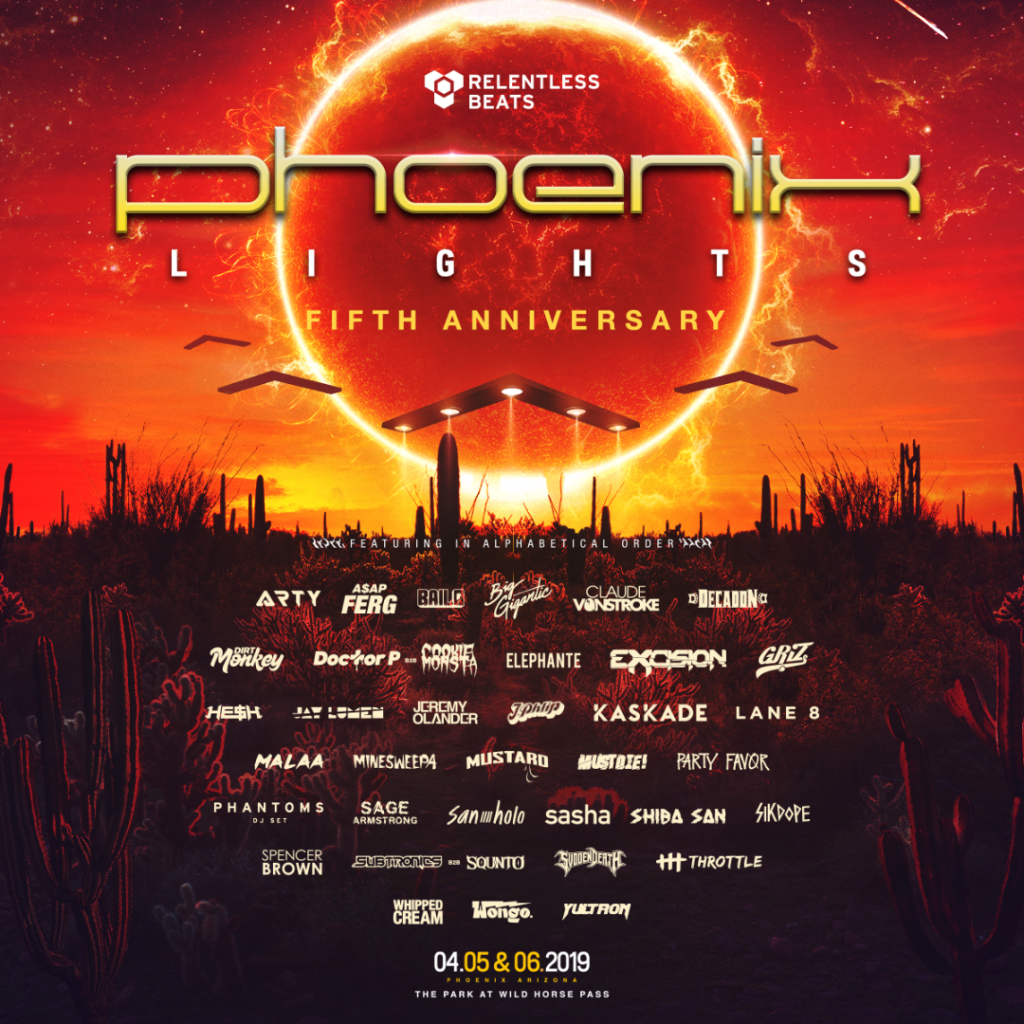 "Follow" Sage Armstrong: | Facebook | Twitter | Soundcloud |
"Follow" Phoenix Lights: | Facebook | Twitter | Website |
Comments
comments