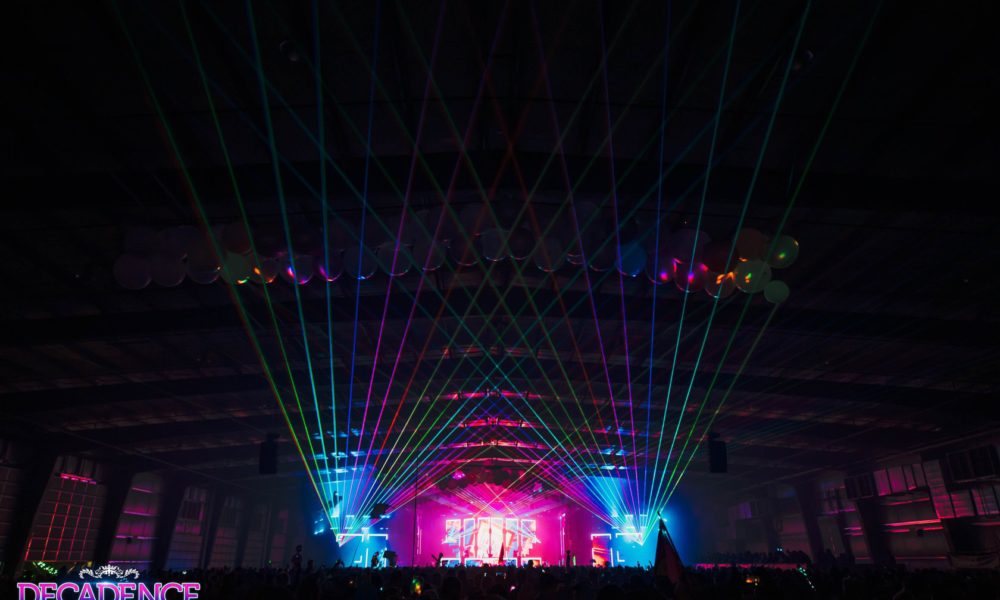 *Co-written by Lauren Ikenn and Brian Poles*
While there were many ways I could've rang in the new year, I chose to do so at Decadence Arizona and I couldn't be happier with my decision. Decadence Arizona is put on by Relentless Beats and Global Dance and the beloved festival has grown bigger and better each year. This year, the two-day festival was held on December 30th and 31st at Rawhide Event Center and as a first-time attendee, I can truly say it lived up to the hype.
Each day, the gates opened at 3:00pm, the first act came on at 4:00pm and the festival lasted deep into the night, ending at 3:00am. And while each artist brought something different to the festival, the incredible music and positive vibes remained constant throughout. Decadence Arizona had three stages: Diamond Atrium, Sapphire Ballroom and Ruby Courtyard. Festival attendees caught headliners including Skrillex, Porter Robinson and Marshmello in the Diamond Atrium, big names including Valentino Khan and Morgan Page in the Sapphire Ballroom and Arizona's beloved local talent including Tranzit and Sean Watson performing at Ruby Courtyard.
While bass music reigned supreme inside the large tented Diamond Atrium, house and techno music took over the Sapphire Ballroom stage, which was placed inside a converted warehouse. The warehouse made the stage perfect for the sets that were in there, which included the likes of Moon Boots, Solardo, Cristoph, Green Velvet who wildly rang in the new year, and Anti-Up, the newly formed duo consisting of Chris Lake and Chris Lorenzo. Fans of this deeper and more clubby lineup enjoyed hours of uninterrupted good vibes and high energy, with Green Velvet and Solardo really stealing the show on their respective nights playing. This stage was a great escape from the crowded  Diamond Atrium with A+ production in the form of massive LED screens and numerous lasers.
When festival goers weren't enjoying dope sets put on by their favorite DJs, they could be found on one of the ten carnival rides, which included a giant ferris wheel, a mirror house and a big slide, or indulging in some of Arizona's delicious cuisine at one of the many food trucks.
All of the acts at Decadence Arizona were incredible but my favorite from day one was Morgan Page in the Diamond Atrium. I've been hoping to see him live for a while now and I was beyond impressed wit his set. My favorites from day two were NGHTMRE and DJ Diesel. They played in the Diamond Atrium as we rang in the new year and between the hard-hitting bass and incredible energy, their set couldn't be beat.
Despite the rain and the mud on New Year's Eve, Decadence Arizona proved to be a huge success. With stellar production in all of the stages and an all-star lineup to top it off, the last two days of 2018 were pure bliss and I, for one, can't wait for next year. Let the countdown to Decadence Arizona 2019 begin and happy new year to all of our readers!
"Follow" Decadence Arizona: | Website | Facebook | Twitter |
Comments
comments