Last week, the city of Atlanta was blessed with the presence of Dutch DJ, musician, songwriting, and wonderboy San Holo. He released his self-released debut album, "album1", back in September and now has taken the road to spread the good vibes. The album is out now on Holo's own label, bitbird.
When we first arrived, we expected some good opening acts. We were blown away by BAYNK's use of live saxophone, live vocals, and pure nonstop energy. The New Zealander has an interesting backstory and you might see a spotlight on him in the coming months.
The production was switched up before San took the stage. When he did, it was all she wrote. You will be picking up your jaw from the floor after witnessing the flood lights, strobes, CO2 canons, and even some pyrotechnics that attempt to keep up with the constantly moving Dutchman. Being in the pit gets you a closer view of the act, but seeing someone like Holo enjoy what they're doing is one of the most beautiful things on earth.
Do not miss the opportunity to see this tour. You will not regret it. Stream the album below and enjoy the rest of your week!
San Holo – album1 | Download |
San Holo – album1 TOUR | Tickets |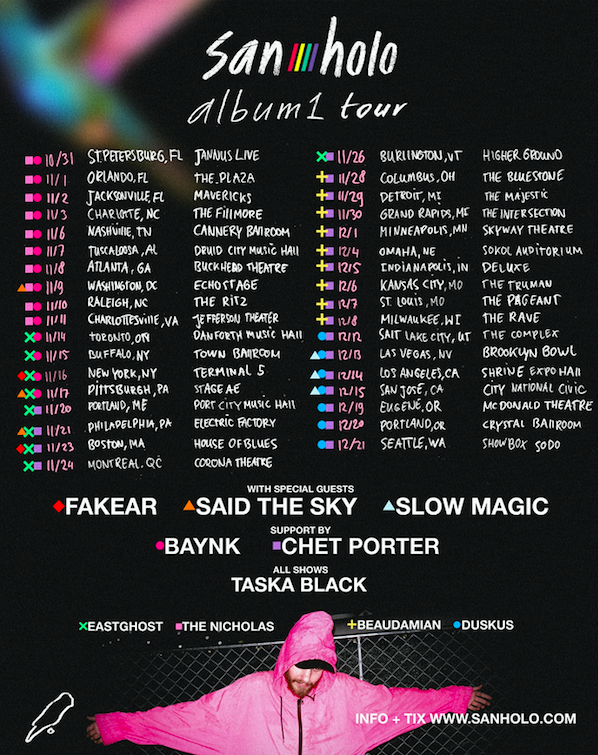 "Follow" San Holo : | Facebook | Twitter | Soundcloud
Photos by Mr. Jeaux
Comments
comments