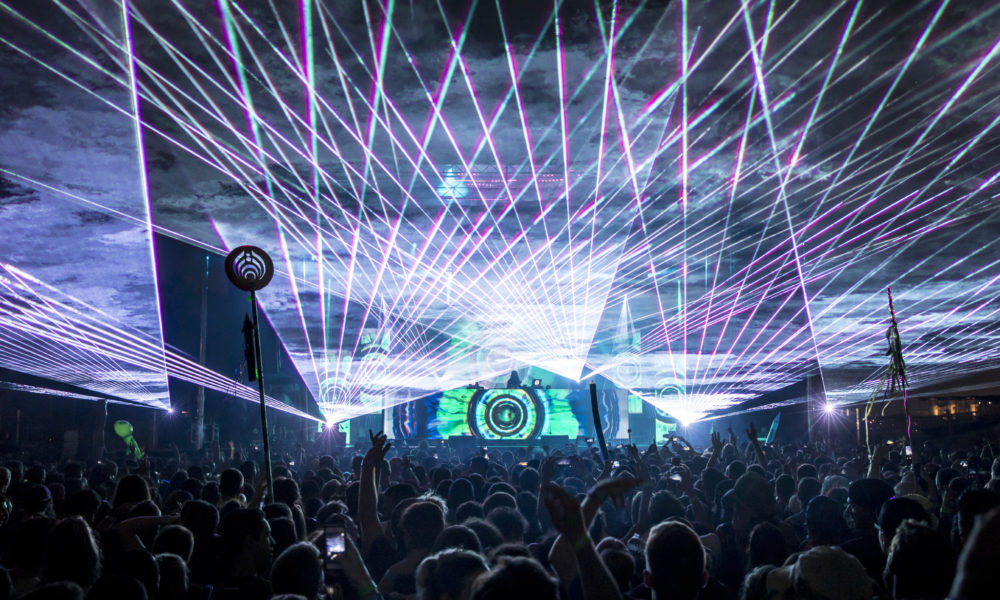 In a creatively beautiful display of irony, Elements Music & Art Festival had the unlooked-for delight of battling Mother Nature in her purest form. "Rain or Shine" is an understood slogan merely posted for precautionary measures, yet the former's limiting capabilities truly tested our outcome. Alas, the valiant effort put in place to restructure Elements within its established framework was a sight to behold.
The initial approach to Elements provided an overall sense of secrecy and hidden splendor. Your immediate interpretation was misconstrued as the surrounding atmosphere appeared abandoned and neglected, but the utopia that was presented within Hunts Point displayed a demeanor of creativity and originality. Multiple features and amenities were omitted due to the unfortunate weather, but that merely elevated the focus points for the remaining attractions. Upon entry, it was impossible to overlook the massive water towers. Not only did they create a photographically impressive backdrop for the Fire Stage, the installations nestled within these structures appeared intrinsic and darkly enchanting. (Silent Disco locations for 2019? Sleep on it.) "Engaging is mandatory." The reality behind such a statement is that everything about Elements was approachable. Our willingness to participate in this experience allowed for its existence.
Each stage brought forth a correlating aspect with its respected artists, yet it was the Water Stage Warehouse's splendor that had everyone gravitating in that direction. The expansive dance floor created a comforting environment for everyone to dance freely. As immense as the Warehouse was, the acoustics within the repurposed venue were pristine and never produced a bothersome scenario. For the comedic thrill seekers (myself included), climbing the scattered structures provided you with an elevated viewpoint and an awkwardly restful position to hold yourself in. The difficulty of pinpointing an artist to highlight is that each presentation was truly spectacular. Mickey Perez began the day in absolutely impeccable fashion, SNBRN captivated one of the largest audiences I have ever seen inside of a warehouse, GoldFish's funky/livetronica presence kept everyone grooving and begging for more, plus Jade Cicada's visuals have yet to ever leave anyone less than mind blown.
The Earth Stage was forced to unwillingly test everyone's patience and build each patron's anticipation, but the performances that were presented by Emancipator and Bassnectar alone solidified the fact that possessing the ability to wait is a valuable quality. As expected, Emancipator created an ethereal vibe which seemed to put the entire crowd into a spellbound state. While many fans found the back-to-back pairing of Emancipator and Bassnectar rather peculiar, this allowed for our minds and bodies to recuperate properly before morphing into mindless headbangers. Ashton caused Hunts Point to go into a frenzy with some of the most heavyweight, yet concise mashups and transitions. The artist continues to appeal to his audience by using unique visuals for each individual show, along with lasers that boggle any mind. Ending his set with his newly-released remix of Rusko's "High", this left fans begging for more bass.
As miniscule as the Air Stage was in comparison, that little tent created a pacific setting. Its intimacy was reminiscent of any Boiler Room set, the chandelier added a touch of elegance, yet its minimal adornments demanded your attention to be geared towards the music. Our time within this sector of Elements was limited, but the eccentric and outré style of Experimen.tal caused everyone to dance instinctively.
We departed our first visit from Elements Music & Art Festival feeling quite satisfied. Before embarking on the adventure, we were intrigued by the idea of consolidating the artists and activities of a three or four-day festival into one jam-packed day. Overall, most obstacles were handled properly, and the weather held up except for a short mid-afternoon storm; but who doesn't like dancing in the rain every now and then? We look forward to seeing what BangOn! NYC does next as far as Elements goes!
Comments
comments