The time to get your dancing shoes on is fast approaching. Next Friday, Imagine Music Festival will ring the bell to start a weekend of memories with you and your friends. Last year was incredible and we can't wait to get out there to see all the smiling faces. Before you can head out, you need to know which acts we think you should NOT miss. Check the end of the article for the Daily Set Times!
ZHU | 1am-2:15am on Saturday Sept. 22nd at The Amazonia Stage
Where do you start with an artist like ZHU. Well, he recently dropped his new album, "Ringos Desert." The 14 track LP is impressive from start to finish. He is our number one must see performance of the festival. You can stream the album below and check out the visuals for

THE GLITCH MOB | 10:50pm-11:50pm on Friday Sept. 21st at The Oceania Stage
Next up we have Los Angeles trio The Glitch Mob. This group has been active since 2006 and to still be crushing it on worldwide tours is an impressive feat. They dropped a new album, "See Without Eyes", back in May of this year. Definitely worth a listen to get you prepped for their show.

JAI WOLF | 10:05pm-11:05pm on Saturday Sept. 22nd at The Amazonia Stage
Our New York homie Jai Wolf will be a fresh stand out at this year's festival. He has been silent on his releases but a couple of weeks ago, he dropped "Lost" featuring Chelsea Jade. The track is incredible and continues on his established sound design. Tune into his remixes as you gear up for one unpredictable show.

GRIZ | 10pm-11pm on Sunday Sept. 23rd at The Amazonia Stage
GRiZ is one of my favorite live electronic acts and seeing him perform at The Roxy in North Atlanta, was a dream come true. He leaves it all out on the stage and doesn't shy away from any massive stage. If you want to be awed by someone playing an actual instrument, this is your guy.

EKALI | 8:40pm-9:55pm on Saturday Sept. 22nd at The Amazonia Stage
If you are cold inside, I will start a fire…" Canadian born musician and record producer EKALI has been on the rise over the couple of years. His latest release with Yuna titled "Leaving" sets the best of moods as we approach the chilling moments headed our way next weekend. His Awakening Mix 4 is a good way to hear what his set will be about. Expect energy and nonstop smooth mixing.
HALOGEN | 6:55pm-7:40pm on Sunday Sept. 23rd at The Disco Inferno Stage
We are closing out this list with Atlanta's very own duo, Halogen. Comprised of Alex Dunsker and Josh Taylor, the Atlanta natives represent their city each and every week. They deserve this listing and their latest offering "Time", which released on Selected, is a must hear. Check out the music video for "Can't Resist" below as well.
Imagine Music Festival 2018 | Tickets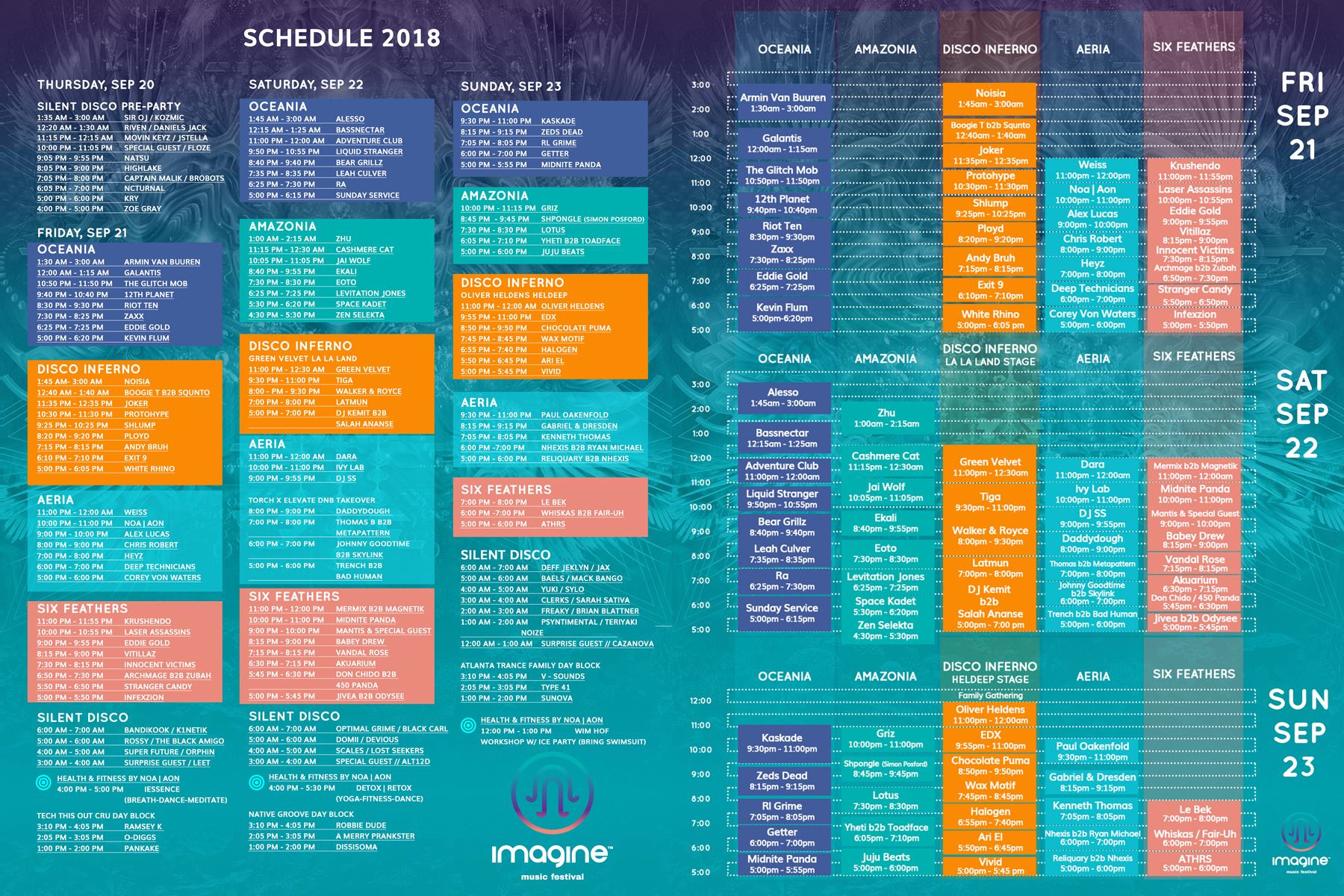 Imagine Festival Facebook | Twitter | Website
Comments
comments