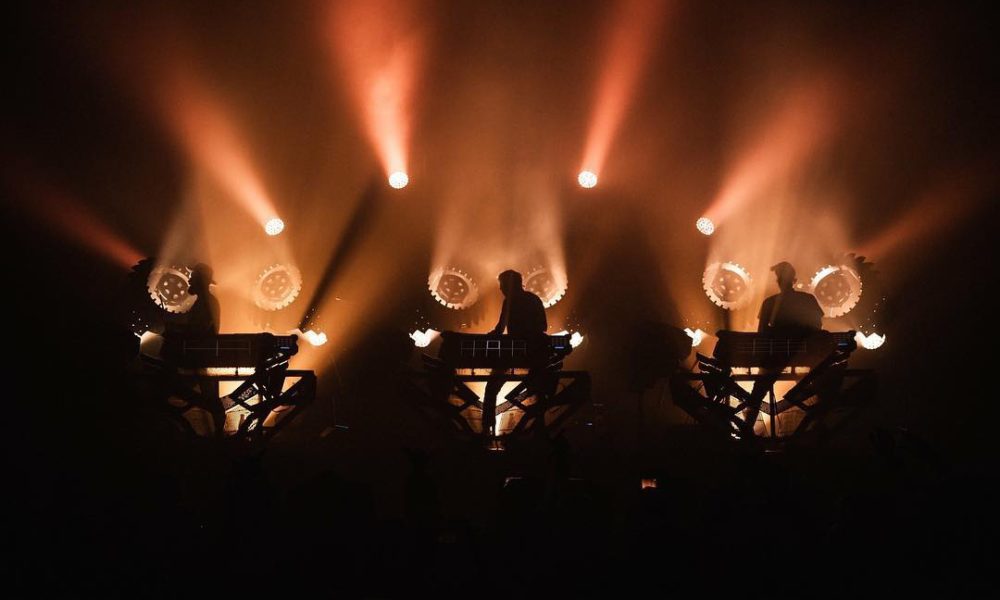 Interview by Steph Wanderling
No one has had a 2018 quite like The Glitch Mob. Not only did the trio release their highly awaited third studio album, See Without Eyes, they embarked on a massive 38-date tour to showcase their latest body of work with their awe-inspiring Blade 2.0 stage with a fall tour across North America kicking off next month. There is no denying The Glitch Mob left their mark on 2018.
With some much going as of late, we caught up with the trio to discuss their monster year. Check it out!
TSS: How did you think the crowd would react to Blade 2.0?
The Glitch Mob: The idea was to create a journey, to bring joy, to take people on a ride like nothing else.
TSS: When did Glass Air Records start? How did you come up with the name?
The Glitch Mob: We started it to release our first album, Drink the Sea. The name was meant to evoke a paradox of how music is tangible and intangible at the same time. You can feel it, it can affect you, and yet it is just air.
TSS: What was the most exciting part about creating the Blade 2.0 / having part in making it come to life?
The Glitch Mob: The best part is stepping on stage every night and going on the journey along with everyone in the crowd.
TSS: What inspired the VR music video/ art installation/ social platform with The Wave VR?
The Glitch Mob: We're always looking for new ways to bring people into the music and tell the story. VR is the next obvious path for this. We hope everyone can try it some time. It's a crazy way to experience and album. More like a trip than a movie.
TSS: What young/ up & coming artists are piquing your interests right now?
The Glitch Mob: Elohim!
TSS: What is the process of starting a new song like? Do you hear it in your head first or do you start with a sample and alter it until you find something you like?
The Glitch Mob: It's all about the process. We start with a vibe or feeling and explore there. Something like wandering around a forest discovering new realms as we go.
TSS: Favorite Ableton extension or tool?
The Glitch Mob: Max4Live is insane.
TSS: Do you have charities you prefer to donate to, or any up & coming organizations that should be highlighted? Do most of your record & ticket sales go back into your massive production?
The Glitch Mob: We're working with Young Producers Group on this tour. They're incredible. Check them out.
TSS: Ultimate lineup for a festival of your own if you could have one one day?
The Glitch Mob: Still hoping to see Boards of Canada play live someday.
TSS: What do you guys do to solve creative conflicts?
The Glitch Mob: Creative collaboration is all about knowing how to let go and knowing how to follow through.
Comments
comments